 Holocaust
Memorial Education Center
Shimon and Sara Birnbaum Jewish Community Center

Survivor Profile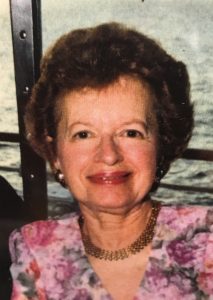 PRE-WAR NAME:
PLACE OF BIRTH:
DATE OF BIRTH:
LOCATION(s) BEFORE THE WAR:

MANNHEIM, GERMANY; PARIS, FRANCE
LOCATION(s) DURING THE WAR:

PARIS, FRANCE; UNITED STATES
STATUS:
RELATED PERSON(S):

LEON SALZ - Spouse (Deceased),

ALAN SALZ

- Son,

CAROL SALZ - Daughter,

DAVID SALZ - Grandson,

LAUREN SALZ - Granddaughter,

ALEXANDER SALZ - Grandson
BIOGRAPHY BY NANCY GORRELL AND EULOGY BY ALAN SALZ, 2018

Alice was born in Mannheim, Germany in 1924 to Bertha and Alfonse Levy. Alfonse was a successful owner of grocery stores in the region. Bertha and Alfonse met through an arranged marriage. He was twelve years her senior, from Alsace Lorraine, France. They married around 1922. According to her interview, Alice's mother had a "difficult pregnancy," and therefore, Alice remained an only child. She went to public school in Germany up until the age of nine. She was an excellent student. With the rise of Hitler, Alfonse believed "there is going to be a world war." His family, coming from Alsace Lorraine, decided to become French citizens. It was a wise decision according to Alice, "because it was very difficult at the time to emigrate from Germany but not as difficult to emigrate from France." The Levy's left Germany in 1934. They lived in Paris for five years. In France, Alice's father started her on private English lessons because he believed Hitler would invade France. The family emigrated from France to the United States in 1939 and settled in Newark, New Jersey. Alice recalls going through Ellis Island and seeing the Statue of Liberty. Alice did well in high school. She was number two in her graduating class—salutatorian. She then went to Upsala College in East Orange on a scholarship. "Two buses and I got to school!" She met Leon Salz, her future husband at a resort for singles. But he lived in Brooklyn. Six months later he got a job in New Jersey working at Magnus Chemical in Garwood. They got married in 1951. They moved to Short Hills, New Jersey and in 1957, Mountainside, New Jersey. Alice and Leon had two children, Alan and Carol. Alice went back to work as a language substitute teacher using her ability to speak four languages. Leon made his living marketing industrial lubricants. Alice lived in Mountainside until Leon passed when she came to Bridgewater to be near her son, Alan and her grandchildren.

 

 EULOGY BY ALAN SALZ  (APRIL 13, 2018)

Alice Salz was a remarkable woman who lead a remarkable life. Her life 's journey began in Europe where she was born in Mannheim Germany in 1924.  She was the only child of Berthe and Alphonse Levy. Alphonse had a successful business owning over 20 small grocery stores.  Clearly her father, who was originally from Alsace-Lorraine, was a wise man. He had been born in Alsace-Lorraine, an area between France and Germany and held citizenship in France as well as in Germany. In 1934, shortly after the anti-Semitic Nazis took power, he implored his reluctant German wife Berthe to abandon her homeland and move to Paris.  He was able to sell his business but at a value far less than it should had been worth. Young Alice was forced to learn a new language and resume life in Paris. My grandmother grew to like life in  Paris but her wise husband foresaw Hitler's invasion of France and  in the late 1930's hired an English speaking tutor for his family and went about securing emigration to the United States.  As French citizens (not Germans) it was far easier procuring the papers to legally come to America. Sadly, Alphonse died of a heart attack just a few years after arriving here.

The Levy family had settled in Newark New Jersey.  My mother was 16 years old and finished her last two years of high school attending Weequahic High School, which at that time was the top public high school in Newark mainly filled with young Jews from the local neighborhood. Despite English being her now third language, she distinguished herself academically and graduated as her class salutatorian. I am so happy that one of her best friends from high school, Bernice Weill, could join us today. Although Alice qualified to attend far more prestigious colleges, her parents could not bear to let young Alice leave their nest and for college she attended Upsala College in East Orange where she commuted to by bus. She received her Bachelor of Arts Degree with a major in Economics and a minor in Spanish (now her fourth language).  Again, she was her class salutatorian.

She was employed by Conmar Zippers as an executive secretary and lived at home with her mother. As the years past, her mother became increasingly concerned about Alice's single status. On some weekends in the winter she went to ski resorts mainly in search of a future husband. In the summer of 1950, she spent a long weekend at Green Mansions, an Adirondack mountain camp-like resort for Jewish singles.  This, of course, was long before the days of J-date.  That is where she met her eventual husband, Leon, a young man from Brooklyn. Although not completely enamored by Leon who she thought might just be "an operator", she shared her phone number with him.  Six months later Leon finally called her to ask her out on a date.  He had moved to New Jersey for a job and had remembered Alice from the previous summer.  She turned him down telling him that she was "busy" which she actually was not.  When Berthe heard about this potential suitor, she persuaded her reluctant daughter Alice to agree to meet with Leon if he called again which fortunately he did and that was the start of their relationship. Despite a series of dates over the next few months, Leon had not yet proposed so in the summer of 1951, Alice returned to Green Mansions, the singles resort, and coyly sent Leon a postcard.  Perhaps that nudge helped and shortly thereafter, Leon proposed and Alice accepted and they were married in the fall of 1951.

After three years of marriage, Alice became pregnant with Carol, and she took on the traditional role of mother and home maker. The month I was born in 1957,  Alice and Leon moved to Mountainside  and settled into the ranch house they would share together for over 50 years.

Alice was a good mother, providing a nurturing environment while encouraging Carol and I to do well academically.  She attended to all of our needs.   Amongst the many things she would do for our enjoyment, she would drive us for day trips in the wintertime to local ski areas (she never really learned to ski herself) and watch from the windows of the base lodge hoping to catch a glimpse of us heading down the hill.

As Carol and I grew older, Alice engaged herself as a substitute teacher in the local high school system specializing in foreign languages.  Her main agenda though was to keep an eye on her children albeit from a comfortable not overbearing distance.  She was an avid bridge player, active member of Temple Emanuel and had an extensive social network. I am so happy that her long time bridge partner and buddy, Betty Lou Miller, is here today.

Alice and Leon travelled extensively including adventurous locales such as Machu Picchu in the early 1960's and China in the mid 1970's shortly after it had opened to Westerners. The pace of their travels increased after Carol and I left home and after my father's eventual retirement.  They were a good team, my father the organizer and my mother the faithful companion and translator. She was also a good daughter caringly looking after her ailing mother in the latter stages of Bethe's life. She was a good mother-in-law too and made it a point to develop a loving relationship with Linda and Carol's husband Larry as well.

 When Linda and I were looking for a place to settle down nearing the completion of our residencies, my parents let us know that we could go wherever we wanted but if we came back to this area they would help us out in any way we needed. Fortunately, we took them up on their offer and we never regretted it. For a young working couple, Alice was our backstop. Whatever the request for help, Alice would without hesitation say "yes." One day I remember in particular in May 1986, I was just starting my practice and on short notice had to discharge my only employee.  My plan was to have my mother fill in as my receptionist for the day in which I had the most patients I was scheduled to see in a day in private practice to date. Of course, Alice accepted the challenge. What was not foreseen was that our live-out nanny did not show up for work that day and Alice was charged with taking care of David as well.  Just imagine what that must have been like for her (answering the phone, checking patients in and out and changing diapers and feeding a baby) but never a complaint.  Alice was a wonderful grandmother, and clearly the relationships she had with David, Lauren and Alex were the highlights of her last 30 years. She made it to her goal of attending David and Sarah's wedding and she was content in the knowledge that both Lauren and Alex are succeeding in life as well.

She encouraged her friends to see me as their ophthalmologist. And without breaking any HIPPA rules, I can share with you one constant comment from all of them was how nice she was as a person.  She was easy to talk with, even tempered, had a nice sense of humor and was unfailingly pleasant.

Her fortitude was clearly demonstrated in towards the end of her life. She persevered numerous medical problems with minimal complaint.  The biggest was her need to have a feeding tube the last 3 years.  What a management nuisance and uncomfortable! Nonetheless, Alice strived to remain independent and for a long time continued managing her own feedings while playing bridge and spending time with friends and family. Even when she moved to Arbor Glen 2 years ago, she wanted to keep driving so as not to be a burden.

Whereas there is so much else I would like to share, I would be remiss about not mentioning her other hobby…reading the New York Times. She was all of our personal newspaper clipping services especially on matters of health.  My father would sometimes joke that she had an honorary doctorate from the NY Times. These past months, as she became increasingly tired, I would wonder how much she was actually absorbing from the paper.  Meanwhile, Linda and I were planning on a trip to Madagascar, one of the few places Leon and Alice had not visited. Linda had found out from a Google alert that there was an outbreak of plague in Madagascar shortly before our departure.  We decided we would go anyway but I did not want Mom to be worried about our health so I did not bring up the subject.  Well, when I next visited Mom, she brought out a small clipping from a NY Times article about the outbreak and I was forced to explain our strategy for not getting infected. There was no fooling Mom.

Once I was an adult, I realized how lucky I had been to be Alice's child.  As we are so sad to say good-bye, we can be comforted in knowing that Alice lived a full life highlighted by love, intelligence, devotion and happiness.

 

Editor's Notes:

Refer to Historical Notes Below for Alsace-Lorraine.

Refer to Alan Salz in Voices of the Descendants 

SURVIVOR INTERVIEW:

INTERVIEW WITH ALICE SALZ

Location: Salz Residence, Bridgewater, New Jersey

Date: November 7, 2017

Interviewer: Nancy Gorrell

 

Q: Describe your family background.
I was born in Mannheim, Germany. I don't remember much from my early childhood. We left Manheim when I was nine years old. My father was Alfonse Levy, and my mother was Bertha Prolsdorfer Levy. My father owned grocery stores.

 

Q: How did your mother and father meet?
My mother and father met through an arranged marriage. My mother was German. My father was 12 years older than my mother. They were married around 1922 and in Germany, my father opened within one year, 20 retail stores.

 

Q: Did you have any siblings?
I was an only child. My mother had a difficult pregnancy.

 

Q: What was your schooling like in Germany?
I went to public school in Germany up until the age of nine. In France, I went to a Jewish school; I did fine and I worked hard.

 

Q: When did you and your family leave Germany?
My father came from Alsace Lorraine, France. At that time he had a choice of being a German or French citizen. His family decided to be French citizens, and that was very fortunate because it enabled us to emigrate from France to the United States. We did have an uncle in America before we came, but there was a quota at the time when Hitler came in, and it was very difficult to emigrate from Germany but not as difficult from France.

 

Q: When did you leave?
We left Germany in 1934; Alsacians in Germany had a choice at that time to leave for France; my father said that there is going to be a world war.

 

Q: Where did you go in France?
Paris. We lived there for five years.

 

Q: Did you have trouble with language adjustment?
When we were in Germany, my father started us on private French lessons, and I did very well, so there was no problem. And when I was in France, my father started me on private English lessons because he anticipated Hitler's invasion of France. When I came in America, I could speak English.

 

Q: What was coming to the United States like for you?
Coming to America, we went through Ellis Island, and I saw the Statue of Liberty. We settled in New Jersey first in Newark. In high school I was number two in my class for graduation—I was the salutatorian. I went to Upsala College in East Orange. They offered a scholarship; two buses and I got to school. I was always an excellent student.

 

Q: How did you meet your future husband?
During those years, they had resorts for singles. We met that way at Green Mansions. But he lived in Brooklyn. When he called for a date, I said I was busy. He called me six months later after he got a new job in New Jersey working at Magnus Chemical in Garwood. My mother told me to accept the date the next time he calls. So he did finally call, I accepted, and we got married in 1951.

 

Q: What was his name?
Leon Salz.

 

 Q: What was post-war life like for you and Leon?
After we got married, we moved to Short Hills, New Jersey, and in 1957 we moved to Mountainside. Leon had a Master's Degree in Chemistry from the University of Michigan. He marketed industrial lubricants. We had two children, Alan and Carol. I went to back to school at night, and my husband told the high school principal that his wife was great in languages and could speak four languages, and that's how my career started as a substitute teacher and a "spitball target." I was substituting in Jonathan Dayton High School in Springfield. I would come home, and my son would say, "My mom had a tough time in class" because he heard it from the other kids.

 

Q: How did you come to live in Bridgewater?
I lived in Mountainside until my husband passed. Then I came to Bridgewater to be near my son, Alan. I now have three grandchildren.

HISTORICAL NOTES:

Alsace-Lorraine, German Elsass-Lothringen, area comprising the present French départements of Haut-Rhin, Bas-Rhin, and Moselle. Alsace-Lorraine was the name given to the 5,067 square miles (13,123 square km) of territory that was ceded byFrance to Germany in 1871 after the Franco-German War. This territory was retroceded to France in 1919 after World War I, was ceded again to Germany in 1940 during World War II, and was again retroceded to France in 1945.

Sources and Credits:

Credits:

SSBJCC Survivor Registry Interview with Alice Salz, November 7, 2017, Interviewer: Nancy Gorrell; Biography by Nancy Gorrell; Digital historic and family photographs donated by Alan Salz; Eulogy by Alan Salz, April 13, 2018.
RELATED MEDIA