 Holocaust
Memorial Education Center
Shimon and Sara Birnbaum Jewish Community Center

Survivor Profile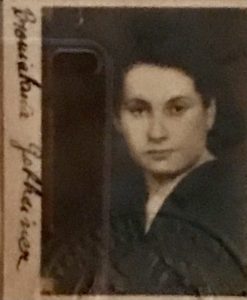 PRE-WAR NAME:
PLACE OF BIRTH:
DATE OF BIRTH:
STATUS:
RELATED PERSON(S):
BRIEF BIOGRAPHY BY DAVID GOTEINER, SON

My parents Beatrice and Samuel were married in 1938 in Lodz, Poland.  My mother's family made molds for chocolate. My mother had eight siblings. When the war broke out, my father was drafted into the Polish army and my mother chose to stay behind.  My mother ended up in the Lodz ghetto and my father became a Russian prisoner of war. My mother always looked plump and healthy and she was put on work detail in various slave labor camps throughout the war. She always looked plump no matter how hungry she was. On D-Day she was moved from various concentration camps, Bergen Belsen and Auschwitz in particular. (Refer to photo of Belsen One Mark Note in Related Media).

 

Although she was in camps, she was never tattooed. She was liberated when she was being moved between camps and the Allies bombed the first and the last cars of the train she was on. It stopped and she escaped. She worked her way back to Lodz and reunited with my father and they emigrated together to the United States in 1948. I believe my father had relatives in the US. My grandmother had a younger sister who came to the U.S. before the war who married an American Jew.  They sponsored my parents (that's my guess). They settled in Williamsburg, Brooklyn.

Editor's Notes:

Refer to the "Holocaust Still Life" by David Goteiner in Related Media in homage to his survivor parents and the survivor parent's of his best friend.

Refer to David Goteiner's Registry in Voices of the Descendants  for Artist's Statement of the "Holocaust Still Life".

SURVIVOR INTERVIEW:

Refer to David Goteiner's Interview in the Voices of the Descendants Registry

Sources and Credits:

Credits:

Biography by David Goteiner; SSBJCC Interview with David Goteiner; Digital historic documents and family photographs donated by David Goteiner; Digital reproduction of "Holocaust Still Life" donated by David Goteiner.

 The Holocaust Memorial and Education Center ackowledges with gratitude the digital reproductions of David Goteiner's "Holocaust Still Life" and additional artwork in the Voices of the Descendants Registry.
RELATED MEDIA