 Holocaust
Memorial Education Center
Shimon and Sara Birnbaum Jewish Community Center

Survivor Profile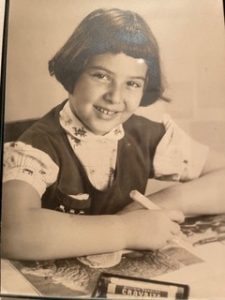 PRE-WAR NAME:
PLACE OF BIRTH:
DATE OF BIRTH:
LOCATION(s) BEFORE THE WAR:
LOCATION(s) DURING THE WAR:
STATUS:
RELATED PERSON(S):

BERNHARD MEYER - Father (Deceased),

MARGARETE MEYER - Mother (Deceased)
brief BIOGRAPHY BY Nancy gorrell

Daniela A. was born in 1950 in Tel Aviv, Israel. Her parents, Bernhard and Margarete Meyer were both born in Germany, Bernhard from Unna and Margarete (Gretel) from Hamm. Daniela's parents married in 1937 and due to the Nazi laws and oppression, fled Germany for Palestine. They lived in Palestine for 15 years. In 1952, Daniela's father felt compelled to leave Israel for economic reasons. Upon the urging of Margarete's brother, Arturo Kircheimer who lived in Sosua, a moshav in the Dominican Republic, Daniela's family emigrated to Sousa. Initially, they lived in "el Batey," but after a few weeks they moved to Bella Vista where they received a farm from the Dominican Republic Settlement Association (DORSA). Daniela's parents managed to successfully run their Sosua farm. Daniela lived in Bella Vista, an area around Sosua from the ages of two to five years old. She went to kindergarten there.  In 1955, Daniela's parents moved once again to seek a better future. They arrived in Manhattan, New York, but did not stay long as they felt it was not a "good" place to raise Daniela and her brother. At the urging of a good friend, Inge Nierenberg that they knew from Germany and Palestine, they moved to Morristown, New Jersey where they settled for the remainder of their lives. Daniela's father worked in various merchandising roles until he finally bought a car rental franchise agency. Daniela's mother worked as a teacher's aide for special needs students. Daniela resided in Morristown, New Jersey where she pursued her education and graduated from Morristown High School. When asked in her interview if she had ever returned to Sosua, Daniela replied,  "I have been back a few times. I first returned with my parents when I was 12 years old, and then visited again with my husband and two young children.  My last visit was when my uncle celebrated his 95th birthday.  I actually have a male cousin who was born there and still lives there today but have lost contact with him.

Editor's Notes:

Refer to Related Media for historic photographs of Sosua, Dominican Republic and family photographs.

Refer to Survivor Registry for Inge Nierenberg.

Refer to Survivor Registry for Yoram Meyer.

SURVIVOR INTERVIEW:

Date: November 10, 2023

Place: SSBJCCHEC Telephone Interview

Interviewer: Nancy Gorrell

 

Q: Where were you born?

A: Tel Aviv, Israel.

 

Q:  What are some of your earliest memories?

A: I left Tel Aviv when I was two years old. I have no early memories of Tel Aviv.

 

Q: Where did you go?

A: In 1952, I went to the Dominican Republic with my family, parents and older brother.  My parents left Israel to seek a better economic future for our family as times were very hard in the early 1950's in Israel. 

 

Q: Any memories or impressions of that time? 

A: I was there from the ages of two to five years old. While my memories are very limited from that time, I do recall going to the beautiful beach which was on a protected bay. 

 

Q: Did you go to school there? 

A: Yes. I went to kindergarten. 

 

Q: Did you learn Spanish? 

A: I don't think I ever learned Spanish. My parents spoke German at home and most of the children in the kindergarten class also came from German or Yiddish speaking households.

 

Q: What language or languages do you remember speaking at home? 

A: German

 

Q: What was your father doing at that time? 

A: He was farming and raising cattle. 

 

Q: Did your mother work?

A: No. The village that we lived in was structured like a moshav. It was an agricultural development and there was a communal dairy and a communal meat processing factory where they made sausages. There was also a kind of communal store where residents of the Sosua village could buy supplies.

 

Q: Did you have any friends in the village?

A: I don't recall any friends but pictures of my time there show me with other children. There are some pictures of my mother and me and some other children at the beach.  So, I suppose I played with other children.

 

Q: Can you describe further the village you lived in?

A: The village I lived in were all Jewish refugees from eastern and western Europe.  It had a communal structure much like an Israeli moshav.  

 

Q: Were there only Jewish refugees living there?

A: Yes, only Jewish refugees lived in our village.

 

Q: Do you remember observing Jewish holidays? Did you go to synagogue?

A: There was a synagogue, which one can still visit today. It is no longer in use. It was a small, wooden structure.  We did not have a resident rabbi and so members of the community led services and there were holiday celebrations. 

 

Q: Can you tell us more about Sosua?  

A: Sosua is named after a local river that flows near by the village. You can learn everything about Sosua online at the Sosua Virtual Museum. 

 (Refer to Historical Notes for Sosua Virtual Museum).

 

Q: How would you describe your family life in your early years?

A: Our family life was warm and happy. We did move a lot due to my father wanting to advance our economic situation. All those moves – from Israel to the Dominican Republic, and from the Dominican Republic to New York, and finally to Morristown, New Jersey where I spent the rest of my childhood – were in my first five years. My parents tried to protect me from any anxieties that they might have experienced from all of these moves.  

 

Q: When and why did your family leave the Dominican Republic and move to New York? 

A: My father felt economically stymied in Sosua. My uncle and aunt lived in New York, and later moved to Wilmington, DE.  When my parents first left Israel in 1952, they wanted to immigrate to the USA.  At the time my aunt and uncle, who lived in the States, were too poor to swear the necessary affidavit to sponsor our family.  So, they went to the Dominican Republic where another brother of my mother's lived.   When we finally were able to enter the United States in 1955, a close friend of my parents, Inge Nierenberg, helped them settle and encouraged them to move to Morristown, New Jersey, where we finally settled and put down roots.

 

Q: Have you ever been back to Sosua? 

A: Yes, I have been back a few times. I first returned with my parents when I was 12 years old, and then visited again with my husband and two young children.  My last visit was when my uncle celebrated his 95th birthday.  I actually have a male cousin who was born there and still lives there today but have lost contact with him. 

 

Q: Is there anything more you would  like to add to this interview?

A: Yes – a point of interest about my parents. Before being allowed to enter Israel, my parents spent time on Hakshara or Hachshara – a preparatory program to acquire agricultural skills. The British who were responsible for the Mandate required Jews to prove that they had skills that were necessary in the Yishuv. My parents spent about a year on separate Jewish-owned farms in Germany getting the required training and certification to enable them to leave Germany for Palestine. It was during their hakshara training that they met and befriended Inge Nierenberg who became a lifelong friend and helped them come to Morristown, New Jersey where she lived.

Editor's Notes:

Refer to Survivor Registry for Inge Nierenberg.

Refer to Survivor Registry for Yoram Meyer

Refer to Historical Notes for Hakshara.

 

HISTORICAL NOTES:

Hakhshara or Hachshara 

Hakhshara is a Hebrew word that literally means "preparation." The term is used for and agricultural centers in Europe and elsewhere. At these centers zionist youth and young adults would learn vocational skills necessary for their emigration to Israel and subsequent life in kibbutzim. Such camps existed before WWII and still exist today. 

Retrieved Wikipedia 2023.

 

Evian-Les -Bains Conference (1938)

In March 1938, U.S. President Franklin Roosevelt convened a 32-nation conference at Evian-les-Bains, France, to discuss the resettlement of German and Austrian Jewish refugees to other lands. At that time, the Nazi regime was still agreeing to let Jews emigrate if they transferred their assets to the German government. The assembled nations endorsed the idea of resettlement but agreed that no nation would "be expected or asked to receive a greater number of emigrants than is permitted by existing legislation." Given the xenophobic and anti-Semitic moods of the Depression era, this meant that, in effect, no nation – even the United States – was expected to take more than a few thousand refugees.

 

Dominican Republic and Trujillo

Only the Dominican Republic, led by dictator Rafael Trujillo, expressed a willingness to accept a significant number – between 50,000 and 100,000 Jews – an offer which the American Jewish Joint Distribution Committee (JDC) quickly accepted. Trujillo's generosity probably stemmed mainly from his eagerness to have the Western nations overlook his brutal massacre of 25,000 Haitians in 1937 and his desire to "whiten" the people of his country, believing that the young European men would marry Dominican women and produce light-skinned offspring.

A powerful argument against spending millions to build Jewish colonies for a few thousand refugees was that the money could be better used to feed many tens of thousands of Jews then starving across Europe. Nonetheless, the JDC decided that the Dominican offer was too good to turn down, both on humanitarian grounds and because a Dominican resettlement project might provide a model for relocating Europe's Jews after the war. (At this time, of course, there was little if any comprehension of the mass extermination the Nazis would unleash on European Jewry). The willingness to consider resettlement in Latin America also assumed that the British might never permit Palestine to become a Jewish homeland.

 

Dominican Republic Settlement Association (DORSA)

The Dominican government welcomed the Jews on the condition that they become agricultural workers rather than "commission agents." The JCS created a special organization, the Dominican Republic Settlement Association (DORSA) and funded it to purchase 26,000 acres in the Dominican town of Sosua, which had previously been developed as a banana plantation but was abandoned by the United Fruit Company.

On January 30, 1940. DORSA officials signed a contract with the Trujillo regime. Historian Nicholas Ross, writing in the journal of the American Jewish Historical Society, quotes the contract:

The Republic … hereby guarantees to the settlers and their descendants, full opportunity to continue their lives and occupations free from molestation, discrimination or persecution, with full freedom of religion … civil, legal and economic rights, as well as other rights inherent to human beings.

The refugees were settled in the tiny seacoast town of Sosua, then just jungle land, which Trujillo had established with funding provided by the JDC. Upon arrival, every new Jewish settler was given 80 acres of land, 10 cows, a mule and a horse.

Despite this encouraging start, the Sosua experiment struggled. Submarine warfare in the Atlantic and the need to use Allied ships for troops and supplies made it possible to relocate only 50 or so refugees in the first year. Most of those who came initially were aged fifty or older, typical of German Jewry at this time. Some refugees wished to begin life again as Dominican farmers, but an equal number saw Sosua only as a place to wait until they could get a visa to enter the United States. It soon became clear that it would cost about $3,000 to settle a family on a tract of Sosua land and equip it for farming. The land was not highly fertile and its drainage poor. The settlers needed a period of adjustment to the semi-tropical climate of the island. Tomatoes, the first crop chosen for commercial exploitation, proved unattractive to the local Dominican population. The colony appeared headed for disintegration.

 

James N. Rosenberg, head of DORSA, refused to let the experiment die:

Half the world lives now under the shadow of war, persecution, horror and death. … Now an open door of hope beckons. … We must carry this endeavor to accomplishment. … We dare not falter.

DORSA imported experts from kibbutzim in Palestine to teach the settlers communal agriculture. They helped design and build a communal meat processing plant and butter and cheese factory and recommended raising lemongrass for its oil, which is commercially used in perfume. A trickle of refugees continued into the town even though America's entry into the war made it harder to cross the Atlantic.

In October 1941, the Nazis cut off Jewish emigration from the territories they occupied in Europe. Sosua's Jewish population peaked at about 500. By this point, DORSA had invested about $1 million in the project.

By 1944, Sosua's fortunes turned, DORSA abandoned communal agriculture and gave the settlers private plots. They focused on raising cattle and butter and cheese production and prospered. Still, most Jews left for the U.S. or Israel.

 

Today, about 25 Jewish families remain in Sosua. Their dairy business supplies most of the butter and cheese consumed in the Dominican Republic. Next to the town's synagogue is a museum. The final caption on its exhibit reads:

Sosua, a community born of pain and nurtured in love must, in the final analysis, represent the ultimate triumph of life.

Retrieved Jewish Virtual Library November 10, 2023

https://www.jewishvirtuallibrary.org/dominican-republic-as-haven-for-jewish-refugees

Sources and Credits:

Credits:

Brief Biography of Daniela A. by Nancy Gorrell

SSBJCC Holocaust Memorial and Education Center Interview (November 10, 2023)

 

SSBJCC Holocaust Memorial and Education Center gratefully acknowledges Daniela A. for her Interview, donation of historic and family digital photographs from Sosua, and pertinent historical notes regarding Sosua and the Dominican Republic Settlement Association (DORSA). 
RELATED MEDIA