 Holocaust
Memorial Education Center
Shimon and Sara Birnbaum Jewish Community Center

Survivor Profile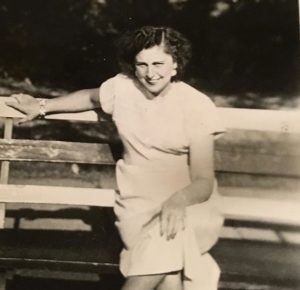 PRE-WAR NAME:
PLACE OF BIRTH:
DATE OF BIRTH:
LOCATION(s) BEFORE THE WAR:
LOCATION(s) DURING THE WAR:

WASHINGTON HEIGHTS, NEW YORK
STATUS:
RELATED PERSON(S):

SIEGBERT APPEL

- Spouse (Deceased),

HARRY ROSENTHAL - Son,

MANFRED ROSENTHAL - Spouse (Deceased),

MARC ROSENTHAL - Grandson,

MICHELLE ROSENTHAL EDGAR - Granddaughter,

HUGO ISRAEL BROTHER (Deceased)
BIOGRAPHY By michele edgar, granddaughter

My grandmother's maiden name was Edith Israel, and she was born on April 9, 1913 in Dillich, Germany. She never spoke about her experience getting out of Germany, but only said she lost a lot of her family in Germany. Edith came to the United States October 1938 to join Siegbert, her longtime boyfriend. They met in Germany having lived in close proximity. Edith's ship of travel was actually called the New York.  Siegbert  sponsored her to reunited with him in the Bronx. Three months later they were married. Siegbert and Edith started a dress shop out of their apartment in Washington Heights. In 1942 they had a son, Harry. In 1944, Seigbert died due to kidney disease.

Edith was later remarried to Manfred Rosenthal. They rented a store in Washington Heights and expanded their dress shop business. They had a daughter. Fred and Edith were married until she died in 1991. Edith was a very loving grandmother, a wonderful cook and a dear person. She is missed by her children and grandchildren.

In addition, Edith's brother, Hugo was rounded up after Kristallnacht and sent to Buchenwald. He was released on the condition that he leave Germany. He tried to do it when he boarded the St. Louis May of 1939 and ended up in England. Then he got on a different boat. From England he boarded a ship to the United States in January 1940.

 

Editor's Notes:

Refer to photo of ship manifest #19 in Related Media.

Refer to photo of dress shop in Related Media.

 Refer to Hugo's (Edith's Brother) Buchenwald documents from the USHMM in Related Media.

Refer to granddaughter, Michelle Edgar in Voices of the Descendants

SURVIVOR INTERVIEW:

Refer to Biography above.

Sources and Credits:

Credits:

Biography by Michelle Edgar, granddaughter; Digital, family and historic photographs donated by Harry Rosenthal, son; USHMM Historic Documents of Hugo Israel donated by Michelle Edgar.

The SSBJCC Holocaust Memorial and Education Center gratefully acknowledges historic digital documents from USHMM donated by Michelle Edgar.
RELATED MEDIA