 Holocaust
Memorial Education Center
Shimon and Sara Birnbaum Jewish Community Center

Survivor Profile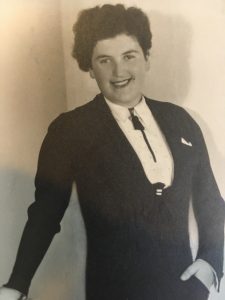 PRE-WAR NAME:
PLACE OF BIRTH:
DATE OF BIRTH:
LOCATION(s) BEFORE THE WAR:
LOCATION(s) DURING THE WAR:

WASHINGTON HEIGHTS, NEW YORK
STATUS:
RELATED PERSON(S):

HANS MORITZ VOLLWEILER

- Spouse (Deceased),

ELLEN VOLLWEILER ROSENTHAL - Daughter,

MARC ROSENTHAL - Grandson,

MICHELLE ROSENTHAL EDGAR - Granddaughter,

SIGMUND LICHSTERN - Father (Deceased),

MOLLIE LICHSTERN - Mother (Deceased)
BIOGRAPHY By MICHELLE EDGAR

Erna Lichtstern was the daughter of Sigmund Lichtstern and Mallie Katz. My grandmother, Erna, had one older brother, Herbert and the family came from Munich. My grandfather met my grandmother, Erna Lichtstern, in Germany. My grandparents got married in Germany and moved to Washington Heights, NYC in 1938 to escape the terror of the Nazi regime. There were several generations that lived in this household in NYC. In this apartment there lived my great-great-grandmother, known as the Alte Oma, my great-grandparents, Sigmund and Mallie and my grandparents, Hans and Erna in addition to their two children, my mother being the youngest child. The family belonged to an Orthodox Synagogue, Ahavath Torah Synagogue in Washington Heights. This is also where the children received their Jewish education. My grandfather, Hans, made his living selling children's clothing. The family stayed in Washington Heights until the late 1960's and then moved to Yonkers, New York once their children were married. Several years later they moved Hallandale, Florida. 

Editor's Note:

Refer to granddaughter, Michelle Edgar's, Testimony  in Voices of the Descendants.

SURVIVOR INTERVIEW:

Refer to biography above by Michelle Edgar, granddaughter

Sources and Credits:

Credits:

Biography by Michelle Edgar, granddaughter. Digital historic and family photographs donated by Michelle Edgar.
RELATED MEDIA