 Holocaust
Memorial Education Center
Shimon and Sara Birnbaum Jewish Community Center

Survivor Profile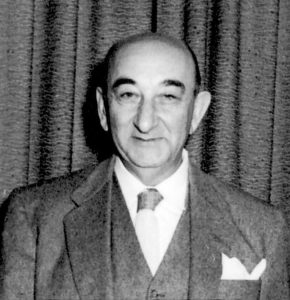 PRE-WAR NAME:
PLACE OF BIRTH:
DATE OF BIRTH:
LOCATION(s) BEFORE THE WAR:

SAALFELD, GERMANY; ITALY; CENTRAL AMERICA
LOCATION(s) DURING THE WAR:

NEW YORK CITY, N.Y.; PLAINFIELD, NEW JERSEY
STATUS:
RELATED PERSON(S):

ELSE LOEWENGART FUERST - Spouse (Deceased),

STEVEN B. FUERST - Son,

ELIZABETH YUSEM FUERST - Daughter-in-law,

RITA WOLF - Daughter-in-law (Deceased),

BERT WOLF- Step - Son (Deceased)
BIOGRAPHY BY ELIZABETH FUERST, DAUGHTER IN LAW

Ernest was born in 1897 in the East Prussian village of Saalfeld. His father was in the grain business and sent Ernest to boarding school in nearby Danzig (now Gdansk in Poland) to learn business and accounting practices. Ernest served in World War I, where he waswounded, and returned to East Prussia to conduct the family grain business, which had roots all over Germany and parts of Europe.He lived a very continental lifestyle but maintained a home in Saalfeld. Around 1933, he was taken in for questioning by local police because he was dating a Christian woman. Seeing the handwriting on the wall, he decided to leave Germany for good.Understanding that he might have to uproot and move his whole family out one day, Ernest used his ski holidays in Switzerland to smuggle  money out of the country and get it to New York. He himself moved to Italy and then Central America, before landing in New York in 1936 and sending for his entire family. He settled his sister on a chicken farm in Franklin Township and his brother, who had been a chemist in Germany, on a farm in Ringoes in Hunterdon County. Ernest was able to purchase a one-third interest in a grain mill in  Somerville, and he moved from New York to Plainfield to be closer to the business.

 

In 1940 he met Else, who was the sister of a German Jewish Franklin Township chicken farmer. Ernest and Else married on New Year's Eve, 1940. They later moved to Somerville along with Bert Wolf, Else's son from her first marriage. Their son Steven was born in 1945.They had many German Jewish immigrant friends, some of whom had chicken farms close by, and they used to get together on weekends for coffee and cake. Ernest was active in Somerville community activities and well respected by leading business and municipal officials. In the 1960s he was instrumental in merging the Orthodox synagogue, Anshe Chesed, with Somerville's Conservative synagogue and, in fact, was the one who suggested the name for Temple Sholom as an acknowledgement of the "peace" that had been brokered between Conservative and Orthodox elements. Ernest ran Sunrise Milling until 1970, when he became ill and died in December of that year.

 

Editor's Note:

Refer to son, Steven Fuerst in Voices of the Descendants

SURVIVOR INTERVIEW:

Sources and Credits:

Credits:
Biography by Elizabeth Fuerst; Digital historic and family photographs donated by Steven and Elizabeth Fuerst.
RELATED MEDIA