 Holocaust
Memorial Education Center
Shimon and Sara Birnbaum Jewish Community Center

Survivor Profile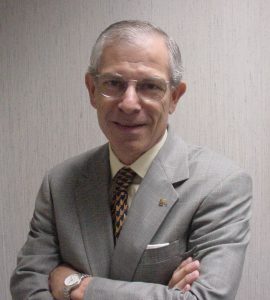 PRE-WAR NAME:
PLACE OF BIRTH:
DATE OF BIRTH:
LOCATION(s) BEFORE THE WAR:
LOCATION(s) DURING THE WAR:

LVOV GHETTO; ZLOCZEW, GHETTO; FARM IN EASTERN POLAND
STATUS:
RELATED PERSON(S):

Harriet Tersch Blank - Spouse,

Howard Blank - Son,

Leslie Ostrin - Daughter,

8 grandchildren ,

1 great grandson
BIOGRAPHY BY george blank

George Blank was born in Rzescow, Poland three years before the beginning of WW II. He and his mother survived the Lvov and Zloczew Ghetto's and then the remainder of the war by hiding on a remote farm in Eastern Poland. While several members of his mother's family also survived, all eight members of his father's family were killed.

At the end of the war in 1945, George and his mother moved to Vienna, Austria and to Paris, France where George attended public and Hebrew schools. They immigrated to the United States, landing in New York City in December 1947. George attended the Mesivtha Tefereth Jerusalem Yeshiva, public high school and went on to earn an Engineering degree from New York University. Upon graduation, he married his high school sweetheart, Harriet Tersch. George next served as an officer in the US Army and earned an MBA from GW University during his tour of duty.

Upon completion of his military service, George joined the Johnson and Johnson Company where he served in various management positions. In 1979 he started The MedTech Group, a contract medical products manufacturing company. The company was re-named Vention Medical, and today is one of the best-known companies in its industry.

 George is the father of Howard Blank and Leslie Ostrin and has eight grandchildren, two married-in grandchildren, and a great grandson. They are Jessica, Noam, Adam, Danielle, Joshua, Daniel, Alex, Uri, Ayelet, Sigal and Jonah. In the past dozen years, George has spoken about the Holocaust at public schools, Hebrew day schools, private academies, community colleges and at public events.

Editor's Note:

Refer to Historical Notes Below for Lvov Ghetto and Zloczew Ghetto 

SURVIVOR INTERVIEW:

Refer to biography above by George Blank

HISTORICAL NOTES:

LVOV GHETTO

On 8 November 1941, the German civilian administration issued the order to establish a ghetto in Lvov. All Jews were forced to move into the ghetto before 15 December 1941. The German police organized selections on Peltewna Street during this time.  Nearly 5,000 elderly and sick Jews were selected and shot. This "action" was called "Action under the bridge". At this time there were between 110,000 and 120,000 Jews in the ghetto.The first deportation of Jews from the Lvov Ghetto to the Belzec death camp was organized between 16 March and 1 April 1941. 

Zloczew Ghetto 

 In 1940, the Germans established a ghetto in Złoczew, which brought together about 2,500 Jews from the city and surrounding areas. Into 1942 its residents were deported to death camps and murdered.

Sources and Credits:

Credits:

Biography by George Blank;  Digital historic and family photographs donated by George Blank.
RELATED MEDIA