 Holocaust
Memorial Education Center
Shimon and Sara Birnbaum Jewish Community Center

Survivor Profile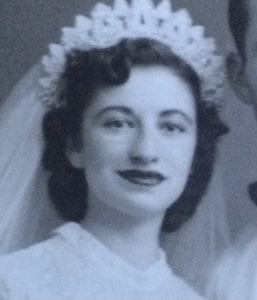 PRE-WAR NAME:
PLACE OF BIRTH:
DATE OF BIRTH:
LOCATION(s) BEFORE THE WAR:
LOCATION(s) DURING THE WAR:

THROUGHOUT EUROPE AND ITALY
STATUS:
RELATED PERSON(S):

SAM - Spouse (Deceased),

KENNY BERRY - Son,

ADELEEN SHEA - Daughter,

DAVID BERRY - Grandson,

LISA BERRY EDWARDS - Granddaughter,

JOSEPH SHEA - Grandson,

RYAN SHEA - Grandson,

WILLIAM SAMUEL SHEA Great- - Grandson,

LOGAN BLAIR BERRY Great- - Granddaughter
BRIEF BIOGRAPHY of greta weiss berry BY KENNY BERRY, SON

My grandfather, David Weiss, was a cab driver who never drove in the US. He lived in Vienna his wife Anna and her brother Alfred and Sister Gertrude. They lived in an apartment. My mom was only 4-5 when they left, so she has few memories of Vienna when they left. Her whole family left together—her mother, father, sister and brother. My grandfather got put in a work camp in Austria. My grandmother stuffed a pillow under her shirt and convinced the guard to get him out pretending pregnancy. So my grandfather was released.

My mom is mostly hazy on this time on the run, constantly in fear of capture, relying on strangers to hide them. I remember my mother telling me it is warmer to burrow into snow than to be outside it. I can't name any places but I know they were on the run and in hiding as family. They were captured and put on a train to Auschwitz. But during a big snow storm the train broke down and the Nazi's said "just go." And they fled.

Story #2: My grandmother took her two daughters into a lake to bath them and considered drowning them, but didn't. This story is on the Shoah tape and my Mom told me.

Story #3 concerns my aunt, Gertrude. Whereever they were was a forest. My uncle Alfred would hide out in the forest everyday. My aunt would be swimming in plain view—she didn't care. There were planes flying over us. My uncle would always tell that story about my aunt not being afraid.

My parents between them could speak eight languages. My dad could speak Yiddish, Czech, Hungarian, German; my mother could speak Yiddish, German and Italian. My mother went to school in Italy grades 4-7th. She came to the US in the late 40s. My aunt got married and went to Australia for a short time but then came back. They came by boat and were very seasick. My mother was married at 19.

My mother didn't talk about the extended family left in Austria. My mother left too young to have friends or attachments.

When my mother went to NYC she worked as a seamstress. For years she had jobs related to sewing. She sewed me a suit when I was in college. Between the two of them who had zero schooling, they were an incredible couple. She could draw. She was artistic.

SURVIVOR INTERVIEW WITH KENNY BERRY, SON

Refer to the Biography of Greta Berry above by Kenny Berry, son.

Sources and Credits:

Credits:

Biography of Survivor Greta Berry  by Kenny Berry 2021.
RELATED MEDIA