 Holocaust
Memorial Education Center
Shimon and Sara Birnbaum Jewish Community Center

Survivor Profile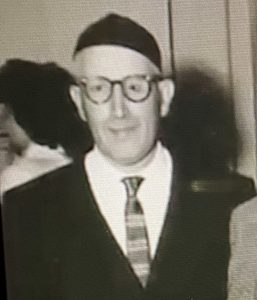 PRE-WAR NAME:
PLACE OF BIRTH:
DATE OF BIRTH:
LOCATION(s) BEFORE THE WAR:
LOCATION(s) DURING THE WAR:

FLED; FOUGHT WITH PARTISANS  AND  SOVIET ARMY
STATUS:
RELATED PERSON(S):

SARA R. RESNICK - Spouse (Deceased),

CARL RESNICK - Son,

TED RESNICK - Son,

MARTIN RESNICK - Son,

STEPHANIE GOLDBERG - Granddaughter
HISTORICAL NOTES:

According to the Encyclopedia of the Holocaust, there were about 30,000 Jews in Pinsk in early 1941. After the German occupation, in 1942 a ghetto was established.  Virtually all residents of the ghetto were murdered in the final aktion of Oct 28 – Nov 1, 1942. (see Encyclopedia Judaica Vol. 13, p. 543). Prior to WWI, Pinsk was in Minsk gubernia (Minsk province) of the Russian Empire.  Between the wars, Pinsk was in Poleskie województwa (Polesie province) of Poland.  After WWII, Pinsk was in the U.S.S.R.  Today, Pinsk is in Belarus.
RELATED MEDIA