 Holocaust
Memorial Education Center
Shimon and Sara Birnbaum Jewish Community Center

Survivor Profile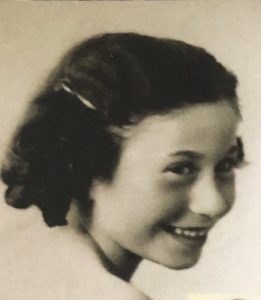 PRE-WAR NAME:
PLACE OF BIRTH:
DATE OF BIRTH:
LOCATION(s) BEFORE THE WAR:
LOCATION(s) DURING THE WAR:

CORBONOD,  EASTERN FRANCE; LE CHAMBON-SUR-LIGNON
STATUS:
RELATED PERSON(S):

MERTON BLAND - Spouse (Deceased),

FRANCES BERNHEIM BR0THER ,

MARC BERNHEIM BROTHER ,

ANNE MARIE BERNHEIM SISTER ,

BEATRICE BLAND ABRAMS SISTER IN LAW ,

DEAN BLAND - Son,

BRUCE BLAND - Son (Deceased),

ALLYN KURIN - Daughter,

CLAIRE KRINSKY - Daughter,

EVLYN MONOS - Daughter,

9 GRANDCHILDREN
BIOGRAPHY BY BEATRICE BLAND ABRAMS, SISTER IN LAW

Janine Bernheim was born in 1931 in Lyon France. Her parents, Joseph and Georgette were Jewish, both from the Alsace-Lorraine area.  She had two brothers, Francis, one year older than she, and Marc who was two years older. Her sister, Anne Marie–born toward the end of the war– is 12 years younger. The family, considered well-to-do, lived in an apartment above one of the two stores their parents owned. They sold wool and ran a large wool processing business, part of a larger business run by relatives of Janine: Comptoir Industriel de la Laine and La Maison de la Laine Mode. While not orthodox in practice, the Bernheims belonged to the Grande Synagogue on Rue Tilsitt.  Marc was a bar mitzvah in 1941.

 

Janine attended Le Lycée du Parc until Pétain decided girls should be schooled separately from boys.  She then switched to Le Lycée de Jeunes Filles.  Her brothers continued at Le Lycée du Parc.

 

When war broke out in 1939, Monsieur Bernheim was drafted. He returned once the armistice was signed. The family continued to live in Lyon until the Nazis moved into the Unoccupied Zone of France in 1942. At some point in 1942, the family stayed at the boarding house run by Tante Soley in Le Chambon-sur-Lignon, an area known for protecting persecuted individuals. The regional head of the Commission on Jewish Affairs for Lyon confiscated the Bernheim's Lyon property in 1943. The family holdings in northern France were taken by the head of the Commission and offered to Himmler.

 

Janine's family fled to their farm property in Corbonod, Ain, in eastern France where they subsisted as farmers for the rest of the war.  Although details are not known, the family says that they hid some immigrant Jews who were fleeing France and some Gentiles hiding from the mandatory work program. The latter often went on to join the Maquis (resistance). Janine and Francis attended a one-room school in near-by Gignez; Marc went to school in Seyssel. Monsieur Bernheim joined the resistance, the Maquis de l'Ain, in 1944 as a sergeant. The resistance was active in this area of France, skirmishing in a number of areas, and taking part in actual battles – some successful, some not – in others. Marc was said to have acted as a courier for the Maquis.

 

France was liberated in 1944. The family eventually moved back to Lyon and were able to take back most of their property. After the war, the Amicale des Donneurs de Sang de Lyon, a charitable organization that solicits blood donations, acquired the chateau in Corbonod from Janine's family.

 

In 1952 Janine married Merton Bland who had been a student at the university in Lyon and then a soldier in the US Army.  They moved to the United States in 1953, living in Illinois, Vermont, Los Angeles, San Juan Bautista, and Fresno, California as Merton completed his Doctorate in Education and taught art and French in various schools. Merton joined the U.S. Foreign Service as a Cultural Attaché in 1966, and he and Janine were posted in Ghana, the Congo, Madagascar, Pakistan, Guinea, and Australia. Upon return to the USA Janine taught French for a number of years at the Foreign Service Language Institute in Arlington. She has become well known for the jewelry she crafts. Janine and Merton reside in Arlington, VA. They had five children and have nine grandchildren.

 

Janine's story is one of survival, inner strength, and positivity. She learned her lessons by surviving the war and post-war rebuilding, the loss of a son, evacuations from high risk situations in the Foreign Service, and breast and stage four colon cancers. At 88 years of age she continues to be active and continues to spread her positive attitude wherever she goes.  As she says, "…you need to give people hope."

Editor's Note:

Merton Bland, Janine's spouse of blessed memory and Bea Abrams' brother, passed January 14, 2021.

SURVIVOR INTERVIEW:

REFER TO BEATRICE ABRAMS'  FICTIONALIZED MEMOIR ABOUT HER SISTER-IN-LAW, JANINE

FIGHTING DARKNESS, FINDING LIGHT: FAMILY, FRIENDSHIP, AND FAITH IN VICHY FRANCE

Summary:

As recounted by fourteen-year old Janine Bernheim, Fighting Darkness, Finding Light: Family, Friendship, and Faith in Vichy France, describes one Jewish family's struggle to survive World War II in a landscape darkened by Nazi violence, hatred, and fear. A novel for readers ages twelve and up, Fighting Darkness, Finding Light is the fictionalized memoir of the real Janine Bernheim.  In a story of bias and acceptance, revenge, recollection, and forgiveness, Janine narrates how the Bernheims stayed strong through the bonds of friendship and family–learning to cope with loss, hold fast, and fight back. Author Beatrice Abrams transforms history from a collection of dates and incidents into the story of one family who is affected by, responds to, and ultimately affects larger events.

Sources and Credits:

Credits:

Survivor Profile Photograph credited to the Washington Post Magazine "First Personal Singular, Janine Bland"  2011; Brief Biography and family photographs credited to Beatrice Abrams, Fighting Darkness, Finding Light: Family, Friendship, and Faith in Vichy France: Lucky Lion Publishing, 2019.

The SSBJCC Holocaust Memorial and Education Center gratefully acknowledges donation by Beatrice Abrams of the book Fighting Darkness, Finding Light: Family, Friendship, and Faith in Vichy France and digital historic and family photographs therein.
RELATED MEDIA