 Holocaust
Memorial Education Center
Shimon and Sara Birnbaum Jewish Community Center

Survivor Profile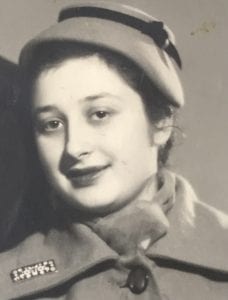 PRE-WAR NAME:
PLACE OF BIRTH:

KUIBISHEV (SAMARA), RUSSIA
DATE OF BIRTH:
LOCATION(s) BEFORE THE WAR:
LOCATION(s) DURING THE WAR:

KIEV, KUIBISHEV (SAMARA), RUSSIA
STATUS:
RELATED PERSON(S):

ALEXANDER AIZENBERG - Spouse,

ABRAHAM BERENFUS - Father (Deceased),

BASSIONA VAISER BERENFUS - Mother (Deceased),

EMANUEL VAISER - Uncle (Deceased),

ZELMAN VAISER (MATERNAL) - Grandfather (Deceased),

VITALY AIZENBERG - Son,

ANNA AIZENBERG - Daughter
BIOGRAPHY BY NANCY GORRELL

How Liudmyla got her name as related to Nancy Gorrell prior to her Interview:

Ruslan and Ludmila is a poem by Alexander Pushkin, published in 1820. It is written as an epic fairy tale consisting of a dedication, six "cantos", and an epilogue. It tells the story of the abduction of Ludmila, the daughter of Prince Vladimir of Kiev by an evil wizard and the attempt by the brave knight Ruslan to find and rescue her.

 

Biography of Liudmyla Berenfus

Liudmyla Berenfus was born July 18, 1941, a few days before the invasion of the Nazis and the beginning of the first battle of Kiev (July 23, 1941; refer to historical notes). Her maternal grandparents and mother came from Kiev, the capital of the Soviet Ukraine at the time of the invasion. Her mother and grandfather were talented musicians. She never knew her father or paternal grandparents, but they came from Berdichev, a small shletl. Her father was a scientific genius who passed on his gifts to Liudmyla. Her story is one of a newborn birthed in wartime evacuation on trains, seeking refuge with her mother and grandparents from Kiev, to Stalingrad, to Kuibishev and back. Later in her post-war life, she graduated from Kiev University where she became a teacher of molecular biology, biochemistry, biophysics, and anatomy. She worked before going to the university in a hospital, and before emigration, she worked as a tour guide at the Babi Yar memorial site in Kiev (refer to historical notes).

As Liudmyla explains in her interview, "If my mother wasn't pregnant at the time the war broke out, the whole family would have stayed in Kiev and been killed in Babi Yar. But my grandmother was worried that my mother would be afraid the fascists would bomb Kiev. So they decided to go to Kharkov, where my grandmother had a close friend, a doctor, and there, her daughter could have the baby." They never made it to Kharkov. Once on the train, they heard an announcement that Kharkov had been invaded by the Nazis. The train turned. Where? They didn't know, and the refugees ended up stranded in Stalingrad. They were without food or shelter. Luckily, they were taken in by a kind woman street cleaner. The following morning they awoke they were surrounded by the eyes of neighbors questioning what Jews looked like. "They look normal; there are no horns." Frightened, they boarded the evacuation train heading towards Kuibishev (now Samara), a city closed to Soviet governmental officials. At this point Liudmyla's mother began labor and was told to get off the train and only come back if she didn't have the baby. She and her parents ran to the nearest hospital where she gave birth, and then was forced out onto the street with a Liudmyla, a newborn, just one hour old. With nowhere to go, Liudmyla's mother had sought help from the local military commander. She told her story, about her husband on the front and the new baby and the commander gave her official papers to seek shelter in Kuibishev. Liudmyla's mother and parents knocked on every door. "You good people. But baby will cry. We don't want" was the reply from all until they came to a Jewish family that took them in.

Liudmyla relates in her interview that "I was close to death when I was six months old. Mother and grandmother brought me to a hospital. A nurse took me and put me in a special cart with other babies and told my mother to go home." Her mother didn't go home. She sought out a famous Jewish doctor in the hospital at the time from Kiev and asked his opinion. When the doctor saw Liudmyla near death, he grabbed her and told her mother to "run away." He explained what medicine the baby needed and all through the night, her mother ran from pharmacy to pharmacy getting fragments of the medicine until she had enough pills. The medicine saved her life. By 1944, Luidmyla, her mother and her grandparents returned to the devastation in Kiev. Liudmyla was three years old, and as she recalls in her interview, "I remember this. My grandmother brought me to the main square on Khreschatyk, and I saw fascists hanging."

The remainder of her childhood and teenage years were spent growing up in post-war Kiev, getting married to Abraham Berenfus in 1962, entering Kiev University, graduating in 1967, and having the birth of her first child, a son, in 1968. She experienced discrimination. Despite being a top student, she couldn't go to Moscow University because of the Jewish restrictions. Her mother never remarried. According to Liudmyla, "She never wanted to; my father was her love." She became a famous violinist and teacher. She passed in 1999. In the 1990s Liudmyla's son was invited to pursue a doctorate in mathematics in Cincinati University. He eventually sponsored Liudmyla and her husband and brought them to the United States in 2003. Her daughter came to the United States one year before. The family settled in New Jersey where Liudmyla's son was employed by Exxon Mobile.

Editor's Note:

Refer to Historical Notes below for First Battle of Kiev and Babi Yar Massacre

SURVIVOR INTERVIEW:

LIUDMYLA BERENFUS INTERVIEW

Date: August 16, 2017

Location: Jewish Family Service Office, Somerville, New Jersey

Interviewer: Nancy Gorrell

 

Q: Describe your family background.
My grandfather, Zelman Vaiser, on my mother's side was a famous musician in Kiev. He played the clarinet and saxophone. He worked in the opera theater and symphonic orchestra. My grandmother was a housewife. They had a daughter, Bassiona, and a son, Emanuel. They lived in a good apartment in Kiev.

 

Q: Describe your parent's background.
My mother grew up in Kiev. My father, Abraham, grew up in Berdichev, a Jewish shletl. My father was a genius. All the professors loved him and all the students knew him. He was very talented. His parents had four daughters and my father was the youngest and their only son. His mother cried because she had only one son, and he was killed during the war. My father's father died when he was two years old. His mother (my grandmother) lived to 90 years. The oldest sister was 17 when my father was born. She raised him.

 

Q: How did your mother and father meet?
They were students in the same institute in Kiev. They became engineers and graduated in 1939. They got married 1938.

 

Q: Describe what happened to your family when the war came to Kiev.
The first day of war 22 June 1941, my father went to the front. He was an officer and fought against the fascists on the territory of the Ukraine and was killed in the battle under Piryatin. He is buried there. We found out because we received the last letter from him from this place, and he wrote that it would be a big battle. It came November 1941. He knew by the letters that I was born. He gave me my name, Luidmyla. It's a very famous Russian name, from a Pushkin poem (refer to historical notes). When he went to the front, he wore no military uniform or boots. On the first day, everybody just went in their clothes. They had no military rifles, only pistols.

 

Q: What happened to your extended family when the war came to Kiev?
My father's youngest sister Ida was a doctor. She became the chief of the military hospital close to Odessa. Fascists surrounded the hospital and a group of military girls. My aunt saved the military girls by saying that these girls were not military. Everybody was brought to a concentration camp. My aunt was blond and blue-eyed and said she was Polish and the girls confirmed it. She was not killed because they didn't know she was Jewish. She was in Auschwitz concentration camp for four years. The fascists were close to taking her to the stove, but the Soviet army liberated Auschwitz. My mother's brother, Emanuel, was a student at the conservatory before the war began. When the war first broke out, he dug defensive holes for two months. Then he was taken to the front, and he fought the whole war and then went to Berlin. He was injured and had a contusion. After the war, he returned to Kiev and became a famous musician and teacher of violin.

My cousin, Solomon, son of the oldest sister of my father was 15 when the war began. In 1943 in the beginning he was taken to the front. He drove a tank. But his mother received a paper saying he was killed. She cried that her son was dead. But he was in a hospital, unconscious. When they treated him, he returned to the front. After the hospital, he continued to serve in the army. He came home in 1947.

 

Q: What happened to your mother and grandparents when the war broke out?
When the war brought out, my mother was nine months pregnant with me, and my father was fighting in the front. Many citizens of Kiev didn't want to leave because they thought the Germans during World War I were polite. They didn't leave. All the friends and neighbors of my family were killed in Babi Yar.

 

Q: What happened to the Jews of Kiev when the Nazis invaded?
When fascists came to Kiev, they made the announcement that all Jews of Kiev need to come to one place, called Sirets. Jewish people thought that Germans would put them in trains and evacuate them somewhere. But 29 September 1941 a big line of Jewish people, old people, little kids, and women were surrounded with fascists and Ukrainian politsay. They were directed to take off clothes, stay before the big hole (Yar), and three days from morning until evening they shot, shot, shot many thousands Jews. Ukrainian politsay helped fascists to kill also.

 

Q: How did you learn about Babi Yar and the massacres? Who told you?
In my childhood, no one talked about this. It was in whispers. But in whispers, we knew about this. It was covered up by the government. After Perestroika (late 70s), they built monuments, but not in the same place the Jews were killed. They wrote, "Here were Soviet citizens; nothing about Jews." Later, I was a tour guide and explained the history of Babi Yar. Jewish people were killed in another place where there is now a menorah. Since 1990, every year when I lived in Kiev, we went to the road where the Jews walked to memorialize who was killed by the fascists. Now the government honors them.

 

Q: Describe the story of your birth.
If my mother wasn't pregnant at the time the war broke out, the whole family would have stayed in Kiev and been killed in Babi Yar. But my grandmother was worried that my mother would be afraid the fascists would bomb Kiev. They decided to go to Kharkov, where my grandmother had a close friend, a doctor, and there, her daughter could have the baby. My mother and grandparents left their apartment and tried to sit in the train and go to Kharkov. But they heard an announcement that Kharkov had already been invaded by the fascists. The trained turned; they didn't know where. Then the trained stopped in Stalingrad. Stalingrad later would be the biggest battle of the war. But at this time the citizens of Stalingrad didn't know anything about the war, about the refugees, or about the fascists.

 

Q: How did your refugee family manage their time in Stalingrad?
The grandparents with the pregnant daughter had nothing to eat and nowhere to stay. They found one street-cleaner woman, Fiokla, and she invited them to sleep in her room. She gave them rags and they slept on the floor. In the morning when they awoke, they saw a tight circle of neighbors who looked at them strangely and said, "We never saw Jewish people before. These people look normal." Why? Because they think Jews have horns. Grandmother was afraid and immediately the whole family escaped from Stalingrad to another train. It was ironic because Stalingrad would become the biggest battleground.

 

Q: Where did your family go after Stalingrad?
The train moved. Close to Kuibishev, my mother began going into labor. But Kuibishev was a city of all members of government (except Stalin who was in Moscow). Nobody was allowed to go off the train to Kuibishev. When they saw my mother in labor, they allowed her to leave the train and told her if she did not have the baby, she would need to return to the train.

 

Q: Describe your birth in Kuibishev.
My mother ran and reached the hospital. She had the baby. It's me. But after one hour, they pushed her out of the hospital on the street. She was with blood and the baby was one hour old. They don't know what to do or where to go. Then mother decided to go to the military committee. She told the chairman of the military committee that her husband was in the front to defend the country, and she had a baby one hour old. He said, "Good you have baby because our country needs soldiers." She cried, and said, "She has a girl." He answered that the country needs medical doctors and nurses also.

 

Q: Did the chairman's words come true?
In the future, in my life, I've worked in medicine. Before the university, I worked in a hospital, and then I entered Kiev University and became a teacher of molecular biology, biochemistry, biophysics, and anatomy.

 

Q: How did you as a newborn and your family find refuge?
The chairman wrote an official paper ordering that people in Kuibishev take in my mother and parents. Every door they knocked on, the people said, "You good people. But the baby will cry. We don't want." What now? They walked the whole day until the night. They knocked on the last door. The wife opened the door, took one look and didn't want to take them, but the husband brushed her aside and said, "We need to take Jewish people with baby." They were also Jewish. Their name was Klass. The grandparents slept on rags in corridor and mother slept on rags in kitchen. And me, the baby, they put in a washtub. Then they continued to live with this family and became very friendly. The husband who saved us got a paper to go to the front and two months after he was killed.

 

Q: Describe your first year of birth as you know it.
I was close to death when I was six months old. Mother and grandmother brought me to a hospital. A nurse took me and put me in a special cart with other babies and told my mother to go home. Then somebody told them that in this hospital there is a special professor from Kiev, a Jewish man, Vecsler. My mother wanted to see him. When he went to see my mother, he asked, "Where is the baby?" and she pointed on the cart. It appeared in the cart was a dead baby. Vecsler took the baby and told my mother to run away. He told my mother that the baby needed pills of Sulifadimesin. She ran to the pharmacy, stayed up half of the night on her knees and they gave her a quarter of a pill. Then she went to another pharmacy for another quarter of a pill. The whole night she went around to pharmacies and at last she had two pills. It saved me, the baby. Several times I was close to death.

 

Q: When did you return to Kiev?
It was 1944 when we returned to Kiev, after liberation. My grandmother brought me to the main square on Khreschatyk, and I saw fascists hanging. I was three years old and I remember this.

 

Q: When did you come to the United States?
I came to the USA in December 2003. Some far relatives from my father's side found me. One of them, Eduardo, lived at the time in San Francisco, but before that he lived in Uruguay. His father escaped Russia after the Revolution. Another man, Leon, lived in Paris. They told me about our relative, Alexander Berenfus who is a hero of Israel. During the war, he was a military man and was captured and sent to a concentration camp. Six men escaped from the concentration camp. They reached Great Britain and explained what the fascists did to Jews. The British didn't trust them and told them to bring proof. The two men, among them Alexander, reached the concentration camp and brought back proof. I don't know how he did this. Because he's a hero of Israel, his name is in Yad Vashem.

HISTORICAL NOTES:

First Battle of Kiev and Babi Yar Massacre

The First Battle of Kiev was the German name for the operation that resulted in a very large encirclement of Soviet troops in the vicinity of Kiev during World War II. This encirclement is considered the largest encirclement in the history of warfare (by number of troops). The operation ran from 7 August to 26 September 1941 as part ofOperation Barbarossa, the Axis invasion of the Soviet Union. In Soviet military history, it is referred to as the Kiev Strategic Defensive Operationwith somewhat different dating of 7 July – 26 September 1941. The battle was an unprecedented defeat for the Red Army, exceeding even theBattle of Białystok–Minsk of June–July 1941. The encirclement trapped 452,700 soldiers, 2,642 guns and mortars and 64 tanks, of which scarcely 15,000 escaped from the encirclement by 2 October. The Southwestern Front suffered 700,544 casualties, including 616,304 killed, captured or missing during the battle. The 5th, 37th, 26th, 21st and the 38th armies, consisting of 43 divisions, were almost annihilated and the 40th Army suffered many losses. Like the Western Front before it, the Southwestern Front had to be recreated almost from scratch.

Babi Yar Massacre

On September 29-30, 1941, SS and German police units and their auxiliaries, under guidance of members of Einsatzgruppe (mobile killing unit) C, murdered the Jewish population of Kiev at Babi Yar, a ravine northwest of the city. This was one of the largest mass murders at an individual location during World War II. As the victims moved into the ravine, Einsatzgruppe detachments shot them in small groups. According to reports by the Einsatzgruppe to headquarters, 33,771 Jews were massacred in two days. In the months following the massacre, German authorities stationed at Kiev killed thousands more Jews at Babi Yar, as well as non-Jews including Roma (Gypsies), Communists, and Soviet prisoners of war. It is estimated that some 100,000 people were murdered at Babi Yar.

Approximately 100,000 Jews fled Kiev in advance of the German occupation. The Germans used the sabotage as a pretext to murder the remaining Jews of Kiev. At that time, there were about 60,000 Jews in the city. Most of those who remained were women, children, the elderly, and the sick who had been unable to flee.

Sources and Credits:

Credits:

SSBJCC Survivor Registry Interview with Liudmyla Berenfus, August 16, 2017; Biography by Nancy Gorrell; Digital historic and family photographs donated by Liudmyla Berenfus.
RELATED MEDIA