 Holocaust
Memorial Education Center
Shimon and Sara Birnbaum Jewish Community Center

Survivor Profile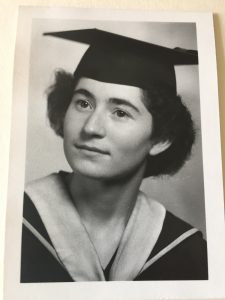 PRE-WAR NAME:
PLACE OF BIRTH:
DATE OF BIRTH:
LOCATION(s) BEFORE THE WAR:

LEIPZIG, GERMANY; STUTTGART, GERMANY
LOCATION(s) DURING THE WAR:
STATUS:

CHILD SURVIVOR, CHILDREN'S TRANSPORT TO ENGLAND
RELATED PERSON(S):

JACOB PRAG - Spouse (Deceased),

NURIT PRAG BARON - Daughter,

RENA PRAG GREENBERG - Daughter,

SHULA PRAG - Daughter,

5 GRANDCHILDREN
BIOGRAPHY BY NANCY GORRELL

Lore Bravmann was born on November 1926 in Leipzig, Germany. In May 1934 she was only seven when her father died causing her mother to move back to Stuttgart. Lore recalls many happy memories from Stuttgart where her life revolved around school and family. She attended Jewish school in Hospitalstrasse where she "loved her teachers and fellow students." She recalls singing beautiful songs as well as hiking and gymnastic classes. She was very attracted to the Orthodox observances of Judaism although her own family did not observe many of the rituals. She had a special relationship with one of her teachers, Fraulein Herz, who took her to the home of her rabbi on Friday to welcome Shabbat. Lore recalls the many happy memories of her mother's large extended family in Stuttgart—her mother, sister, aunts, uncles and cousins—and many family gatherings, especially at Tante Sofie's house for cake and hot chocolate. Lore describes with great nostalgia her accordion lessons. Her accordion was "my one good friend from Germany that I was allowed to take with me when I had to leave." She recalls, "It permitted me to express my feelings of homesickness when I played the beautiful music that I used to play and sing in Stuttgart.

 

On November 9, 1938, Kristallnacht raged in Germany. Lore went to school as usual. When she got to Hospitalstrassse, she saw people standing in the street looking at the burning synagogue that was right next to her school. Her school was destroyed together with the synagogue. After that, she had makeshift classes in makeshift quarters, "I really don't remember." Kristallnacht compelled Lore's mother to send her children away from the dangers of Germany. Since she herself could not get permission to leave with her children, she took the selfless and courageous step to send Lore and Peter to safety in England. Lore and her younger brother, Peter, joined a children's transport that left by train from Frankfurt to Hook of Holland. From there, the children embarked on an overnight boat to Harwich, England and then took another train to London. Lore and Peter assembled in a big hall where their adoptive parents were waiting for them. Peter was adopted by Lore's guardian's brother so the two siblings were not far apart. Lore describes her adoptive family as "generous, kind and educated" people who had a daughter a year older than Lore. The two of them went to the same school, Manchester High School for Girls and are still friends today.

 

In 1941, Lore got the wonderful news that her mother had escaped from Germany and that she had arrived in New York to stay with a cousin after a journey in a closed railway car from Germany, through France and Spain to Portugal where she embarked on a ship from Lisbon. In March 1945 Lore and Peter set sail from Swansee, Wales to Halifax, Nova Scotia and by rail to Montreal and New York, their destination. They had been separated from their mother for six years when they were finally reunited in New York City. Lore was 18 when she left Manchester, and her mother hardly recognized her.

 

In the fall of 1945, Lore was admitted to Hunter College, with the financial help of her mother's cousins. Lore worked her way through college, graduated from Hunter and received a full scholarship to pursue a Master's degree from Smith College. She ultimately received a year scholarship to study French at the Sorbonne in Paris. After the Sorbonne, she joined an international work camp in Germany where young people were helping to build house for refugees who were coming from the East. Eventually, Lore returned to New York and found work with an international social welfare organization. She married Jacob Prag in 1957, and they had three daughters. In 1965 they moved to Somerset, New Jersey where she worked for a time in Manville High School teaching English and German.  After the children were in school, Lore studied to become a research librarian. She became a business research librarian at AT&T where she worked for twenty years until she retired.

 

In 1997 the Lord Mayor of Stuttgart, invited Lore to spend two weeks in Stuttgart visiting her childhood city. She went with her daughter, Nurit. Lore describes her impressions and feelings about that visit in detail in "Stuttgart." (Note: Refer to "Stuttgart"in Related Textual Materials). In 2010, a student from Manchester High School for Girls wrote to Lore asking her questions for a project she was working on. Lore prepared for Beth Jenny an extensive biographical history.

Editor's Notes:
Refer to Related Textual Materials below  for "Letter to Beth Jenny" and "Stuttgart."

Refer to Historical Notes below for Kindertransport history.

 

Lore Prag's Message to the Next Generation

Unfortunately, we cannot change the past. However, looking at past behavior can serve as a guide to avoiding past mistakes. I feel that there are certain attitudes which can help to prevent man's cruelty to man and I would like to identify them as follows:

We must take responsibility for our own life and actions. It is wrong to make others a scapegoat for the difficulties we may encounter.
We must understand that there are many different cultures and ways of life—just as there are many different languages, religions and peoples. All are expressions of life in its manifold forms and we are never going to be able to be objective, if we take it upon ourselves to evaluate which is better and which is worse.
The age-old golden rule—never do unto others what you would not want them to do unto you—has not lost its relevance. It should guide our conduct.

SURVIVOR INTERVIEW:

LORE PRAG INTERVIEW

March 25, 2017

Location: Prag Residence

Interviewer: Nancy Gorrell

 

Q: Describe your family background.

My father, Stefan Bravmann, grew up in a village in Bavaria. He was one of six children, the oldest son. His father was a "shochet" and my father grew up in a very orthodox Jewish home. When my father was 19 years old, his father died and he left the village to find work to support his mother who was a widow with five children. My father worked himself up to become a director in a prominent German insurance company.             

 

Q: What was your mother's family background?

My mother's family moved to Stuttgart also from a village when she was six years old and she grew up there. Her family was much better off. Her father and his brothers owned a big department store business. My mother's name was Ilse.

 

Q. Describe your earliest memories of Leipzig.

I was born in Leipsiz and lived there until the age of seven. I had a brother named Peter, two years younger. Our house was opposite a park, and my father always took me there. It was like Johnson Park with horse races where they were practicing. I was only seven years old when we left.

 

Q: Did you experience any anti-Semitism at the time?
I must have been in 2nd grade. No anti-Semitism at that time. But of course, there was anti-Semitism in general, but Hitler was just getting into power.

 

Q: Why did you move away from Leipzig? 

My father died suddenly of a stroke. It was very sad. We went to Stuttgart—to my mother's family.

 

Q: Do you remember how you felt going to Stuttgart?

I was in great grief at the time. There, I was in a Jewish school. But I made friends and I loved the teachers. It was a very beautiful city. I had friends and relatives around me. I lived there until I was twelve. My mother was very active in the Jewish community, and she was a housewife.

 

Q: What was your Jewish background?
My father was very Orthodox. My grandmother had six children. They lived in a village. After his father died, they moved to the city. In Stuttgart, I went to a Jewish school. I was interested in the Orthodox rituals, but my mother's family did not observe the rituals that much.

 

Q: Did you experience any anti-Semitism in Stuttgart?

I saw no signs of anti-Semitism coming. Others in public school felt it very much. Suddenly your best friends aren't speaking to you anymore, but that didn't happen to me. I was going to a Jewish school. Then on November 9, 1938, I went to school as usual. I used to go there myself with the streetcar. When I got there, people were standing in the street looking at the synagogue burning. The synagogue was right next to my school. My school was burning too. They told me to go home because there would be no school that day.

 

Q How did you find out you were leaving Stuttgart?
My mother told us.

 

Q: What are your memories of the Children's Transport to England?
Peter and I left Stuttgart in March 1939. My whole class from school came to the station to see me off. I was heartbroken to leave all my friends and family. The train took my brother and me to Frankfurt and there we spent the night with my mother's cousins. The next day children from other parts of Germany joined us and together we took another train to Holland and then the coast. Overnight we journeyed by boat to England. We joined children from all over Europe on the boat. It was very traumatic. You're not even thinking how hard it is to leave all your things and friends and parents and language and go to a new place—its very traumatic. Imagine being 12 years old and being told you're going on a train and a boat to England. I didn't know about the other children. We didn't interact with each other. We were just sticking together, hoping for the best. They were speaking all different languages. We arrived in Harwich the next morning and took a train to Liverpool Station in London.

 

Q: What happened to you and your brother next?
There were adults we didn't know shepherding us along onto the trains to London. It was so confusing. When we got to London, we were in a big hall and somehow there was somebody matching the children with the right families. Our adoptive parents were there. My mother had arranged it.

 

Q: Who were your adoptive parents?
I was very lucky. I was adopted by Dr.William Chadwick, a general practioner, and his wife Mamie. They had a daughter close to my age. I went to school at the Manchester High School for Girls with the Chadwick's daughter. My brother was adopted by my guardian's brother, so he was close by. The Manchester's home had a wonderful library of great books. They weren't very religious, but they kept a kosher home because of their parents.

 

Q: What was it like in Manchester, England during the war years?
During Christmas vacation, my school was destroyed by a landmine. I had to find another place to go to school. We all shared our schooling with another school.

 

Q: DIid you experience any of the bombing during the Blitzkrieg?

Yes. We didn't have a basement. We had an air raid shelter in our garden yard. The policeman was in the shelter saying we were going to be evacuated because there was a bomb about to explode, and then it suddenly exploded. Luckily, only the garage exploded. Yes, we were impacted. We had made sure there were no lights and curtains down at night. The war definitely affected us. It was ironic.

 

Q: What was ironic about it?
The irony of it was in 1939 we were evacuated to a little town outside of Manchester. In the beginning nothing happened, so afterwards, we went back home and that's when the Blitzkrieg started. All the men got called out, and all the women were in the factories.

 

Q: What happened to your mother back in Germany at this time?
She had been hoping to come to England but it didn't happen. She had a number to come to US but it was too high. In Sept 1941, she managed to come to the US. We got the wonderful news. My mother stayed with a cousin in New York for some weeks after her arrival, where she was able to recuperate. My mother never talked about this, but I learned about it.  She was forced to give up her apartment and move to a building to live in where only Jews lived. She had to wear the yellow star, so that everyone would recognize her as a Jew, and she got very few food rations. She never told me about this, but I learned about it.

 

Q: When did you reunite with your mother?
In March 1945 my brother and I left England and journeyed to New York by way of Canada. The trip took 14 days. Eventually, we arrived in New York and my mother was waiting for us. It had been six years since we had seen each other, and she could hardly recognize us. We were so grown up. I was 18 years old.

 

Q: What were the post-war years like for you in NYC?
I pursued my schooling. In the fall of 1945, I was admitted to Hunter College, with the financial help of my mother's cousins. I worked my way through college and I graduated from Hunter and received a full scholarship to go to Smith College. I went to Paris on a year scholarship to study French at the Sorbonne. After that I joined an international work camp in Germany where young people were helping to build houses for refugees from the war. Then I returned to New York and found work with an international social welfare organization.

 

Q: When did you get married and move to New Jersey?
In 1957 I married Jacob Prag. First, we lived in Manhattan, then Queens and then Somerville. In 1965 we moved to Somerset, New Jersey. I worked for a short time in Manville High School teaching English and German, but it wasn't for me. I became a research librarian in the Information Research Center in November 1977 at AT&T. All my life did not want to work in business. When I became a librarian, I wanted to work in a university, but they wanted people with doctorates. I worked at AT&T for 20 years. In those years we had three daughters.

HISTORICAL NOTES:

Kindertransport History

Nazi authorities staged a violent pogrom in Germany on November 9–10, 1938, known as Kristallnacht, the Night of Broken Glass). After the pogrom, the British government eased immigration restrictions for certain categories of Jewish refugees. British authorities agreed to allow an unspecified number of children under the age of 17 to enter Great Britain from Germany and German-annexed territories (that is, Austria and the Czech lands). They were spurred by British public opinion and the persistent efforts of refugee aid committees. Notable among the refugee aid committees were the British Committee for the Jews of Germany and the Movement for the Care of Children from Germany. Private citizens or organizations had to guarantee payment for each child's care, education, and eventual emigration from Britain. In return, the British government agreed to allow unaccompanied refugee children to enter the country on temporary travel visas. It was understood at the time that when the "crisis was over," the children would return to their families. Parents or guardians could not accompany the children. The few infants included in the program were cared for by other children on their transport.

 

The first Kindertransport arrived in Harwich, Great Britain, on December 2, 1938. It brought some 200 children from a Jewish orphanage in Berlin which had been destroyed in the Kristallnacht pogrom. Most transports left by train from Berlin, Vienna, Prague, and other major cities in central Europe. Children from smaller towns and villages traveled from their homes to these collection points in order to join the transports.

Jewish organizations inside the Greater German Reich planned the transports. These organizations were the Reich Representation of Jews in Germany, headquartered in Berlin; after early 1939, its successor organization the Reich Association of Jews in Germany; and the Jewish Community Organization (Kultusgemeinde) in Vienna. They generally favored children whose emigration was urgent because their parents were in concentration camps or were no longer able to support them. They also gave priority to homeless children and orphans.

Children chosen for a Kindertransport convoy traveled by train to ports in Belgium and the Netherlands, from where they sailed to Harwich. At least one of the early transports left from the port of Hamburg in Germany. The last transport from Germany left on September 1, 1939, just as WWII began. The last transport from the Netherlands left for Britain on May 14, 1940, the same day that the Dutch army surrendered to German forces. (USHMM website)

related textual material:

.LETTER TO BETH JENNY AND STUTTGART BY LORE PRAG

Sources and Credits:

Credits:

SSBJCC Survivor Registry Interview by Nancy Gorrell; Biography by Nancy Gorrell;  "Letter for Beth Jenny"  and  "Stuttgart" by Lore Prag; Photographs of family heirlooms (mother's teacups) donated by Lore Prag; photograph of Lore Bravmann, Hunter College graduation; photograph of Lore and Peter Bravmann donated by Lore Prag.

The Holocaust Memorial and Education Center gratefully acknowledges donation of digital, historic family photographs and photographs of historic  family heirlooms by Lore Prag. 
RELATED MEDIA