 Holocaust
Memorial Education Center
Shimon and Sara Birnbaum Jewish Community Center

Survivor Profile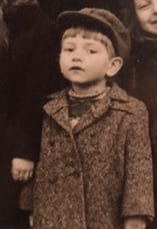 PRE-WAR NAME:
PLACE OF BIRTH:

UNKNOWN, SOVIET CONTROLLED POLAND
DATE OF BIRTH:
LOCATION(s) BEFORE THE WAR:
LOCATION(s) DURING THE WAR:
STATUS:
RELATED PERSON(S):

LINDA KATZ GLINCMAN - Spouse,

JOZEF GLINCMAN - Father (Deceased),

LUBA GLINCMAN - Mother (Deceased),

POLA GLINCMAN, Sister ,

BRUCE GLINCMAN, Brother ,

ADAM GLINCMAN - Son,

JOSHUA GLINCMAN - Son,

MICHAEL GLINCMAN - Son
BIOGRAPHY By Mandel Glincman

 "My Story" by Mandel Glincman

I was born while my parents were on the run in 1944.  My sister was born in 1942.  I didn't suffer the deprivation and hunger that my sister Pola did.  My mother's second greatest joy when I was born was that they quickly found a moyel!

I remember very little, of course, of my very early life.  After the war ended, my parents knew that their future was in making their way to the American Zone in Berlin.  Harrowing though it was, we made it.  My earliest memories are of Berlin.  For the only time in her life, my mother had a maid.  I still carry the scar on my arm of an accident with an iron in Berlin.  And I have a treasured photo from that time.

But my parents saw the handwriting on the wall and knew we needed to get to America.  I didn't know until recently that I was 6, and not 5, when we sailed to America.  I also recently discovered that our steerage was on a US Naval vessel. 

Once in America, we were poor; but we were safe and together.  For the rest of their lives, my parents loved their adopted country and became citizens as soon as they could. 

 

Additional Biography by Nancy Gorrell from an Interview with Pola Glincman, Sister

Mandel (Manny) Glincman was born on April 29, 1944 in Soviet controlled Poland to Luba and Jozef Glincman. His exact place of birth is unknown. In Poland his father was a leather and saddle maker. His mother, father and older sister, Pola, fled to Berlin after the war to the American zone. They stayed there until 1950 when they emigrated to the United States by way of a Navy vessel. Mandel, six years old at the time, recalls the voyage and the ship. He does not know the relative that sponsored his family. They settled for a short while in Brooklyn, New York, and then his father bought a chicken farm in Freehold, New Jersey. The family spent a few years in Freehold and then moved to Jackson, New Jersey when Mandel was eight years old. Mandel grew up in Jackson Township. His brother, Bruce, the youngest sibling, was born in 1954. Mandel's father was in the chicken farming business for the remainder of his life. Mandel's parents kept a kosher home and raised their children in Orthodox observance. Mandel in his interview explains that his parents spoke very little about their past experiences, and that he was "not inclined to ask questions." Mandel was educated in New Jersey public schools and earned his degrees from Rutgers University. He met his future wife, Linda Katz at college, and they have three sons, Adam, Joshua and Michael and three grandchildren. 

SURVIVOR INTERVIEW:

Refer to Mandel Glincman's Biography and Story above.

Sources and Credits:

Credits: SSBJCC Survivor Interview with Pola Glincman, October 30, 2017; interviewer: Nancy Gorrell; Biography by Nancy Gorrell; Digital historic and family photographs donated by Mandel and Linda Glincman.
RELATED MEDIA