 Holocaust
Memorial Education Center
Shimon and Sara Birnbaum Jewish Community Center

Survivor Profile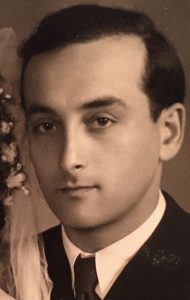 PRE-WAR NAME:
PLACE OF BIRTH:
DATE OF BIRTH:
LOCATION(s) BEFORE THE WAR:
LOCATION(s) DURING THE WAR:

KRAKOW GHETTO; FLOSSENBURG CONCENTRATION CAMP, MIELEC, WIELICZK, PLASZOW LABOR CAMPS
STATUS:
RELATED PERSON(S):

ROSE SELINGER KLUGER - Spouse (Deceased),

LAWERENCE S. KLUGER - Son,

ALAN JAY KLUGER - Son,

DANIEL JOSEPH KLUGER - Grandson,

ALLISON KLUGER STEWART - Granddaughter,

JASON VINCENT KLUGER - Grandson,

NATALIE ROSE STEWART, Great - Granddaughter,

ADDIE KLUGER - Daughter-in-law
Brief BIOGRAPHY BY Nancy Gorrell

Refer to Interview below with son, Lawerence Kluger

SURVIVOR INTERVIEW with lawrence kluger, son

Michael David Kluger Interview with Lawrence Kluger, son

Date: May 20, 2021

Location: Kluger Residence (Phone Conference Call)

Interviewer: Nancy Gorrell

 

Q: Describe your father's family background.
 A: His father was Solomon and his mother was Syma. He had an older brother, Aaron, and sister, Esther, from a previous marriage. His father remarried Syma and then he had three sisters: Helen, Rachel and Devora, ages 18, 16 and 11 when they went to the gas chamber.

 

Q: Do you know the camps they were in?
A: I don't know the camps or where they were sent. His father was a well-known business man with a textile firm in Vienna. He was active in an Orthodox group, a Zionist group, Agudath Israel. The family was modern Orthodox, completely shomer shabbas, following the laws and rituals.

 

Q: What about your father's education and schooling?
A: My father went to Heder (preschool) and then yeshiva and he was at the top of his class. He never worked and he was Talmudic scholar. He also studied secular subjects, English, Greek and Latin on his own. He learned German and Spanish as well. All this before the war.

 

Q: Describe his family's living conditions.
They lived in Krakow, a large city of 80, 000 Jews. They had no contact with non-Jews, but there were no progroms. They didn't venture out of the Jewish section or quarter.

 

Q: Did the Jewish quarter become the ghetto?
A: Yes, the quarter became a ghetto eventually. He talked about the deportations in the ghetto and he talked about hiding to avoid being deported. He was 19 when the war broke out on September 1, 1939.

 

Q: Who in his family survived?
A: No one. Only him. His mother, father, four sisters and an older brother and aunts and uncles and cousins. All were taken at various times.

 

Q: Do you know when your father was taken?
A: I don't know at what point he was taken from the ghetto.

 

 Q: What do you know about your father's survival experiences during the war?:

A: He had various experiences during the war. He was hiding, going to relatives out of town, going to friends, acting as a courier for organizers of the ghetto. He tried to get to Russia, but they closed the border. Ultimately, he was taken to work camps but he didn't really know how to work. He attributes his survival to luck but he certainly used his wiles to survive.

 

Q: Do you know any names of the camps he was in?
Flossenberg concentration camp; Mielec slave labor camp. He had a KL tatoo. At one point he was in Plaszow and then the Wieliczk (salt mines). He was transported to Auschwitz and then transported back to Flossenberg. Altogether, he experienced and survived five years of hard labor.

 

Q: What stories did he tell you?
A: He was put on a work detail cutting trees. He cut his leg with an axe. He heard the doctor trying to read an English primer and he said to the doctor, "If you keep me here, I'll teach you English." The doctor did. He kept him the infirmary three months, from Nov, to January in 1944. That's one story.

 

Q: Is there another story?
A: A German soldier came and said he needs an engineer assistant. My father is not an engineer. He knows nothing about it, but he volunteered. Anything that got him out of the winter helped him survive. He attributes this all to luck. Lastly, he got a job in a knitting factory. This would help him later in life.

 

Q: What was the time of liberation like for him?
A: 400 people came into the labor camp in 1945.  They were a very malnourished mixture of Jews and Poles. There was no food. 240 people died in a few weeks before liberation. My father was taking soup to prisoners in the fields, and he noticed the SS were leaving. A Hungarian officer who was working for the SS advised him to run away so he would not be shot. He ran to a farmhouse. He was obviously an escaped prisoner in a striped prison uniform and his hair was shaved down the center of his head. He asked the farmer to hide him for a few days and the farmer hid him in the attic. He was afraid the farmer might come back with the Gestapo, but they did not. The farmer burned his uniform and gave him new clothes. This was most likely in Germany. The next day he heard the US army was a mile away. He took a bicycle and pedaled to the US lines. They accused him of being a German spy. A lieutenant brought him to a colonel who got a Polish sergeant to confirm he was Polish and then they brought him to a major who was Jewish who asked him to translate a letter that was in Yiddish. That convinced them he was Jewish. He told them where the camp was located, so they put him a truck and he led them back to the camp. On the way he stopped at the farmhouse and the colonel told the farmer that he would be protected because of the good deed the farmer did for sheltering my father. My father was liberated May 1, 1945.

 

Q: Where did your father go next?
A: US Army took him to Salzburg, Austria DP Camp Riedenburg. There were Italians and other nationalities there. Ultimately, he became the Jewish camp leader and the liaison between the refugees and the US forces. He was there for three years. While he was there, he was also smuggling Jews to Palestine.

 

Q: What made him decide to go to USA and not Palestine?
A: He met my mother in the camp. He actually took her name off the list of a transport that was to go to Italy with intention of getting to Palestine.  He kept her in Salzburg. They eventually were married in February 1946. They had a big wedding. He was working with the Red Cross and many people in the camp. They both knew many people. My mother had an uncle who had come to the US in the 1920s or earlier, Jacob Stern. He had come to the US and settled in Mississippi. Jake Stern sponsored them and they finally were permitted to come to the US in 1948.

 

Q: Where did your parents settle in the United States?
A: The ship docked in NYC.  A relative met them there, and they were put on a train to Vicksburg, Mississippi, on the way to Glen Allen, Mississippi. I saw Glen Allen in 1959. Jake's widow was there. He had been the postmaster and owned the general store. My father was big city guy, and he could not settle in Glen Allen. It was a tiny rural town. Glenn Allen was farm country in the deep South.

 

Q: Where did they finally settle?
A: They went to Jamaica, Queens where they had a distant relative and settled in a rented room where I was born. My brother Alan was born in July 1954. Over the next few years, many in their society in Salzburg made their way to New York City.

 

Q: What was post war life like?
A: My father bought a two-family house with borrowed money in Kew Garden Hills in the borough of Queens in New York City. He had a lot of different jobs. He opened a luncheonette in Wall St. He opened a restaurant on Park Ave. He was a businessman. My mother became a successful real estate broker. With different groups of friends, he managed hotels, he managed a plastics factory, and he managed several businesses in the 60s and 70s. In particular, he had a knitting factory which became an extremely successful business. Because of his out-going personality, he was very much the center of many groups, always the leader and organizer.

 

Q: What was later life like for you and your parents?
A: In 1969 our family moved to Great Neck, Long Island. I was in college at that time. My father was the organization guy and the volunteer involved in many Jewish organizations in the area. He was president of his synagogue and he began speaking about his Holocaust experiences. He organized a survivor group from his hometown of Krakow and was one of the organizers of the American Gathering of Holocaust Survivors.  In 1981, he brought six busloads of people to the International Gathering of Holocaust Survivors in Israel.  My brother, Alan settled in Great Neck and took care of my mother later in her life because he lived two miles from her. I settled in the Somerville area and took care of my father's businesses.

 

Q: What was one of the most memorable times for you?
A: May 1, 1995 in Temple Sholom, at our oldest son Daniel's Bar Mitzvah, my father was called to the bimah to present Daniel with his tallit.  He took the microphone and said: "He could never imagine he'd be standing on the bimah 50 years to the day from when he was liberated putting a tallit on his grandson." Today Michael and Rose have five grandchildren and seven great-grandchildren.

Editor's Note:

Refer to Historical Notes below for Information on the Camps

HISTORICAL NOTES:

KRAKOW

In 1918 Kraków was returned to Poland, only to be taken by the Germans at the beginning of World War II. The German governor, who made his headquarters in Wawel Castle, executed the university's teaching staff and sent some 55,000 Jews from the city to the Auschwitz II (Birkenau) death camp.

Kraków's infamous Nazi occupation and the grinding decades of Communist rule couldn't eradicate all the patrimony. The Nazis unwittingly preserved the city when they chose it as the capital of the General Government in 1939, meaning they didn't bomb it as they overran Poland.

Despite all these repressions, during the 5-year, 5-month occupation of Kraków, the city itself never suffered as a result of warfare, battles or strategic clearance, and wasn't in peril until 1945 – the counter-offensive of the Soviet Red Army.

FLOSSENBURG CONCENTRATION CAMP

Flossenbürg was a Nazi concentration camp built in May 1938 by the SS Main Economic and Administrative Office. Unlike other concentration camps, it was located in a remote area, in the Fichtel Mountains of Bavaria, adjacent to the town of Flossenbürg and near the German border with Czechoslovakia.

There were over 4,000 prisoners in the Flossenbürg main camp in February 1943. More than half were political prisoners (mainly Soviet, Polish, Czech, Dutch, and German). Almost 800 were Germans identified as repeat criminal offenders; more than 100 were homosexuals; and seven were Jehovah's Witnesses. Over the next eighteen months, hundreds of prisoners, mostly French, arrived in Flossenbürg after having been seized by German occupation authorities under the Night and Fog (Nacht und Nebel) Decree.

Before 1944, relatively few Jews were prisoners in Flossenbürg, probably no more than 100. In mid-October 1942, the SS deported the surviving 12 Jews to Auschwitz in accordance with general SS orders concerning Jews in German concentration camps. To this point, according to the official camp death registry, 78 Jews had died in the camp.

Between August 4, 1944 and the middle of January 1945, at least 10,000 Jews, mostly Hungarian and Polish Jews, arrived in Flossenbürg and its subcamps. Some 13,000 more came in the winter months of 1945, as the SS evacuated other camps to the East and West. In January 1945, there were almost 40,000 prisoners in the Flossenbürg camp system, including almost 11,000 women. At its high point in March 1945, nearly 53,000 prisoners were in Flossenbürg camp system, with about 14,500 in the main camp.

USHMM website

 

WIELICZKA SALT MINE CAMP

During the Nazi occupation, several thousand Jews were transported from the forced labour camps in Plaszow and Mielec to the Wieliczka mine to work in the underground armament factory set up by the Germans in March and April 1944. The forced labour camp of the mine was established in St. Kinga Park and had about 1,700 prisoners. However, manufacturing never began as the Soviet offensive was nearing. Some of the machines and equipment were disassembled, including an electrical hoisting machine from the Regis Shaft, and transported to Liebenau in the Sudetes mountains. Part of the equipment was returned after the war, in autumn 1945. The Jews were transported to factories in Litomierzyce (Czech Republic) and Linz (Austria).

 

Sources and Credits:

Credits:

SSBJCC Survivor Registry Michael David Kluger Interview with Lawrence Kluger; Brief Biography of Michael Kluger by Nancy Gorrell; Historic and family photographs donated by Addie and Lawrence Kluger.
RELATED MEDIA