 Holocaust
Memorial Education Center
Shimon and Sara Birnbaum Jewish Community Center

Survivor Profile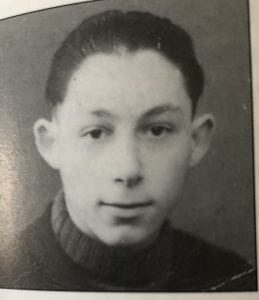 PRE-WAR NAME:
PLACE OF BIRTH:
DATE OF BIRTH:
LOCATION(s) BEFORE THE WAR:
LOCATION(s) DURING THE WAR:

SOUTH OF FRANCE, BASSES ALPS
STATUS:

CHILD SURVIVOR, HIDDEN CHILD
RELATED PERSON(S):

BLANCHE JEIFA - Spouse (Deceased),

BERNARD JEIFA - Father (Deceased),

ADELE JEIFA - Mother (Deceased),

MARGUERITE JEIFA SISTER (Deceased),

BERNARD JEIFA - Son,

GISELE JEIFA JOACHIM - Daughter,

JORDAN JOACHIM - Grandson,

ALEXA JOACHIM - Granddaughter,

ERICA JEIFA - Granddaughter,

JACOB JEIFA - Grandson,

GABRIELE JEIFA - Granddaughter,

DAVID JOACHIM - Son-in-law
BIOGRAPHY BY NANCY GORRELL

BIOGRAPHY BY NANCY GORRELL: ADAPTED FROM MICHEL JEIFA'S SHOAH VIDEO AND TESTIMONY, REMEMBERING PAINFUL MEMORIES

 

Michel Jeifa was born in Paris, France on March 11, 1927 to Bernard and Adele Jeifa. In 1905 his father had emigrated to France from Russia to escape the army. Michel relates in his Shoah video interview that his father was not a religious man and that his father liked the freedom he found in France. Michel's father earned his living as a custom tailor selling apparel to exclusive clients in his own business (Refer to Related Media photo of Bernard in front of his store). Michel's mother was born in France. Her family came to France in the 1880s from Poland. Michel speaks in his Shoah interview of a very happy childhood with lots of school friends. He attended public school in Paris where he was only one of a few Jews. Michel has one older sibling, Marguerite, born 19 years before his birth. When Michel was four, Marguerite married. He says in his testimony that after that, "all the attention was on me as an only child." Michel grew up in an "assimilated, integrated area" in an apartment building in Paris where there were no Jews living. He says in his Shoah interview that before the war, he experienced "no anti-Semitism." Growing up, he "never encountered it." But with the rise of Hitler, his father became "very Jewish" despite the fact that he was not a religious man. As Michel approached Bar Mitzvah age, his father "insisted he learn Hebrew" and "be prepared for his Bar Mitzvah." Michel became a Bar Mitzvah in 1940. His father also told him about anti-Semitism in Eastern Europe, the invasions of Austria and Czechoslovakia, but Michel says in his interview, "we always thought France could defend itself. We always thought we were safe."

 

Michel testifies that when the Germans entered Paris in June 1940, "the take over seemed peaceful." People stayed off the streets and then cautiously resumed life. But then by the end of 1940, the first edict came down that all Jews had to register (Refer to Related Media registration doc.) "My family registered," and in 1941, they arrested Jews for the first time en masse, "important people. Marguerite's husband, Solomon, a Russian immigrant was arrested and sent to a concentration camp. After the war Michel testifies they found out he was sent to Auschwitz. After his arrest, Marguerite and her two boys were taken care of by a social worker connected to the resistance, Ms. Jaquet. In his interview Michel says, "My father had to put a sign on his store 'Jewish Store'". In 1942 he had to close the store—all Jewish businesses were closed, there were curfews, and all Jews had to wear the yellow star" (Refer to Related Media). Michel recounts in his interview how on the first day of wearing the star, "a lot of my non-Jewish friends walked with me to school." There were even some non-Jews "wearing the star in protest." Michel recalls having no problem in school during this time and that his family remained in their apartment. In June 1942, 15,000 Polish Jews were arrested and "we were warned to stay at home. From that point on we were very scared. There were rumors that French Jews wouldn't be touched but someone betrayed us."

 

In his testimony Michel says, "On December 20, 1943 the police came to arrest my entire family." Michel was at school, his father was at the synagogue reciting the mourner's prayer, and his mother was home alone with Emile. She sent Emile to a neighbor and quickly complied with the police. Michel's mother was sent to Auschwitz. Michel and his father went into hiding. First they went to my Marguerite's house outside of Paris. Marguerite arranged through her social worker for false identity papers for them. (Refer to Related Media photo of False Identity doc.) "The idea was we couldn't stay together." Michel was sent to the south of France, to be placed with a Protestant family in the Basses Alps to work as a forester and help with the production of charcoal. The work was hard and the host family, avid Christians, tried to convert him until he "told them to stop or he would return to Paris." His father went back to Paris to work for a French tailor and to keep out of sight. Later, his father was stopped and it was discovered he had false papers. He was convicted and sent to a French jail from March 1944–July 1944 hoping to stay there to escape deportation (Refer to Related Textual Materials for Appeal Letter in Michel's Testimony). Unfortunately, all appeals were lost, and Michel's father was deported to Auschwitz on the last train out on July 31, 1944. Michel says in his interview, at the time, "I didn't even know he was arrested." After liberation in 1944, "I was shocked he was gone. My mother didn't survive the convoy to Auschwitz. We found out after the war."

 

Michel stayed in hiding in the Basses until August 15th when the Allies invaded the South of France. He was liberated by the Americans. "I'll never forget the Americans coming through." He thought his father was still  alive and that his mother would come back. He hiked all the way back to Paris, found Jewish friends and they told him about his father and mother. He went back to his old apartment. When he walked in, "it was just as my mother had left it when they arrested her. I'll never forget that sight. They sealed off the door." Michel stayed with the Jewish friends for a while and then moved in with his sister and her children.

 

Since his father's family was all in the United States, his father being the only one that went to France at the turn of the century, Michel, Marguerite and her children emigrated from France to the Bronx, New York in 1947. In his interview, Michel remarks, "I had a good life since then, met a wonderful girl, Blanche, and had two wonderful children, Bernard, my son, and Gisele, my daughter." Michel built his "good" post-war life in the United States, serving in the U.S. Army from 1951-1953 in the Korean War. Following his military service, in 1955, he and Blanche married. Michel went on to a long and successful career at the Home Insurance Company in N.Y. from 1953 to 1994, retiring  as Assistant Vice President in 1994. Michel speaks about his experiences in hiding during the Holocaust to school children, teachers and adults in both Florida, where he and Blanche reside, and New Jersey.
Michel enjoys his five grandchildren: Erica and Jacob and Gabriele, children of son, Bernard, and Jordan and Alexa, children of Gisele and David Joachim. 

Editor's Notes:

Refer to Michel Jeifa's Shoah Interview (1997) in Gallery (Video).

Refer to Platina Post's Article in Related Textual Materials and Related Media for 2018 photos of Seton Hall Horarium.

Michel Jeifa passed on October 18, 2023 in Bridgewater, New Jersey.

SURVIVOR INTERVIEW by David Wind (PLatina Post 2018)

REFER TO RELATED TEXTUAL MATERIALS BELOW FOR "FROM PARIS TO NEW YORK: THE STORY OF A HIDDEN CHILD" BY DAVID WIND

HISTORICAL NOTES:

related textual material:

Sources and Credits:

Credits:

Survivors of the Shoah, "Michel Jeifa Interview," February 7, 1997; Archival Co.; Michel Jeifa, "Remembering Painful Memories;"  "David Wind, "From Paris to New York to Platina: The Story of a Hidden Child," Platina Post Article and Interview, 2018; SSBJCC Survivor Registry Biography by Nancy Gorrell, 2018.

 

The SSBJCC Holocaust Memorial and Education Center acknowledges with gratitude donations of historic and family digital photographs, documents, records and book donation of Holocaust survivor Michel Jeifa and the Survivors of the Shoah video by Gisele Jeifa Joachim and family. 
RELATED MEDIA