 Holocaust
Memorial Education Center
Shimon and Sara Birnbaum Jewish Community Center

Survivor Profile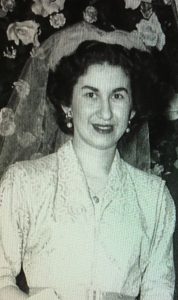 PRE-WAR NAME:
PLACE OF BIRTH:
DATE OF BIRTH:
LOCATION(s) BEFORE THE WAR:
LOCATION(s) DURING THE WAR:

IN HIDING IN BARNS AND FIELDS
STATUS:
RELATED PERSON(S):

HYMAN TUCHMAN

- Spouse (Deceased),

HELEN TUCHMAN ROSEN - Daughter,

SAM TUCHMAN - Son,

REGINA BERKOWITZ, Sister ,

ROBYN ROSEN BILMES - Granddaughter,

MATTHEW BILMES, Great- - Grandson,

MORGAN BILMES, Great- - Granddaughter,

JESSICA ROSEN FREUND - Granddaughter,

ZACHARY FREUND, Great - Grandson,

ABIGAIL FREUND, Great - Granddaughter,

MADELYN FREUND, Great - Granddaughter
BIOGRAPHY By helen rosen, daughter

My mother, Miriam was born in Ulanow, Poland on April 3, 1927. She lost everyone in her family with the exception of her older sister, Regina, known as Aunt Jenny. During the war, she and her sister hid in barns and fields. My mother was very protective of her children, my brother Sam and myself. My mother referenced her past only on rare occasions; for example, "When my brother and I would fight and not get along, she would say, "Don't fight. I only wish I had my brother." After years of hearing that, my mother finally explained that when they all had to flee, she, her sister, her brother, and parents left their home. At some point during their journey, her parents were not sure which way would be safe. So they told my mother and her sister to stay, and because they might not get along, that they would take their younger brother with them. Once they were sure it was safe, they would come back for both of them.  My mother's parents never came back.  My mother and her sister continued on their own to flee, living in barns and fields along the way. The only other part of the story I know is that my mother and aunt were liberated by the Russians.

My mother came to New York where her sister lived. She settled there, in the Bronx. She met her future husband, Hyman Tuchman after the war. Hyman had family in Rockaway Beach and she lived in the Bronx. Someone introduced them and they obviously had a great deal in common. It was very important that my mother learn the language and become a naturalized citizen. She seldom spoke Yiddish unless it was with her husband, her sister, or her aunts. My parents joined an orthodox synagogue and sent their children to Hebrew School. They were unable to complete their schooling beyond the fourth grade, but they realized the importance of education and made sure that their children were given every opportunity.

The survivors, at least the ones my mother was friendly with, and there were many, all settled in Hillside, New Jersey, spoke of their experiences with one another but not to anyone else. Most felt they wanted to spare their children their pain and secondly, most felt that their children could not possibly comprehend such evil…my parents were no different. Hyman passed in 1981. Miriam passed in 2014 beloved by many grandchildren and great grandchildren.

 

Editor's Note:

Refer to Helen Rosen's Registry in "Voices of the Descendants"

SURVIVOR INTERVIEW:

Refer to Biography above by Helen Rosen, daughter

Sources and Credits:

Credits: Biography by Helen Rosen, daughter.  Historic and family photographs donated by Helen Rosen.
RELATED MEDIA