 Holocaust
Memorial Education Center
Shimon and Sara Birnbaum Jewish Community Center

Survivor Profile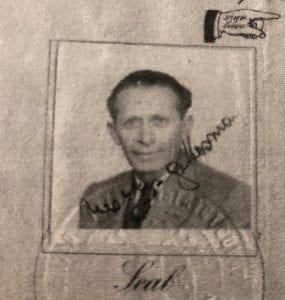 PRE-WAR NAME:
PLACE OF BIRTH:
DATE OF BIRTH:
LOCATION(s) BEFORE THE WAR:
LOCATION(s) DURING THE WAR:

FORCED LABOR CAMPS: KOSICE, SLOVAKIA; BORE, YUGOSLAVIA
STATUS:
BIOGRAPHY BY Miriam F. dobin, daughter

Avrohom Moshe Gottesman was one of nine children. He was named after both of his grandfathers.  He was born August 26, 1907 in Svalyava, Czechoslovakia. There were five boys and four girls. He came from a Belzer Chassidic background. He grew up in a middle-class family. His father owned a country grocery storyand sold shoes, food, gasoline and women's clothing. The Gottesman's lived in a town with a large Jewish community and some non-Jews. Morris attended a large shul and his family observed the religious traditions. Morris was only seven when World War I began and life was hard. His oldest brother was taken to figh, and in 1915, his brother was missing in action. With the scourge of the flu, his parents buried four of Morris's siblings between 1915 and 1918. Morris's formal education ended when he was 14. He started working by selling bicycles. He continued by selling and became good at business.

 

In 1939 when he was 32 years old the Hungarians invaded Svalyava for the Germans. They sent him with a company of Jewish men to Kosice, Slovakia in the occupied territories (later known as forced labor camps) to work for the Hungarian Army. There he helped build an airfield. Before his company was sent to Yugoslavia, Morris had one week to go home. That was the last time he ever saw his parents or remaining siblings.

The Hungarians took his company to Bore, Yugoslavia. There the brutality began under a new commandant who tortured and shot any boys who tried to run away or join the partisans. Towards the end of the war, after the Russians came, the Germans began to retreat. Morris and a friend jumped into a ditch to escape until their unit was out of sight. Luckily, they were found by a Serbian woman who agreed to shelter them for a couple of weeks. He slept in the good woman's barn. Her husband let him work in his vineyard. The end of the war was approach, and Morris left the Serbians in the spring of 1945 to go to Belgrade. There he met up with other Jews from the joint distribution and received word that his parents and siblings were murdered in Auschwitz.

 

Morris stayed in Belgrade until 1948. Then he moved to Germany and lived there until 1951. He did well as a businessman and sold Rosenthal china. He emigrated to the United States in 1951. He never went back to his home in Svalyava because everyone had perished.

 

Morris had a first cousin who lived in Pennsylvania named Fanny Herskovitz and she became his sponsor. He lived with her and her son before moving to New York. In 1952 Morris met Olga Gottesman. They were introduced by mutual friends. They dated, became engaged and married within six months. They were married at City Hall on January 29, 1953, but celebrated their anniversary on February 1 (their religious wedding date). They settled first in Brooklyn where Morris opened "Morris's General Dry Goods." It was a store that carried men's clothing, china and bicycles. Olga worked in the store until she became pregnant with her "miracle child," Miriam.

 

Editor's Notes:

Refer to Voices of the Descendants for Miriam Dobin's Registry and Eulogy to Morris Gottesman, father.

Refer to the Survivor Registries of Olga Gottesman, Ella Hecht and Isadore Hecht.

Refer to Miriam Dobin's memoir, I Am Because of You (2015) at www.Iambecauseofyou.net or amazon.com.

SURVIVOR INTERVIEW:

Sources and Credits:

Credits:

Biography by Miriam Dobin from I Am Because of You (2015)

The SSBJCC Holocaust Memorial and Education Center gratefully acknowledges the donation by Miriam Dobin of her memoir, I am Because of You (2015) and digital historic and family photographs and documents therein.
RELATED MEDIA