 Holocaust
Memorial Education Center
Shimon and Sara Birnbaum Jewish Community Center

Survivor Profile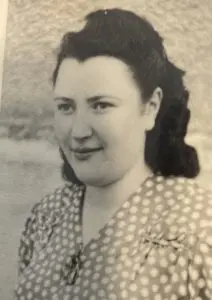 PRE-WAR NAME:
PLACE OF BIRTH:
DATE OF BIRTH:
LOCATION(s) BEFORE THE WAR:
LOCATION(s) DURING THE WAR:

BERGEN BELSEN, GERMANY; AUSCHWITZ, POLAND
STATUS:
RELATED PERSON(S):

SARAH GINSBERG - Mother (Deceased),

YECHIL FORTINSKY - Father (Deceased),

SIMON FORTINSKY-BROTHER (Deceased),

SUSAN GREENSTEIN - Daughter
Brief BIOGRAPHY BY: 

REFER TO SURVIVOR INTERVIEW BELOW WITH SUSAN GREENSTEIN, DAUGHTER

SURVIVOR INTERVIEW with susan greenstein, daughter

SSBJCC SURVIVOR INTERVIEW WITH SUSAN GREENSTEIN, DAUGHTER

Place: Phone Interview

Date: August 10, 2023

Interviewer: Nancy Gorrell

Q: What do you know about your mother's early child years?

A: She grew up in Lodz, Poland. Her parents were middle class people. She had a very pampered childhood. Her father had some sort of job in the military. Every time there was a picture of him, he was in a uniform. He was a very handsome man. Her father gave her an allowance once a week, so they had to have had money. Every morning she would complain the bread wasn't fresh, and they walked together to the bakery to get fresh rolls. Her father had a brother. She was very close to her uncle. He took her out for ice cream once a week. I know my mother was really loved. She also told me she felt she was really spoiled and was totally unprepared for what her future held.

 

Q: What do you know about your mother's schooling or education?

A: She didn't tell me much about going to school. I don't know about what grade she went up to. 

 

Q: Was the school she went to Jewish with Jewish teachers?

A: I believe she attended a Jewish school. She knew how to read Hebrew and had a small vocabulary of Hebrew words.  She did go to "Cheder", where she learned her prayers.  She had limited knowledge of all the holidays and their customs.

 

Q: What do you know about your mother's religious upbringing?

A: I know her mother kept a traditional Jewish kosher home and celebrated all the holidays and taught her the rules for Shabbat and Kashrut.  I know my mother disliked drinking milk. So, her parents got her goat's milk to drink. 

 

Q: Did your mother ever talk about anti-Semitism during her childhood?

A: Yes. She told me so often that she hated Christmas Day because on that day everyone in the streets would be screaming the "Jews killed Jesus Christ," and they would throw stones at us. She heard the blood tropes repeated about Jews. 

 

Q: Did she have non-Jewish friends growing up? 

A: No, I don't think so. She said the neighbors were decent to them before the war, they got along, but when the war began it was very unpleasant. The kids she went to school with were cruel.

 

Q: Did her family always live in Lodz? 

A: From what I know she spent her entire childhood in Lodz. She never mentioned any travel or vacation.

 

Q: What happened to your Mom's family when the war broke out. 

A: In 1940 she was sent to the Lodz Ghetto. They took her whole family (brother, mother, father, and her uncle). Her father had brothers and sisters, but until they came to United States, she never talked much about her father's family. She never said "your grandparents." Never. It was only her father. It was just hers. Not to share. They were all dead. 

 

Q: What do you know about her life in the Lodz Ghetto?

A: In 1940 when she went to the Lodz Ghetto, she worked on Logennicka 36 Street as a seamstress. 

 

Q: How long were they there? 

A: For two years until it was liquidated. In the ghetto it was interesting. Because so cherished as a child, my mother really didn't have any skills. They told her if she didn't work, she would go to a terrible place. They put her in a room with a sewing machine. When she began to sew, the needle went completely through her finger. The other girls helped her learn to be a seamstress. The skill saved her life. She sewed German uniforms. 

 

Q: What happened to the rest of your mother's family?

A: Her brother was smuggled out of the ghetto and he was sent to a monastery where the nuns promised to protect him. 

Q: Did he survive? 

A: No. The Nazis invaded and shot all the children. She lost her only brother.

 

Q: What happened to your mother upon liquidation of the Ghetto?

A: She was sent in 1942 to Auschwitz, Poland.  She was only there a few months. She said the conditions were horrible. Their heads were shaved as well as all parts of their bodies.  They were lined up and counted everyday standing naked outside in all conditions and had very little food to eat. Her father was killed in Auschwitz, and it seems as soon as they came to Auschwitz, her mother was thrown into a pit, and she was buried alive. My mother was never tattooed because she was only there a few months. 

 

Q: What concentration camp did your mother go to next?

A: From 1942-43 she was in Bergen-Belsen, Germany. She became very ill there with typhus. It was all over the camp. I don't know how she recovered. But she survived. She was a teenager then. She said the women commandants were horrible. Worse than the men. She was a very beautiful young woman and sometimes the German officers were nice to her. A German officer said they needed workers for a factory to check the ammunition and load the guns. My mother was taken to a factory to work. From 1943-45 she worked in the factories until she was liberated checking gun shells. (For the last four months she may have been moved to work in a slave labor camp in Saxony, Germany). 

 

Q: What happened to your mother upon liberation? 

A: She was 21. She never said she had gone on a death march. She said she went to Landsberg Germany, Displaced Person's Camp (American Zone). The Red Cross was there trying to help survivors find family members.

 

Q: Did your mother have any surviving members of her family? 

A: No. She had an aunt who had been shipped to the United States when things started getting bad in Poland. I don't know the year of that. It was one of her father's sisters. That's how she was able to come to the US. Her father's sister, Tante Ruth, was trying to contact the Red Cross to find her brother and her family. Tante Ruth became my mother's sponsor.

 

Q: How did your mother meet your father?

A: In the DP camp. They got married in the DP. All the young people that survived started to mingle and marry. The Red Cross tried to give them activities to help them recover. My mother was in a dramatic show. My mother had a beautiful singing voice and she was an actress too. She was in the plays and shows. 

 

Q: Tell us about the holiday cards. 

A: It seemed when couples married in Landsberg, they made up beautiful Jewish New Year's greeting cards with the couples' photo in the corner. Every married couple received one to send out. ( Refer to Related Media for photo of New Year's card). My parents were married in 1947. No one wanted to leave the DP camp because they were hoping relatives would return. Also, you needed a sponsor to leave. My parents spent from 1945-49 in the Landsberg DP Camp.

 

Q: Do you know about the ship they travelled on to the United States?

A: Yes. They travelled on a military ship to the United States sponsored by a Jewish charity, and they landed on the Westside of Manhattan. The name was General Leroy Eltinge. There was a humorous story I can tell you about their voyage. Those on the ship were trying hard to make sure every survivor had their vitamins. They were handing out grapefruits. The Red Cross told them to eat the grapefruits. Europeans didn't like sour fruits. All the survivors started throwing the grapefruits overboard. They craved chocolates. This was a story they told us. 

 

Q: How did your father make his livelihood when they first arrived?

A: There were Jewish organizations helping survivors get settled. They first lived in the Bronx. My father got a job there stuffing mattresses.

 

Q: When were you born? 

A: I was born in 1952 and my brother was born in 1955. They moved to Brooklyn when I was born. My father opened a grocery store. They had no money so they lived in the back of the store for a year or two and then when I was born, we moved to an apartment in Brownsville, Brooklyn. We lived in that building until 1955. My mother didn't like living there because it only had two rooms. She wanted to live away from the store for privacy from the customers. He was successful with his Superette. My parents then moved to East Flatbush Brooklyn and bought a home. That's where I grew up. He had a lot of customers and finally he bought a larger store on Coney Island Ave. in Brooklyn NY.   Back in Poland, his father  was a leather tanner. My father grew up learning to be a leather tanner. In the early 70's he bought a leather  factory. My father was in the leather business until his retirement. He was very successful throughout his life.

HISTORICAL NOTES:

LANDSBERG DP CAMP

The Landsberg displaced persons (DP) camp was located in Landsberg am Lech, near Munich, in the American zone. During the war, it had been a Wehrmacht (German Army) compound and barracks, named Saarburg Kaserne. Initially, the camp housed both Jewish DPs and non-Jewish deportees from East European countries who had been sent to the area by the Nazis to do forced labor. But the camp's Jewish American commandant, Irving Heymont, insisted that the camp become solely a Jewish DP camp, which happened in the autumn of 1945.

 

When the Anglo-American Committee of Inquiry visited Landsberg in early 1946, it found no children between the ages of one and five living there. Irving Heymont wrote to his wife in mid-1945:  

"With few exceptions, the people of the camp themselves appear demoralized beyond hope of rehabilitation. They appear to be beaten both spiritually and physically, with no hopes or incentives for the future."

But the population of 5,000 Jewish DPs in Landsberg had not been defeated, and within months had created one of the most flourishing communities in the Sh'erit ha-Pletah. Landsberg eventually grew into the second largest DP camp in the American zone. The population, chiefly comprised of Russian, Latvian, and Lithuanian survivors, also gained great influence over other DP camps in the American zone.

 

Beginning in October 1945, the Landsberger Lager Cajtung (Landsberg Camp Newspaper) developed a reputation as one of the best newspapers in the American zone. In 1946, the newspaper's name was changed to the Jidisze Cajtung (Jewish Newspaper), a testament to its renown in the Sh'erit ha-Pletah. 

In addition, Landsberg profited from a group of capable leaders whose guidance aided both the camp and the entire Sh'erit ha-Pletah. The most prominent of these leaders was Samuel Gringauz, who served as chairman of the Council of the Central Committee of Liberated Jews in the US zone. Gringauz also served as founding editor of the Landsberger Cajtung. In October 1945, David Ben-Gurion, head of the Zionist organization in Palestine, visited Landsberg and was instrumental in acquiring more space for the overpopulated camp.

Retrieved USHMM website

Sources and Credits:

Credits:

SSBJCC Survivor Interview with Susan Greenstein, daughter of Rene Szarfarc; interviewer, Nancy Gorrell; August 10, 2023.

 

The SSBJCC Holocaust Memorial and Education Center gratefully acknowledges the donation by Susan Greenstein of digital copies of  family photographs and historic documents of her survivor parents Rene and Samuel Szarfarc..
RELATED MEDIA