 Holocaust
Memorial Education Center
Shimon and Sara Birnbaum Jewish Community Center

Survivor Profile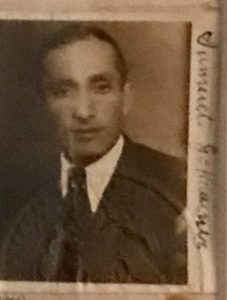 PRE-WAR NAME:
PLACE OF BIRTH:
DATE OF BIRTH:
STATUS:
brief BIOGRAPHY BY DAVID GOTEINER, SON

My parents Samuel and Beatrice were married 1938 Lodz, Poland. When the war broke out, my father was drafted into the Polish army and my mother chose to stay behind. My father had seven brothers and sisters and my mother had eight. My father came from a line of rabbis. He was the black sheep of family. He was a pool player. My mother ended up in the Lodz ghetto and my father became a Russian prisoner of war which is the only reason he survived. He was in Murmansk near the Artic circle. He was in the Soviet part of Poland. When the Germans invaded Russia in 1941, they created a Polish army with Russian officers. My father fought on the eastern front. My father lost the middle finger of his right hand to a sniper April 14, 1945, two weeks before the war ended. (This distinguishing feature is noted in Samuel's Certificate of Identity in Related Media).

My parents reunited in Lodz during liberation and they emigrated to the US in 1948. I think my father had relatives in the US. My grandmother had a younger sister who came to US before the war who married an American Jew.  They sponsored my parents (that's my guess). They settled in Williamsburg, Brooklyn.

Editor's Notes:

Refer to "Holocaust Still Life" in Related Media by David Goteiner in homage to his survivor parents and the survivor parents of his best friend. 

Refer to David Goteiner in Voices of the Descendants for an Artist's Statement of the Holocaust Still Life.

SURVIVOR INTERVIEW:

Refer to Biography above by David Goteiner, son

Sources and Credits:

Credits: SSBJCC Interview with David Goteiner; Digital historic  and family photographs and documents donated by David Goteiner; Digital reproduction of Holocaust Still Life donated by David Goteiner.

The Holocaust Memorial and Education Center ackowledges with gratitude the digital reproduction of David Goteiner's "Holocaust Still Life" and additional artwork in the Voices of the Descendants Registry of David Goteiner.
RELATED MEDIA