 Holocaust
Memorial Education Center
Shimon and Sara Birnbaum Jewish Community Center

Survivor Profile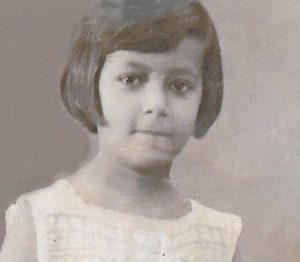 PRE-WAR NAME:
PLACE OF BIRTH:
DATE OF BIRTH:
LOCATION(s) BEFORE THE WAR:
LOCATION(s) DURING THE WAR:

KIEV, ASTRAKHAN, KAZAKHSTAN, DONETSKOE (NORTHERN KAZAKHSTAN)
STATUS:
RELATED PERSON(S):

BORIS DAVIDOVICH - Father (Deceased),

ZINAIDA GROSMAN DAVIDOVICH - Mother (Deceased),

IRINA D. ALEXANDROVSKA, Sister
BIOGRAPHY BY SUSANNA DAVIDOVICH

Susanna was born to Boris Davidovich and Zinaida Grosman in 1935. She had one sibling, Irina, born in 1938. Both her grandparents were from Crimea. She does not remember them.

Susanna's Mother

My mother, Zinaida, born in 1911, studied music and medicine in the city of Astrakhan, where she lived with her childless uncle and aunt since she was 14.  She received her MD degree from Astrakhan Medical School where her uncle was a professor. After marriage in 1931, Susanna's parents moved to Kiev, where Susanna was born four years later.

Susanna's Father

My father was classical musician, fortepiano, trained in Leningrad Conservatory (former USSR). In Kiev my father was employed at The Kiev Philharmonic. He was relieved from duty due to call to the Red Army in June 22, 1941. My father's military unit was located in Kiev in defense of a railroad bridge across the river Dnieper. In September of 1941 the German army encircled Kiev, captured its defendants and proclaimed victory. All soldiers were moved to a concentration camp in a wooded area, named Darnitsa, to die there from starvation, dehydration, and diseases.  My father was there. I never saw him again.

This is what my father's colleague who was also prisoner there, told to my mother a few years after war ended: "I planned to run that night with the group of guys, I invited him (father) to join, but he told us that he had agreement with others. We wished luck to each other. But your father was not lucky."  

(This is how I remember mother's words).

My mother related this conversation to us many years later. She did not want to upset us children. We did not talk much about war; it was too painful even many years later.

 

Evacuation 1. 1941 – 1942.  Kiev  –  No. Caucasus  –  Astrakhan

In July 1941 my mother, my sister, and I were evacuated to Northern Caucasus by special train for military families. I was six years old and could not comprehend my surroundings, but I remember the feeling of horror around me, screams of panic-stricken women pushing their children to hands of strangers inside that departing train. Later I read in the Russian newspapers that children without parents were taken to orphanages by the government, transported to safety, some even found their parents years later. But they had very difficult childhoods. In the Northern Caucasus we settled in small village (do not know name). We stayed there for two months. Local people were not friendly to Russian evacuees. Mother was afraid to live there with two little girls. She contacted her uncle, who lived in Astrakhan, a city on the Volga River, not too far from our current place. Uncle and aunt, who were like parents to my mother, came and took us to the relative safety of their home. As the Germans advanced to Stalingrad in 1942, Astrakhan became a war zone. There were unending bombardments, hunger, cold. The Russian Army moved to Stalingrad crowding the only railroad; food was difficult to find. New evacuations were ordered in Astrakhan, and we had to go again. My mother did not want to go, our Astrakhan address was last connection known to father, and there were no letters from him.  But we had no choice. Uncle and aunt did not leave with us. They were in their sixties and made the conscious decision to stay home and die home if such is God's will.

 

Evacuation 2. 1942 – 1946, Astrakhan –  North Kazakhstan

In the fall of 1942 we bordered a cattle-car train and headed for Kazakhstan. Train was filled by women and children, a few old people, no radio, and horrible rumors circulated around: Germans are ahead, they will kill us all…I recall the horror of bombardments, the trauma of separation with my mother and sister during the bombardment. It was two weeks until train passed Stalingrad while the battle raged on. We turned east to Kazakhstan. It was safe then, but with the Siberian cold, not much to eat and nothing to keep us warm.  After another 10 days we arrived at our destination, in January 1943, a where we spent the rest of war from 1943 to 1946. The first winter was spent living on a collective farm where my mother was serving as a doctor for the entire region. We were sheltered there from war, but not from hunger and cold. They gave us a house with broken windows, leaking roof, no heat, and no electricity.  The houses were heated with cow manure which ran out before spring came. There was no wood, no coal. And yet worse nightmare was a knock on door at night – mother had to go for emergency house call, leaving me and my sister (7 and 3 years old) alone in a cold empty house probably until morning. It was dangerous to ride in horse sleigh at night in winter, so mother usually stayed to sleep until the morning in the host's house. Sometimes she brought home eggs or butter, gratitude for a newborn baby. No store to buy 'shuba'-sheep fur coats to protect us from freezing to death. How did we survive?! In spring of 1943 my mother was transferred to another village, as a director of regional hospital, due to the beginning of a typhoid epidemic. I started school there from 2nd grade. The epidemic ended in 1946, and we were allowed to return back to Kiev.
Village address: Donetskoe, Northern-Kazakhstan oblast (county).

 

After the War
Susanna spent the rest of her youth and teen years growing up in post-war Kiev. With her mother working long hours, she had to share study with home chores and care for younger sister. She graduated from high school in 1952 with an award – Silver medal, which guaranteed acceptance to college of her choice, but denied acceptance because she was Jew as happened to many of her Jewish friends. The same year she was accepted to another small engineering college, graduated in 1957, became mechanical engineer. Anti- Semitism followed every time she tried to change jobs or when she was promoted to a higher position. It was government-created and that was everywhere around the country, There was nowhere to run. In 1979, I emigrated to the United States with the help of JFS of East Orange and other Jewish organizations. Shortly after arrival, I started working in small engineering company and attended English class in a local college.  Here I was free to do what I, a Jew, could not do in Russia – I became a computer programmer. I was offered a position in Grand Union Company, headquartered in New Jersey, and I worked there for 12 years, retired in the year 2000 after a total of 43 years of employment.
22  years in Russia (1957 to 1979)
20  years in the US  (1980 to 2000)

 

Editor's Notes:

Refer to Historical Notes Below for the First Battle of Kiev

Refer to the Historic Photographs of the Kiev Memorial Donated by Susanna Davidovich in Related Media.

The Memorial Inscription Reads:

In this forest in the autumn of the year 1941, Hitler's army organized a concentration camp. Cruel regime, hunger, cold, diseases and non-stop mass shootings led to deaths of many prisoners. In Darnitsa soil even today lay hundreds of thousands of victims of fascism. To you, unknown, lost before your time, eternal life!   (Translated by Susanna Davidovich).

SURVIVOR INTERVIEW:

SUSANNA DAVIDOVICH INTERVIEW

July 12, 2017

Location: Jewish Family Service Office, Somerville, New Jersey

Interviewer: Nancy Gorrell

Q: Describe your family background.
I did not know my grandparents. My mother never told us. My mother's name was Zinaida Grossman, and my father's name was Boris. My grandparents used to live in Crimea. My mother told me I spent my infancy there, but I don't remember. I'm not sure. My mother had two brothers that didn't come back from the war. She never talked about it. It was probably too painful. I have one sister, Irina. The three of us, my mother and sister, never talked about the war. It was too painful to talk about it.

 

Q: What did your father do for a living?
My father was a classical musician trained in Leningrad. Education was free at the time in the USSR. My grandfather wanted his son to have good education. My father trained as a pianist in Leningrad. My parents married in 1931 and sometime after moved to Kiev. I was born four years after they were married.

 

Q: What about your mother's background?
My mother was a doctor and talented musician. She played the piano very well and she had a fine voice when she was younger. She was trained in the city of Astrakhan where she lived with her uncle and aunt who were childless. She went to musical college there and medical school. To them, she was like their child. My mother had two brothers that didn't come back from the war. She never talked about it. It was probably too painful.

 

Q: How did your father make his living?
It was the Soviet Union. The government employed everyone. I have a copy of my father's work record. It said that in 1941, he was dismissed from his post in the Philharmonic to go into the Red Army. The first day of the war, he was already in the army.

 

Q: Did your father ever talk about the army?
No, he couldn't. We never saw him again. My mother talked about it. My father was in Kiev, and he defended the bridge across the Dnieper River. His military unit was defeated by the German invasion–the whole army and Kiev was surrounded in September 1941. My father died there. No one knows the whole story. It was the first battle. I was only six years old at the time.

 

Q: What happened to you after your father died?
My mother knew how the Germans treated the Jews, so she knew evacuation was a matter of survival for us. Those who didn't evacuate went to Babi Yar.

 

Q: How did you learn about the Babi Yar massacre?
We learned about Babi Yar after the war? Many years after, when I was college age, in the fifties.

 

Q: How did your mother learn your father had died?
She assumed my father died in the Kiev battle when she received his last letter. At that time, she didn't know anything for sure. Just the last letter, and then silence. She tried to write letters to his command, but there was no answer. There was no answer because they were either dead or gone.

 

Q: Did she ever learn more about your father?
My mother told me the story that she learned after the war when she met one of my father's musical co-workers who saw my father in the Kiev concentration camp. He told her that the Germans took all the Russian and Jewish soldiers and concentrated them in one area in Kiev. They were surrounded and left to die of starvation. If they knew if someone was Jewish or communist, they shot them right away. My father did not look Jewish, but he tried to run away at night, and he was not lucky.

 

(Refer to the photograph of the Kiev Memorial inscription which reads:

In this forest in the autumn of the year 1941, Hitler's army organized a concentration camp. Cruel regime, hunger, cold, diseases and non-stop mass shootings led to deaths of many prisoners. In Darnitsa soil even today lay hundreds of thousands of victims of fascism. To you, unknown, lost before your time, eternal life! (Translated by Susanna Davidovich).

 

Q: How did you and your mother survive after the battle of Kiev?
There was one military train available for evacuation from Kiev for military families. My mother told me how desperate people were to get on this train. Mother's threw their children on this train. It was so panicky and desperate. I can't remember the details, but I remember the feeling of this horror around me. I was on the train with my mother and sister. After this train, there no other trains. We went to the northern Caucuses. We lived in a village there. The local people were not very friendly to Russians. My mother was afraid to live there with two daughters. We were there for six months. Then she contacted her uncle and aunt and it was a relatively short distance. They both came to take us to their home in Astrakhan.

 

Q: How long did you stay with your aunt and uncle in Astrakhan?
Six months.

 

Q: Why did you have to leave Astrakhan?
Astrakhan was safer initially, being deeper inside Russia. But when the war in Stalingrad finally came, Astrakhan became a war zone. To survive you had to leave. It was 1942. My mother didn't want to leave because she was hoping for a letter from my father. She had to be pushed out. If she left, all contacts would be broken. We evacuated in the fall of 1942, close to wintertime. We went to Kazakhstan.

 

Q: Describe your evacuation to Kazakhstan.
We traveled in cattle-cars with the military. So many people were there. It was horrible. The rule was if there was bombardment along the way, everyone had to jump off the cars with the children. My mother jumped with my sister. I had to jump too. A bomb fell on the people hiding in a crater. My mother got scared and ran away with my sister, and I was I was still in the train car. When the people saw my mother running, they were screaming at her, "You are leaving your child!" Then my mother ran back to the train and decided never again to leave the train. She said, "Whatever happens to us, happens to us; we will be there together." After that, we never left the train.

 

Q: How long were you on the cattle-car train?
We traveled two weeks on the evacuation train to Kazakhstan. I was seven by that time. I should remember it better, but the horror makes it difficult. It was a very short distance, but we were constantly stopping for bombardments and military trains.

 

Q: Describe living in Kazakhstan.
We were there from 1942-46. My mother was working. She was the only doctor in all of the large area. Everyone who needed a doctor came to her. There were collective farms in the area. I went to school there. When I returned to Kiev after the war, I went into class five. We were sheltered from the war there, but not from hunger or cold. This was like Siberian cold. We lived on a collective farm, and they gave us a house with broken windows, a leaking roof, no heat, and no electricity. They heated the houses with cow manure which runs out. No wood or coal. My mother complained. They eventually started liking her. When winter was over, the people began bringing food for my mother's services as a doctor. But we still did not have word from father. There was no hospital there, just my mother. Finally, we went to a second village, called Donetskoe where there was a hospital; and my mother worked in the hospital (refer to hospital photograph dated 1944).

 

Q: Where did you go after the war?
To Kiev. We went back to our original home. It was still there. It was destroyed inside. It was just a small apartment where we lived with five neighbors without a working toilet or bathroom. Everything inside was destroyed and burned. My mother started working in the epidemiological center because they paid more. She worked there two shifts. I continued school; school was close and I was always late. It was an all girls' school with uniforms. After that, I went for five years of college and my sister went to junior college. I trained to be a mechanical engineer.

 

Q: What did you do after college?
After I graduated college the government assigned us jobs. It was the USSR. We were supposed to go where they wanted us to go. My assignment was Riga. It was a good assignment. There was a brick manufacturing company for industry.

 

Q: When and why did you emigrate?
In 1979. Why? On line 5 on your passport, it says, your nationality is "Jew". When you go for a position, they were always saying, "no position." I was sick and tired of the government anti-Semitism. The government was controlling everything. It was the Soviet Union. I decided to take my life in my own hands. When I came here, I started in an engineering job, but it was a drafting /designing job, not what I was trained for, so I switched professions to computer programming. I had to learn quickly. I worked 12 years for the Grand Union Company in the New Jersey headquarters. The Jewish community accepted me and took me under their wing. It was nice. The first time anyone took care of me. I think is was the JFS of East Orange and another Jewish organization who brought us over. They taught us how to go shopping, write checks, and how to get cash for checks. There was nothing like that in Russia. This was the time of the biggest Russian resettlement movement.

 

Q: Do you have a message to future generations?
My only message is at any price avoid wars. What's in the movies has nothing to do with reality. It doesn't matter where this war is, it will affect you eventually. In Russia all the Jewish problems were under the rug. Jews were shot just because they were Jewish. It was much later that we realized what happened at Babi Yar. Children couldn't do harm to Germans; and they were killed because they were Jewish. 

HISTORICAL NOTES:

The First Battle of Kiev was the German name for the operation that resulted in a very large encirclement of Soviet troops in the vicinity of Kiev during World War II. This encirclement is considered the largest encirclement in the history of warfare (by number of troops). The operation ran from 7 August to 26 September 1941 as part of Operation Barbarossa, the Axis invasion of the Soviet Union. In Soviet military history, it is referred to as the Kiev Strategic Defensive Operation, with somewhat different dating of 7 July – 26 September 1941. Much of the Southwestern Front of the Red Army was encircled but small groups of Red Army troops managed to escape the cauldron, days after the German pincers met east of the city. The encirclement trapped 452,700 soldiers, 2,642 guns and mortars and 64 tanks, of which scarcely 15,000 escaped from the encirclement by 2 October.

Sources and Credits:

Credits:

SSBJCC Survivor Registry Interview, July 12, 2017, Interviewer: Nancy Gorrell; Biography by Susanna Davidovich; Digital historic and family photographs donated by Susanna Davidovich.
RELATED MEDIA