 Holocaust
Memorial Education Center
Shimon and Sara Birnbaum Jewish Community Center

Descendant Profile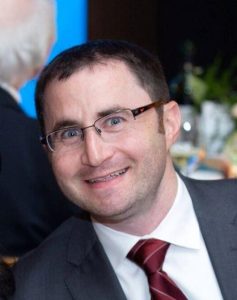 DESCENDANT:

DAVID WACHS, PRESIDENT OF 3GNY

 
RELATED SURVIVOR(S):
DESCENDANT BRIEF BIOGRAPHY BY DAVID WACHS

David Wachs grew up in Bridgewater, New Jersey and was active in the Jewish community throughout his childhood. He attended Temple Sholom's Hebrew School and Hebrew High School, participated in Kadima and USY and attended and worked as a counselor at both Camp Tevah (now Camp Talamini) and NJ Y Camps. Despite being the grandchild of two Holocaust survivors on his father's side – Rose and Muni Wachs – David only connected to his heritage in 2005 through discussion groups with 3GNY, a tri-state area-based non-profit dedicated to preserving the legacies and lessons of the Holocaust.  In 2012, he completed 3GNY's WEDU training, which prepares 3Gs to share their grandparents' Holocaust stories with middle school and high school students. Today (2021) David serves as President of 3GNY, a position he has held since 2017.  In 2021 under David's leadership, 3GNY partnered with 3GNJ to form a regional organization of grandchildren of Holocaust survivors with 3GPA.

David lives in Hoboken, N.J. and works in IT for a financial services firm. David and his sister Heidi combined their love of traveling together with their passion for Jewish history to launch the WanderingJews, a social media account that documents historic Jewish synagogues around the U.S. and abroad. 

Refer to "Ima's Story," David's Submission below  in Testimony.

DESCENDANT SUBMISSION(s):

Sources and Credits:
 

Credits:

 "Ima's Story" by David Wachs. Family and historic hotographs donated by David Wachs.
RELATED MEDIA