 Holocaust
Memorial Education Center
Shimon and Sara Birnbaum Jewish Community Center

Descendant Profile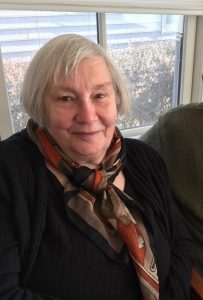 DESCENDANT:
RELATED SURVIVOR(S):
DESCENDANT BRIEF BIOGRAPHY By Elena Volkova

Elena Volkova came to the United States in 2007 to live with her daughter and grandchildren in Hillsborough, New Jersey. She was a teacher in Russia and did an extensive teachers' exchange program with an American teacher in Wisconsin beginning in1993. Her parents, David and Raisa Kogan were both survivors of World War II, and Elena grew up in the post-war era of Stalinist Soviet Union where she experienced Soviet anti-Semitism and life. Elena has volunteered as a Russian translator for the Holocaust Education Center's Survivor Registry.

DESCENDANT SUBMISSION(s):

Sources and Credits:

Credits:

Biography by Elena Volkova; SSBJCC Survivor Registry Interview, November 30, 2016; Digital historic and family photographs donated by Elena Volkova.
RELATED MEDIA