 Holocaust
Memorial Education Center
Shimon and Sara Birnbaum Jewish Community Center

RESISTANCE IN BUDAPEST-THOMAS ELEK
BORN: DECEMBER 7, 1924
BUDAPEST, HUNGARY
Thomas was born to a Jewish family who moved to Paris when he was 6. His father's outspoken criticism of the fascist government and his affiliation with the Hungarian Communist Party led to the family's expulsion from Hungary in 1930. With the help of his father, a professor of modern languages, Thomas quickly learned French and excelled in school. He had a special interest in poetry and music.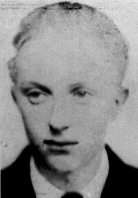 1933-39: Thomas's father often argued against fascism, and he was greatly disturbed when Hitler became the chancellor of Germany in 1933. His father's uneasiness permeated the Eleks' family life. Thomas concentrated on his studies and was admitted to the Louis-le-Grand secondary school, one of the most prestigious in Paris. He was upset to learn that Hungary, his mother country, had instituted anti-Jewish laws.
1940-44: In 1940, after the Germans occupied France, Thomas's mother enlisted in a women's resistance group. Following her example, Thomas joined a progressive students' organization in 1941 and later, with his brother, Bela, joined the armed resistance group, Franc-Tireurs et Partisans. Thomas participated in sabotage actions against the Germans. His group launched numerous grenade attacks, and set fire to a German library on the Left Bank. On July 28, 1943, his unit blew up a convoy of German officers and soldiers, killing 600.
Arrested on November 21, 1943, Thomas was tortured and condemned to death. On February 21, 1944, at the age of 20, he was executed by a Nazi firing squad.
Copyright © United States Holocaust Memorial Museum, Washington, DC