 Holocaust
Memorial Education Center
Shimon and Sara Birnbaum Jewish Community Center

Survivor Profile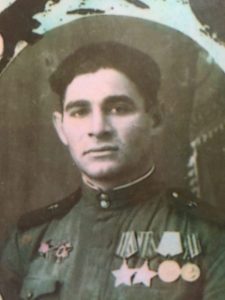 PRE-WAR NAME:
PLACE OF BIRTH:
DATE OF BIRTH:
LOCATION(s) BEFORE THE WAR:
LOCATION(s) DURING THE WAR:

FOREST WITH PARTISAN GROUP; SOVIET ARMY
STATUS:
RELATED PERSON(S):

FRIDA APPELBAUM

- Spouse,

SEYMOUR APPELBAUM - Son,

PATRICIA APPELBAUM - Daughter-in-law,

ANNETTE APPELBAUM - Daughter,

BETTY APPELBAUM - Daughter,

JESSICA APPELBAUM WANG - Granddaughter,

JOSH WANG SPOUSE OF GRANDDAUGHTER ,

ANNE WANG Great-Grand - Daughter,

JONAH WANG Great - - Grandson,

JOSH APPELBAUM - Grandson,

ASHLEY GOLUB APPELBAUM - Grandson's Spouse
BIOGRAPHY BY PATRICIA APPELBAUM, DAUGHTER-IN-LAW

Biography of Abraham Appelbaum by Patricia Appelbaum, daughter-in-law

Abraham Appelbaum was born in 1925 in the Rovny Region, Klevansky District, Village of Mochulky, Poland.  Since he did not have a date of birth, he chose February 12, 1925.

His parents were Bella Strachman (1898-1941) and Israel Eppelboim (1899-1941).

Bella's parents were Issack (who was a Rabbi), he died in 1933 and Enya Strachman.  Their children's names were Abraham, Hershel, Aaron, Zeepa, Rivka, Fayga, Schloime, Freda and Bella.

Abraham's siblings were:

Yashia, born in 1915, who was married to Bella.  They had two children. The family was murdered by the Germans in a cemetery in Mochulky, Poland. Joseph was born in 1918, murdered (beheaded) by the Germans in a farmhouse where he was hiding. Roman was born in 1922. Feiga, was born in 1930 and was murdered by the Germans. Chaika was born in 1932 and was murdered by the Germans.

Rovno (Polish: Równe, Yiddish: ראָװנע) was the largest city in the Polish province of Volhynia (Wołyń) prior to World War II.  The city's current name is Рівне (Rivne) and is now in Ukraine.  The city of Rovno, which included approximately 25,000 Jews, fell to the Germans in June of 1941.  The Germans then made Rovno a regional capital city.  In the next two months, 2,000 to 3,000 Jews were killed.

To create more office and residence room for incoming Germans who would work in Rovno, the Germans decided to clear out many of the remaining Jews.  

Between November 6th & 7th, 15,000 to 18,000 Jews who thought they were reporting for work assignments were marched into the Sosenski Forest and murdered.

Finally, a ghetto was established in the Wola neighborhood or Rovno, which included approximately 5,000 Jews.  The ghetto was liquidated between July 13th and 14th, 1942 by transporting the remaining Jews by train to the forest near Kostopol where they were murdered.

When the German army entered Mochulky. They murdered Abe's two sisters, Feiga and Chaika.  Abe ran from the Germans and found himself in the forest where the Partisan Group under Major General Naumon was located.  He spent two years in the forest.

He later joined the Russian Army.

 

From the Defense Attache Office Moscow, Russia, (10 April, 1997)

Archive Service of Russia (Rosarchive)

There is information in the Russian Military Archive concerning Mr. Appelbaum Abraham Sruyvich, d.o.b. 1925, Rovy Region, Klevansky District, village Mochulky. He served in the Partisan (Guerrilla) Squad of the Major General Naumon, the hero of the Soviet Union since December 20, 1943 until May 1944; in the engineering battalion of Riflemen vision of the 1st Ukrainian, 2nd Belorusian and 1st Belorusian fronts since May 6, 1944 until April 30, 1945.  As a private, he served as a rifleman, anti-tankman and a sapper (military specialist who lays, detects and disarms mines). He was part of the active Army until May 9, 1945.

 

War Record:

Order of Glory 3rd degree – July 1, 1944 order at Riflemen Division

Personal Decoration for Bravery – August 9, 1944 order at Riflemen Division

Order of the Red Star – November 19, 1944 usually obtained by high military officers order at Riflemen Division

Order of Glory 2nd Degree – February 19, 1945 Order of the Army

Order of Great Patriotic War 2nd Degree April 30, 1945 order at Riflemen Corps

 

Editor's Notes

Refer to Related Media for Abraham's war medals.

Refer to Jessica Wang, granddaughter in Voices of the Descendants

SURVIVOR INTERVIEW:

Refer to Biography above and Related Textual Materials

related textual material:

Sources and Credits:

Credits:

SSBJCC Holocaust Memorial and Education Survivor Registry Interview : Biography by Patricia Appelbaum; Historic documents submitted by Patricia Appelbaum, daughter-in-law: birth certificate (Frida), Soviet Defense Attache Partisan Service (Abraham) (1997), Commendations (Abraham), Soviet Army Medals (Abraham) and photos. Digital historic documents and family photographs donated by Jessica Wang, granddaughter from her WEDU presentation video April 8, 2021.
RELATED MEDIA