 Holocaust
Memorial Education Center
Shimon and Sara Birnbaum Jewish Community Center

Survivor Profile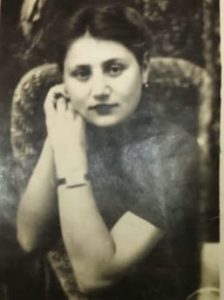 PRE-WAR NAME:
PLACE OF BIRTH:
DATE OF BIRTH:
LOCATION(s) BEFORE THE WAR:
LOCATION(s) DURING THE WAR:
STATUS:
RELATED PERSON(S):

ABRAHAM APPELBAUM

- Spouse (Deceased),

SEYMOUR APPELBAUM - Son,

ANNETTE APPELBAUM - Daughter,

BETTY APPELBAUM - Daughter,

JESSICA APPELBAUM WANG - Granddaughter,

ANNE WANG - Great - Granddaughter,

JONAH WANG - Great - Grandson,

JOSH APPELBAUM - Grandson,

PATRICIA APPELBAUM - Daughter-in-law
BIOGRAPHY BY PATRICIA APPELBAUM, DAUGHTER-IN-LAW

Frida's parents were Edel Kloper (1903-1941) and Paya Ladyzhensky (1898-1991).  Frida's father was taken away by the Germans in 1941 and never to be seen again. Her brother was Boris Kloper (1924-1945) and her sister was Klara Kloper (1924-1945).
Her paternal grandparents were Paya (1898-1991) and Yury Kloper.  Yury was born in Tomaspol and Paya was born in Gorodkovka.  Her great grandparents were Seymour and Sura Kloper. Frida's maternal grandparents were Risa and Boris Ladyzhensky.  Their children were: Golda, died in 1938; Luba died in 1975 in Tomospol; Socia, died in 1988 in Tomospol, Lisa; Paya, born in 1898 and died July 21, 1991 in Tomospol, Naoom, died at the age of 20; Moses, died in Odessa at the age of 93; Zenovi, died in 1980; Labe died in 1989; Nuka, died in 1942 ; Huskel, died during the war.Frida's brother Boris was killed in Berlin, the day before the liberation of Berlin. He was in the army with a man named Abraham Appelbaum, soon to be Frida's future husband. After the war, Abraham went to Boris' town in Tomoshpol to let the family know that he was shot by a German sniper and killed. That's how Frida met Abraham. They were married in 1948 in Bresnow, and lived there until 1954. Abraham and Frida moved to Chernovitz, Moldavia Republic in 1954 until 1955. From 1955-1957, they lived in Frunze, Russia. They arrived in Israel in 1958 and settled in Upper Nazareth Elite. They left Israel in 1962 and arrived in the United States on February 12, 1962.

 

Frida worked in a nursing home while Abraham worked as a bricklayer and a private contractor. They settled in Seagate, Brooklyn, where Frida still resides. They have three children: Annette (b.1954), Betty (b.1964) and Seymour (b.1/1/1950). Seymour married Patricia Zimbelman (b. 1948) on October 20,1973.  Seymour and Patricia have two children, Jessica and Josh.  Jessica is married to Joshua Wang and they have two children, Anne and Jonah.  Josh is married to Ashley Golub.

Editor's Notes

Refer to granddaughter, Jessica Wang, in Voices of the Descendants.

Refer to Historic Documents in Related Textual Materials Below

Refer to photo of Appelbaum family arrival in the US in Related Media

SURVIVOR INTERVIEW:

related textual material:

Sources and Credits:

 Credits:

Biography by Patricia Appelbaum 2017; Historic documents donated by Patricia Appelbaum: birth certificate (Frida), Soviet Defense Attache Partisan Service (Abraham)(1997), Commendations (Abraham), proof of ghetto (Frida), Soviet Army Medals (Abraham) and photos. Digital historic and family photographs donated by Patricia Appelbaum and Jessica Wang.
RELATED MEDIA