 Holocaust
Memorial Education Center
Shimon and Sara Birnbaum Jewish Community Center

Survivor Profile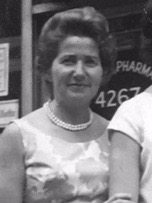 PRE-WAR NAME:
PLACE OF BIRTH:
DATE OF BIRTH:
LOCATION(s) BEFORE THE WAR:
LOCATION(s) DURING THE WAR:

LONDON, ENGLAND; KINDERTRANSPORT
STATUS:
RELATED PERSON(S):
BIOGRAPHY By susan horowitz, daughter

Refer to Interview below for Biography of Alice Winkler by Susan Horowitz, daughter

 

SURVIVOR INTERvIEW with susan horowitz, daughter

Interview with Susan Horowitz, daughter and Judy Shiechel, daughter

Location: Phone Conference Call

Date: March 21, 2018

Interviewer: Nancy Gorrell

Q: Describe your mother's family background.
My mother's parents, Hermina and Henry were divorced when she was very young. This was unusual for the times. She had a younger brother who died a few days after birth. She grew up as an only child. She talked about her mother as a card player who liked to sit in the cafes of Vienna. Her mother was a nurse. We have a photograph of her mother in her uniform. They lived in an apartment. Her father, Henry, died before the war. He served in World War II and had tuberculosis.

Q: What was her schooling like?
She went up to the eighth grade.

Q: Did she ever talk about anti-Semitism when she was growing up?

She did tell us that when Hitler came into power in Austria one sadness for her was that school friends crossed the street when they saw her coming. She was no longer allowed as a Jew to go to school with her non-Jewish friends.

Q: What happened to her in 1938 after the Anschluss?
Her mother worked on arranging for her to go on the Kindertransport to London. But after she boarded the train, her mother got word by telegram that the couple who had promised to take her had changed their minds. They feared war was imminent. Since Alice was already travelling, there was no turning back. She arrived in London on June 15, 1939 at Liverpool Street Station, Hope Square, but there was no one to pick her up. There she was all alone and she didn't speak the language. Finally a Jewish agency found her and took her to a temporary hostel. Susan adds: "Today there is a monument in Hope Square in honor of the Kindertransport children by Frank Meisler." (Refer to photograph in Related Media).

Q: What happened to your mother in London after that?
The Jewish agency placed her with a family as a nanny. She spent the entire war in London. She stayed with three different families. In the first two she was a nanny for the children. Then finally she got a job in a hat factory.

Q: Did she ever speak anything more about the Kindertransport experience?
She did say that since she was one of the oldest, she took care of the crying babies on board that desperate parents had left in hopes of saving their lives.

Q: In general, how did she describe or recall her experience in London?
It was a positive one for her. She met William, her future husband during the Bliz, and they began dating as she was in her late teens.

Q: What was William doing in London?
He went there to enlist in the British Army, but since he wasn't a citizen, he drove an ambulance instead.

Q: What happened to Alice's mother?
In the beginning, Alice got letters from her mother. But then the letters stopped. She never heard from her mother again.

Q: Do you know what happened to her mother?
It's a tragic story. Her mother had a sister, Tante Anni, living in United States. Tante wanted to send a visa to get her sister out, but she wouldn't leave her only child. After Alice left on the Kindertransport, it was too late to go. Judy adds: "Tante Anni was told she could get her sister out if she could raise $300, and she tried to raise the money in Jewish community but no one had enough money to get her out." Her sister, Alice's mother, our grandmother was deported to Treblinka and died in Auschwitz. Our mother never saw her mother again.

Q: When did Alice emigrate from England?
My mother left London in 1947 on a visa and sponsorship from Tante Anni, her sister and she went to live with her in Manhattan. With the visa she came out on, my mother was able to bring William out a year and a half later, and they married in Tante's apartment on May 12, 1948.

Q: What was post-war life like for your parents in America?
They stayed with Tante Anni in the first years after marriage. Their first child, Susan was born in Tante's apartment on February 6, 1950. They lived there until Judy, their second child was born, May 13, 1953. At that point they moved out on their own to a floor of a house in Woodside, Queens. My father worked in a plastics factory called Pre-Pack and he worked there until his early death in 1966. He passed when he was 44. After all of this loss, my mother was widowed at 43.

Editor's Notes:

Refer to Susan Horowitz's Testimony in Voices of the Descendants.

Refer to Historical Notes below for Anschluss and Blitz

HISTORICAL NOTES:

Anschluss (German: [ˈʔanʃlʊs] ( listen) 'joining') refers to the annexation of Austria into Nazi Germany on 12 March 1938. The word's German spelling, until the German orthography reform of 1996, was Anschlußand it was also known as the Anschluss Österreichs.

 

The Blitz, (September 1940–May 1941), nighttime bombing raids against London and other British cities by Nazi Germany during World War II. The raids followed the failure of the German Luftwaffe to defeat Britain's Royal Air Force in the Battle of Britain (July–September 1940).

 

Sources and Credits:

Credits:

SSBJCC Interview March 21, 2018 with Susan Horowitz, daughter. Digital and historic and family photographs donated by Susan Horowitz.
RELATED MEDIA