 Holocaust
Memorial Education Center
Shimon and Sara Birnbaum Jewish Community Center

Survivor Profile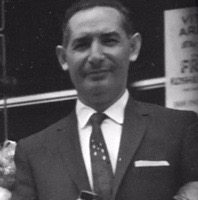 PRE-WAR NAME:
PLACE OF BIRTH:
DATE OF BIRTH:
LOCATION(s) BEFORE THE WAR:
LOCATION(s) DURING THE WAR:
STATUS:
RELATED PERSON(S):
BIOGRAPHY BY SUSAN HOROWITZ, DAUGHTER

Refer to Interview below  for William Winkler's biography by Susan Horowitz, daughter.

SURVIVOR INTERVIEW by susan horowitz, daughter

Interview with Susan Horowitz, daughter and Judy Shiechel, daughter

Location: Phone Conference Call

Date: March 21, 2018

Interviewer: Nancy Gorrell

 

Q: Describe your father's family background.
William was born in a farming village outside of Vienna. His parents owned a grocery store. His father's name was Joseph. He had a younger brother, Kurt. Susan says, "My father died so young, we didn't get to hear any of his stories of growing and the past. He left on his own before the war began and he tried to enlist in the British army, but he wasn't a British citizen. So instead he drove an ambulance." Both Susan and Judy recall meeting their paternal grandmother in 1962 when they went on a family trip to Israel. Susan was 12 at the time.

 

Q: What happened to your father's family during the war?
My father's family went to Palestine during the war. My father had not seen his either of his parent's or his brother, Kurt since he left Vienna to join the British army in London. But this story has a sad ending. Six weeks before the family trip to Israel in 1962, my father's father died. So my father never saw his father again. He did reunite with his mother and brother. Kurt stayed in Israel, married and has a family there. My father and Kurt have seen each other over the years and write letters.

 

Q: How did your mother and father meet?
They met in London in 1940 during the Blitz when my father was an ambulance driver. They spent the remainder of the war years dating.

 

Q: How did your father emigrate to the United States?
 When my mother emigrated from London to the United States in 1947, my father remained in London. A year and a half later my mother was able to get him out on her visa, and he came to live with my mother at Tante's apartment in Manhattan. They were married in Tante's apartment on May 12, 1948. They lived there together with Tante.  Susan, their first child was born in Tante's apartment on February 6, 1950. Judy, their second child was born on May 13, 1953. After Judy was born, they move out of Tante's apartment to a floor of a house in Woodside, Queens.

 

Q: What did your father do for a living in Woodside?
 He worked in a plastics factory called Pre-Pack until his early death in 1966. He passed when he was only 44.

Editor's Note:

Refer to Susan Horowitz in Voices of the Descendant's 

HISTORICAL NOTES:

The Blitz, (September 1940–May 1941), nighttime bombing raids against London and other British cities by Nazi Germany during World War II. The raids followed the failure of the German Luftwaffe to defeat Britain's Royal Air Force in the Battle of Britain (July–September 1940).

Sources and Credits:

Credits:

SSBJCC Holocaust Memorial and Education Center 2018 Interview with Susan Horowitz; Digital historic and family photographs donated by  Susan Horowitz.
RELATED MEDIA