 Holocaust
Memorial Education Center
Shimon and Sara Birnbaum Jewish Community Center

Survivor Profile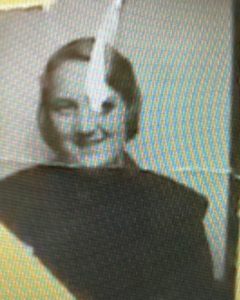 PRE-WAR NAME:
PLACE OF BIRTH:
DATE OF BIRTH:
LOCATION(s) BEFORE THE WAR:
LOCATION(s) DURING THE WAR:
STATUS:
RELATED PERSON(S):

ARNO HERZBERG

- Spouse (Deceased),

UNKNOWN, BARUCH - Father (Deceased),

ROSALIE BARUCH - Mother (Deceased),

PETER HERZBERG

- Son (Deceased),

LISA HERZBERG - Daughter-in-law,

BENJAMIN HERZBERG

- Grandson,

ARIELLE HERZBERG

- Granddaughter,

ILANA HERZBERG - Granddaughter,

GERTA BARUCH SISTER (Deceased),

HELGA MARCUS STEIN NIECE ,

STEVEN HERZBERG - Son,

WENDY HERZBERG - Daughter-in-law,

RACHEL HERZBERG - Granddaughter,

GARY HERZBERG - Grandson
BIOGRAPHY BY benjamin herzberg, grandson

Annelie Babette Herzberg was born September 12, 1912 in Leipzig, Germany to Rosalie Baruch Freiman and Sigmund Baruch. Her father passed away when she was five years old, and she was raised by her mother and her stepfather, Josef Freiman, whom she loved dearly. She had one younger sister, Gerta (later Marcus), and an older stepsister, Trude Freiman.  

Her father had owned a large telephone company in Leipzig, and, after his death – and unusually for the time – her mother continued to run the business; it was ultimately the largest telephone company in the region. She recalled a blessed and comfortable childhood, with music lessons, skiing vacations, school, friends, sports, and Jewish holidays. She attended elementary school in Leipzig and then went to the university to pursue a degree in dentistry.

By the time she entered university (as the only woman in her class!), her blessed and comfortable life had been upended, along with so many others, by the rise of the German Nazi party. While completing her degree, she was told she would no longer be eligible to graduate and she should stop attending classes and taking exams. Typically, she refused, but could find no classmates who would work with her in the required pairs. Ultimately a single friend, Alfred Wohlrahbe, who was a quaker, worked with her; she completed her exams, but was denied a degree, and was not allowed to practice dentistry. The quaker classmate ultimately was removed by the Nazis. Many years later, after the Holocaust, she was finally given a degree by the University of Leipzig to practice dentistry.

As the shadow of Nazism fell, she met her future husband, Arno Herzberg, when he cut in front of her in a bank line at a ski resort in Czechoslovakia (it was an inauspicious meeting – followed by 62 years of marriage!). They were engaged several months later. Before Nazism he had been a judge in Berlin, and then, when he was forced off the bench, he worked as the last head of the Jewish organized press in Berlin. His life in acute danger from refusing to publish SS propaganda, he fled Germany first, to the United States, in 1939. She followed soon after, arriving first in New York and then Newark, NJ. They  married in New York and honeymooned in Philadelphia. She recalled their many years later with a smile: a trip to the New Jersey shore, where they shared a single hot dog. They each had half.

While she had been well-off in Germany, she arrived in the US with almost no possessions. She managed to get her mother and stepfather to the US in the coming years; her stepfather passed away shortly after arrival, whereas her mother lived until 1953.

She moved with her husband to Union, NJ, where she raised two sons, Steven (1944) and Peter (1950). Unable to qualify for dental practice in the US, she worked as a dental hygienist for many years, though we have heard rumors that she did some of the actual dental work as well when no one was looking.

She lived in the same house in Union for the rest of her life, which she filled with warmth, joy, and truly outstanding cooking. She supported her husband through his many endeavors, from cleaning floors at the Goodyear noodle factory on arrival, to night school in accounting at Rutgers, to eventually his own accounting practice. She then supported her 5 grandchildren and gave her life to them, never asking for anything (not even a thank you!) in return for her sacrifices and love. In her later years, she swam at the Union Y three days each week, climbed mountains in Kandersteg, Switzerland in her late 80s, drove her car well into her late 90s, and, while occasionally hard of hearing, never missed a proverbial beat.

She died on January 29th, 2008 predeceased by her beloved husband Arno and son Peter, but with the ever-enduring love, admiration, and awe of her grandchildren, daughter-in-law, and extended family and friends.

 

Editor's Notes

Refer to Peter Herzberg and Arielle and Benjamin Herzberg in Voices of the Descendants 

SURVIVOR INTERvIEW:

Refer to Biography by Benjamin Herzberg and excerpted Shoah videos in Related Media

Sources and Credits:

Credits:

Biography by Benjamin Herzberg. Digital reproduction of historic documents and digital family photographs donated by the Herzberg family. The Holocaust Memorial and Education Center gratefully acknowledges the donation of excerpted Shoah Videos of Annelie Herzberg, January 26, 1998, David Brotsky (Interviewer) Union, NJ, donated by Lisa Herzberg and family.
RELATED MEDIA