 Holocaust
Memorial Education Center
Shimon and Sara Birnbaum Jewish Community Center

Survivor Profile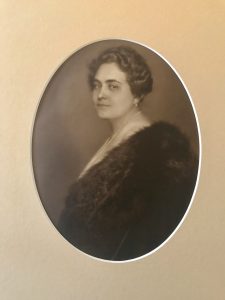 PRE-WAR NAME:
PLACE OF BIRTH:

BIELITZ, SILESIA, AUSTRO-HUNGARIAN EMPIRE
DATE OF BIRTH:
LOCATION(s) BEFORE THE WAR:
LOCATION(s) DURING THE WAR:

FLORENCE, SAN DONATO, ITALY; FOSSOLI CONCENTRATION CAMP; AUSCHWITZ BIRKENAU
STATUS:
RELATED PERSON(S):

JOHN (HANS) BUCHSBAUM - Son (Deceased),

GRETL BUCHSBAUM - Daughter (Deceased),

IGNATZ BUCHSBAUM - Spouse (Deceased),

BARBARA GILFORD

- Granddaughter,

DAVID GILFORD-GREAT - Grandson,

ANDREW GILFORD-GREAT- - Grandson
BIOGRAPHY BY BARBARA BUCHSBAUM GILFORD

Biography by Barbara Buchsbaum Gilford, Granddaughter

CLARA  BABAD BUCHSBAUM  (grandmother of Barbara Buchsbaum Gilford)

My father, John Buchsbaum, wrote:   "My mother was the mainstay of our lives.  She was the foundation on which we built our lives."

CLARA:  Born July 1, 1882 in Bielitz, Silesia, Austro-Hungarian Empire,: Poland today.  On February 7, 1906, Clara married Ignatz Buchsbaum,  bookseller in Ostrava, CZ.    They were citizens of the Austro-Hungarian Empire until Czechoslovakia became a sovereign nation at the end of WWI and they and their two children, Gretl and Hans, automatically obtained Czech citizenship.   

From the beginning of their marriage until the death of Ignatz in 1937, Clara worked in the I.BUCHSBAUM publishing company, one of the largest German language publishing houses in Czechoslovakia.  In 1913, Clara received her bookseller apprenticeship diploma.  In 1937, she became co-owner and publisher with her son Hans (John) Buchsbaum.

She was a devoted wife to Ignatz and mother to her children.  She adored her granddaughter "Susi." She was a woman of enormous energy and competence, managing a household while working in the publishing company. 

In March of 1939 the Germans invaded Czechoslovakia and the family strove to obtain visas in order to emigrate.  Only my father, who escaped his homeland with the SS on his heels, found sanctuary, first in England, where a fraternity brother from Charles University in Prague sponsored him. Two years later he was admitted to the United States.

Clara fled to Italy in September 1939 and was interned first in Florence and later in San Donato Val di Comino, a small town in the foothills of the Apennine mountain range, about sixty miles east of Rome.

San Donato provided sanctuary to twenty-eight German -speaking Jews until May of 1944 when a Fascist in the town betrayed them to German soldiers who were fighting in the battle for Monte Casino.

My grandmother, Oma Clara, was rounded up with sixteen others, taken to jail in Rome for a few days, then transported to the Fossoli Concentration Camp in Northern Italy. After a few months, they were sent to their deaths in the gas chambers of Auschwitz-Birkenau.  There is a discrepancy regarding the date of my grandmother's death.  The family observes it on September 30, 1944 since that is the date recorded in the town records in Ostrava, CZ.

 

Editor's Notes:

Barbara Gilford's Heart Songs: A Holocaust Memoir bridges the Holocaust stories of  her father, her grandmother and other Buchsbaum relatives and her own story growing up in a family affected by the Holocaust.  This is a story of love, loss and longing–longing to embrace the family she never knew, longing to talk with her father about his past, longing to tell the story of her relatives' lives and resilience.  She concludes her memoir this way:

The inexorable link between memory and love ensures that we of the second generation will always remember. For me, the mandate of obligation has become a loving choice informed by getting to know my family, reciting their names, and telling their vibrant, courageous stories.

In the end, their lives and their individual, unique selves cannot be eclipsed by the tragedy and circumstances of their deaths.  They exist together in life and in death and their memory lives on in our very cells and souls." 

Heart Songs: Available at Amazon. com

Refer to Barbara Gilford in Voices of the Descendants.

SURVIVOR INTERVIEW: Endorsement of heart songs

 Nancy Gorrell's Endorsement of Heart Songs: A Holocaust Memoir by second generation descendant, Barbara Gilford

 

When an only child's imaginary friends include her unknown first cousin, Zuzana (Susi), and her unknown grandmother, Oma Clara, both lost in the Holocaust, we know we are about to read a heartfelt true story. But not only. This story is much, much more. This story sings because it is written by an extraordinary writer, journalist with a passion for research, an artist with a passion for life, and a psychotherapist with a passion to know deeply the human heart. Heart Songs takes us on an odyssey through the author's childhood, to her grandmother's last letters, to her father's monumental efforts to save his mother, to the weaving together of three generations whose legacy transcends their tragic deaths. Heart Songs is filled with longing, loss and grief, yes, but also enduring love.

Sources and Credits:

Credits:  

"Biography" by Barbara Gilford and donation of historic and family photogaphs. 

The SSBJCC Holocaust Memorial and Education Center  gratefully acknowledges the donation of a copy of Barbara Gilford's Heart Songs: A Holocaust Memoir (2020) and historic and family photographs therein.
RELATED MEDIA