 Holocaust
Memorial Education Center
Shimon and Sara Birnbaum Jewish Community Center

Descendant Profile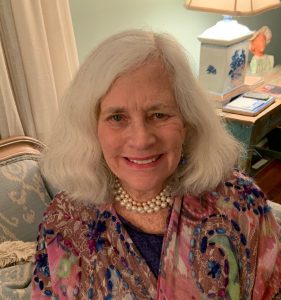 DESCENDANT:

BARBARA BUCHSBAUM GILFORD
RELATED SURVIVOR(S):
DESCENDANT BRIEF BIOGRAPHY BY BARBARA GILFORD, author of Heart Songs: A Holocaust Memoir

Over the last half century I have taught school, published numerous articles on ballet and modern dance and practiced psychotherapy as a Clinical Social Worker. Writing my family's story is an act of love that carries my determination to insure that their memory is preserved for succeeding generations.

My father gave me many gifts. The gift of his family, in a big box of black and white photographs, and bedtime stories about their family life in Czechoslovakia, entered my imagination and placed me in their midst when I was only eight years old.  Before I ever heard the words "Holocaust" and " gas chambers," I believed I knew them. I loved them and, my father assured me, they would have loved and adored me. When I grew up, I told their story to friends and my own family, including the story of  my father's heroic flight to safety in England and ultimate arrival in the United States.

Several years ago, by chance, I found a cache of letters, forgotten for decades in a folder amid a stack of oversized books on the bottom shelf of an old blue cupboard.  Written during the war, they tell my grandmother Clara's story of trying desperately to get out of Europe. Now I am writing her story and that of the larger Buchsbaum family. 

Editor's Note: In 2020 Barbara Gilford published Heart Songs: A Holocaust Memoir.

When the Nazis invaded Czechoslovakia in March 1939, the Buschbaum family chose different paths to escape Nazi brutality. Intelligence was not enough to survive the SS; bad decisions could prove fatal. Their stories live in the Heart Songs–a Holocaust Memoir, and form the legacy of love and loss inherited by the author, a second-generation Holocaust survivor.

Grandmother Clara Buschbaum fled to Italy in 1939 and found refuge in the mountain village of San Donato Val di Comino. There, the local residents sheltered twenty-eight Jewish refugees, risking their own safety by hiding them from German soliders.

Clara's letters to her son, John, who escaped to England before emigrating to the United States, illustrate her relentless efforts to obtain a visa to a country beyond Europe's borders. She sustained an unimaginable optimism despite separation from her beloved family and an uncertain future.

In telling the tragic story of the grandmother she never knew, the author explores historical, familial and psychological aspects of the Holocaust. Heart Songs illuminates the consequences of inherited grief and unmourned losses, and celebrates the strength and resilience of those who died and those who survived. (Back cover of Heart Songs)

 

Editor's Note:

When an only child's imaginary friends include her unknown first cousin, Zuzana (Susi), and her unknown grandmother, Oma Clara, both lost in the Holocaust, we know we are about to read a heartfelt true story. But not only. This book is much more. This but sings because it is written by an extraordinary writer, journalist with a passion for research, an artist with a passion for life, and a pyschotherapist with a passion to know deeply the heart. Heart Songs takes us on an odyssey through the author's childhood, to her grandmother's last letters, to her father's monumental efforts to save his mother to the weaving together of three generations whose legacy transcends their tragic deaths. Heart Songs is filled with longing, loss and grief, yes, but also enduring love.  

DESCENDANT SUBMISSION(s):

Sources and Credits:

Credits:

Historic Family photographs, biography and testimony donated by Barbara Gilford. Excerpts from Barbara Gilford, Heart Songs: A Holocaust Memoir (2020) Amsterdam: Amsterdam Publishers.

The SSBJCC  Holocaust Memorial & Education Center gratefully acknowledges the donation by Barbara Gilford of a hardcopy of her book, Heart Songs: A Holocaust Memoir. The memoir is available at Amazon.
RELATED MEDIA