 Holocaust
Memorial Education Center
Shimon and Sara Birnbaum Jewish Community Center

Survivor Profile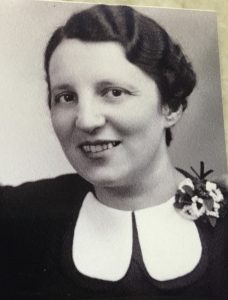 PRE-WAR NAME:
PLACE OF BIRTH:
DATE OF BIRTH:
LOCATION(s) BEFORE THE WAR:

REXINGEN AND PFORZHEIM, GERMANY
LOCATION(s) DURING THE WAR:

QUEENS, NEW YORK; PLAINFIELD, NEW JERSEY
STATUS:
RELATED PERSON(S):
BIOGRAPHY By elizabeth fuerst daughter in law

Else was born Else Loewengart in 1909 in the tiny village of Rexingen, Germany, at the edge of the Black Forest. The village was about 35 percent Jewish, with many of the families, including Else's, engaged in the cattle business. She was educated privately and after her first marriage to Marten Wolf when she was 19, she lived nearby in Pforzheim, Germany. She and Marten had one son, Bert, born in 1930. Marten Wolf died in an automobile accident in 1935.

It was a sad day when Jewish life in the Black Forest region became untenable under Hitler's rule, and most Rexingen families chose to flee by early 1938. About 350 Jews from Rexingen moved to Palestine in February and established the settlement (Moshav) Shave Zion. Else's family booked passage on a Dutch liner to New York for late fall 1938. However, that winter the situation in Germany became dire and they had to flee, spending nine months in a Dutch coastal resort while they waited for passage to the United States.

Else, a young widow with an 8-year-old son, displayed incredible courage coming to a new country. She didn't have a husband to provide for her and couldn't speak English, but she could work with her hands and used her talents to make hats and ties for the Madison Avenue carriage trade. She and her son, her brothers and mother resided together in an apartment in Queens, New York. 

In 1940, she was introduced to Ernest Fuerst, a partner in Sunrise Milling Company in Somerville. They married later that year. Like other German Jewish immigrants, they belonged to the Orthodox synagogue, Anshe Chesed but sensed early on that change was afoot within Judaism. They helped found the Conservative synagogue, Temple Sholom and sustained it in the early years with contributions and progressive dinners, at which Else's exquisite South German cuisine was always the biggest draw.

In addition to being a noted cook, baker, and knitter, she was a tireless volunteer for area charities such as Hadassah and the Jewish Community Center in Somerville. She was a very special woman. In the Jewish community it was known that when people were ill or there was a death, Else would be over right away with soup or meals or her fantastic baked goods.

She left Somerville in 2001 to live in Bedminster with her son, daughter-in-law and their daughter Emma. She became active in the Jewish Community Center's Golden Age program and never stopped her affiliation with Temple Sholom, making a generous contribution to restore the synagogue's aging stained glass windows. Else died in 2006 at the age of 96.

 

Editor's Note: 
Refer to son, Steven Fuerst, in Voices of the Descendants.

Refer to Diane Wolf in Voices of the Descendants.

SURVIVOR INTERVIEW:

Refer to Else's biography above by Elizabeth Fuerst, daughter-in-law.

Sources and Credits:

Credits:

Biography of Else Fuerst by Elizabeth Fuerst; Digital historic and family photographs donated by Steven and Elizabeth Fuerst.
RELATED MEDIA