 Holocaust
Memorial Education Center
Shimon and Sara Birnbaum Jewish Community Center

Survivor Profile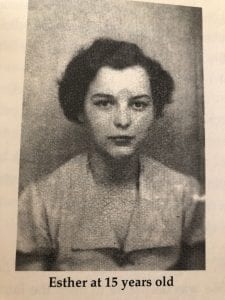 PRE-WAR NAME:
PLACE OF BIRTH:
DATE OF BIRTH:
LOCATION(s) BEFORE THE WAR:
LOCATION(s) DURING THE WAR:

BYDOWN AND LONDON, ENGLAND
STATUS:
RELATED PERSON(S):

HANS JULIUS PFEFFER

- Spouse (Deceased),

JANET VIGNOLA

- Daughter,

MARGARET PFAFF - Daughter,

ELLEN LAFARGUE - Daughter,

AIMEE LAM

- Granddaughter,

LIANE MOSCHELLA - Granddaughter,

KIMBERLY YOUNG - Granddaughter,

RYAN MAPES - Grandson,

HANNAH LAFARGUE - Granddaughter,

MARGARET PRZEPIORKA - Mother (Deceased),

JACOB PRZEPIORKAS - Father (Deceased),

HELEN PRZEPIORKAS SISTER ,

EVA PRZEPIORKAS SISTER (Deceased),

ROSEL PRZEPIORKAS SISTER
BIOGRAPHY By nancy gorrell

Adapted by Nancy Gorrell from Salt of the Earth by Janet Pfeffer Vignola with Margaret Pfeffer Pfaff

 

Esther Ruth was born in Dusseldorf, Germany on January 6, 1924 to Margaret (nee Tackweiler) and Jacob Przepiorka. She was the third born of five Przepiorka siblings: Helen (born 1921), Eva (born 1922), Elfrieda (born 1927) who later died at the age of two, and (Elfrieda born 1930), later called Rosel.  

Esther's mother, Margaret was born in Dusseldorf on May 22, 1900. Jacob, Esther's father was born in Poland ten years earlier on July 19, 1890. The fact that he was born in Poland would become critical in Esther's later life. What s known is that Jacob became an orphan at an early age. He lived with a tailer who apprenticed him. Subsequently, he emigrated to Germany before WWI to seek employment because of dire economic conditions. He worked in an ammunition plant in Dusseldorf where he met his future wife, Margaret. She was Catholic and the marriage was not well received. Later, Jacob requested that Margaret convert to Judaism which she did. After her conversion, she was not accepted by either the Jewish or Christian communities. Janet in her memoir states, "the Nazis based on the Nurenberg Laws would consider her a Jew."

 

Esther grew up in a rented apartment on 7 Lessingstrasse in Dusseldorf.  The apartment was on the 3rd floor and was small for a family of seven. Life was hard and money was scarce. Yet Esther recalls there was laughter and music while growing up. Her mother Margaret had two amazing gifts according to Janet: an indominable spirit and a love of writing. Her spirit would be tested countless times during the Holocaust. Jacob was a stern father who loved to cook and had the skills of a tailor. He wanted to open a tailor shop but could not get enough money for a sewing machine but he did make clothes for Margaret by hand. Esther spent much of her time with her love—reading.

 

With the rise of Hitler in the 1930s, life in Dusseldorf became much more difficult for Jewish people. In 1933 Esther testifies to seeing signs "Death to the Jews." At that time, she attended Catholic school because there were no Jewish schools. She had Jewish and non-Jewish friends. Gradually, her non-Jewish friends would no longer play with her and she saw signs "Jews and Dogs not allowed."  She couldn't go out or to the movies for fear of being arrested. Finally, her old school closed the doors to Jewish children. As a result, the Jewish community opened up schools for their Jewish children. Eventually, the Nazis closed those schools too. Janet states: "Esther who loved to read was only able to complete 8th grade in Germany."

Esther had one dress to wear to school, something to wear at home, and something to wear to sleep. She remembers a neighbor offering to sew her a new dress. She remembers standing for hours to have it hemmed. This was Germany in 1938. Soon after the dress was finished, there was a loud banging in the middle of the night on her family's door. German soldiers were ordering the family up and out of the house. They were being rounded up to be sent away. Her mother reached for her new dress and put it on her.

Editor's Note: (Esther at age 82 told this story to her granddaughter, Aimee Lam (Refer to Aimee's Voices of the Descendants Registry)

 

On November 10, 1939, the Night of Broken Glass, Kristallnacht, the Gestapo came and took all of Esther's family to jail. The Nazis were arresting the Jews who they thought were Polish with the plan to deport them back to Poland. They saw us as Polish because in Germany you bore the nationality of your father. Even though Esther, her sister and mother were born in Germany, they were not considered German because their father was Polish.

 

It was the first time Esther was ever in jail. They were all separated from Jacob as men were in separate cells. We were called in the morning into a big yard, and then Esther testifies that they called the names of the people who had passports to be put on trains for deportation to Poland. "My family and one other were the only ones left because our passports were at the Polish consulate."

Fortunately, the Przepiorkas were sent back home, and Esther saw this event as the first big miracle to her survival.

Early in 1939, Margaret and Jacob understanding the worsening situation, scraped together some money and sent funds to a man in Belguim who promised to take two of their daughters across the border to Holland. Esther and one of her sisters boarded a train in Dusseldorf. They were terrified and never made it. Eventually, they returned in tears to Margaret in the apartment in Dusseldorf. "Since the Nazis eventually overran Holland, Esther saw this as the second miracle."

On July 21, 1939, Esther left home. She was 15. Her mother, Margaret had contacted the Zionist Organization of which Esther was a member to help transport her to England. Margaret put a tag around Esther's neck and put her on a train with children 2-17 years old. Esther testifies, "It was very exciting for me in one way but in another very traumatic…I was torn because I didn't want to say goodbye to my parents and on the other hand, I wanted this chance for freedom and adventure. The third miracle was that I was saved from the concentration camps." Shortly thereafter, Helen, the oldest sister left Germany on August 22, 1939 to live with her father Jacob's half-brother in London.

Unfortunately, the fate of Esther's sister Eva ended in a "horrific" tragedy. Eva, the second daughter was a "lovely" girl who attracted the unwanted attention of a German youth. When she refused his advances, he reported her to the Nazis, alleging she was doing something illegal on the black market. The Nazis ordered her to be "sent away."  According to Janet, "Margaret and Jacob hoped she was going to a work camp." When Eva packed her bags, Jacob insisted on going with her. The youngest daughter, Rosel was witness to this event. Both Eva and Jacob were never seen again. Janet writes in her memoir that Esther's granddaughter, Hannah Lafargue confirmed their deaths in Auschwitz records: Jacob in Izbica, Poland Ghetto and Eva unknown site, Poland. Janet sums up the state of the Przepiorkas this way: within a very short period in 1939 Margaret endured the unthinkable. Three of her daughters and her husband were gone. Her family unraveled, irretrievably and forever broken. Now Margaret and Rosel, eight years old were left alone to survive in the Dusseldorf apartment. Miraculously, they did survive the war in hiding outside Dusseldorf, living with "uncle Robert" who sheltered them.

 

Esther was able to escape Nazi Germany just a few weeks before the outbreak of WWII in September 1939 through the Youth Aliyah Program. Janet notes in her memoir, "Had she waited a few days more, it is quite likely she would have perished in a ghetto or concentration camp."  Esther arrived in Harwich on July 21, 1939. Hans Pfeffer also from Germany arrived 20 days later. They both went to a "holding" location in Ashford, Kent for Jewish youth not going to private foster homes. Later they were transferred to Bydown Training Center to be prepared to go to Palestine and live and work on a Kibbutz. As teenagers, Esther and Hans would fall in love in Bydown (Refer to Hans Pfeffer's Registry). Both Esther and Han's names and photos are listed and published in a book by Helen Fry, Jews in North Devon During the Second World War.

Janet in Salt of the Earth writes how Esther was terribly homesick and troubled at Bydown for she missed her mother, sisters and family, but meeting Hans playing his favorite game of soccer and falling in love brought her some happiness and stability.

Unfortunately, in early 1941, financial hardship caused the Jewish Refugee Committee to disband Bydown. The young refugees were to be sent to other training centers. Esther, 18 years old at the time decided not to go to another training center. She went instead to London and Hans followed her straight into the heart of the blitz

When Esther arrived in London, she was assigned a caseworker. She was living in a hostel and she also got a job. Janet notes that on September 14, 1942 "it was first observed that a young man (Hans) was living with Esther." Esther and Hans eventually got married on January 31, 1943. They had tried to get married previously but were told they were too young. Janet reveals in her interview that Esther gave Hans an ultimatum. Either they get married by the end of the month or "it was over." They were married in Dollis Hill and Gladstone Park Synagogue in London on January 31st. Esther was 19 years old and Hans was 20. They remained married for 54 years when Hans died in 1997.

Life during the bombing in London was very difficult but the young married couple survived. In 1944 Esther discovered she was expecting he first child. Esther testifies in Salt of the Earth that "On March 30, 1945 just as the last bombs were striking London, I started having contractions." She named her first child Janet, after the actress Janet Gaynor because she didn't know who was dead or alive in her family (Note: It is a Jewish naming custom to name a newborn only after a deceased relation).

On May 19, 1945 Esther made known to her caseworker she wanted to know about her parents and two sisters that she had left in Dusseldorf, Germany. She received information that her father and Eva were deported from Dusseldorf. "Obviously she was devasted" Janet writes. On February 1, 1946 Esther was informed that her mother and sister Rosel were alive and living in Dusseldorf. Esther's mother Margaret and sister Rosel reunited with Esther, Hans and Janet as a young child and sister Helen in their home in England (Refer to the 1946 Reunion photo in Related Media).

Esther, Hans and their daughter Janet boarded the SS Marine Jumper, a WWII Victory ship at Southhampton Seaport, England under the name Pfeffer on December 13, 1947. Esther was 24 years old, Hans almost 25 and Janet 2 and ½. The ship manifest listed them under "race or people" as German and under the category of nationality, "Stateless." Janet writes, "Out of the 435 passengers, only 14 were listed as stateless, and out of those 14, three were the Pfeffers. No wonder they felt as though they were alone in the world." Nevertheless, they were sponsored by Hans'uncle, Felix Pfeffer who came to the United States in 1920. The manifest also indicated the family of three all had tickets paid for by themselves. After ten days at sea while enduring a traumatic accident to Janet's finger requiring surgery, Esther and Hans arrived at Pier 95 on December 23rd at the Port of New York to start a new life. It was two days before the worst snowstorm New York had seen in 20 years, but Janet writes, "they still felt safe."

Editor's Notes:

Refer to Janet Vignola in Voices of the Descendants

Refer to Aimee Lam in Voices of the Descendants

Refer to Salt of the Earth for post-war life of Esther and Hans.

SURVIVOR INTERVIEW WITH JANET PFEFFER VIGNOLA, DAUGHTER

Refer to Interview with Janet Vignola, daughter, in the Voices of the Descendants

Sources and Credits:

Credits:

Janet Pfeffer Vignola with Margaret Pfeffer Pfaff, Salt of the Earth (2016); SSBJCC Interview (phone) with Janet Vignola July 28, 2021; digital historic and family photographs donated by Janet Vignola and Margaret Pfaff.  Salt of the Earth available online at Amazon.com

The SSBJCC Holocaust Memorial and Education Center gratefully acknowledges the donation of of Salt of the Earth as well as digital historic and family photographs.
RELATED MEDIA