 Holocaust
Memorial Education Center
Shimon and Sara Birnbaum Jewish Community Center

Survivor Profile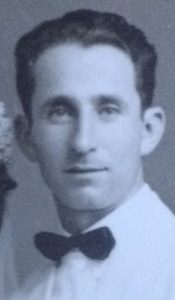 PRE-WAR NAME:
PLACE OF BIRTH:

SOLOTVINA, CZECHOSLOVAKIA
DATE OF BIRTH:
LOCATION(s) BEFORE THE WAR:
LOCATION(s) DURING THE WAR:

WORK CAMPS THROUGHOUT EUROPE
STATUS:
RELATED PERSON(S):

GRETA BERRY

- Spouse (Deceased),

KENNY BERRY - Son,

ADELEEN RAY SHEA - Daughter,

SHARON BERRY - Daughter-in-law,

DAVID BERRY - Grandson,

LISA BERRY EDWARDS - Granddaughter,

JOSEPH SHEA - Grandson,

RYAN SHEA - Grandson,

WILLAM SAMUEL SHEA Great- - Grandson,

LOGAN BLAIR BERRY Great- - Granddaughter
 Brief BIOGRAPHY OF SAMUEL BERRY BY KENNY BERRY, SON

My father's mother died in childbirth. His father had another family and he didn't live with his father and he had numerous step-siblings but he lived with his maternal grandmother, Ethel. His grandmother made a living making vodka and selling it roadside. They were a very poor family. Solotvina is on the Hungarian-Romanian border.

My father lived in Solotvina, a small town on the Hungarian-Romanian border. He lived in a dwelling with dirt floors. The town had non-Jews. When it started changing for the Jews the thing that surprised him the most was how his friends turned on him. He had no other brothers or sisters except the step ones. He saw his father maybe once a year but surprisingly I'm named after his father, Kalman Berkowitz. His only family was his grandmother. There was no grandfather.

He had a relatively happy childhood. He went to school, a heder. I'm not sure what age he was when he fled from Solotvina. He's not actually sure of his actual birthday and he picked March 21st the first day of spring. So, we know he fled when he was a teenager. His friends turned against him; their parents must have told them not to hang out with Jewish kids. He never told us exactly what happened during the war years.

My father did tell us he was in multiple work camps in which he would escape and constantly be hunted down by Nazi and Nazi sympathizers. My dad is famous for being able to fall asleep at a drop of a hat.  It seemed he escaped with groups of boys his own age and one time he was with them at a river crossing. They were waiting to cross at a good time and he fell asleep. He could sleep anywhere anytime no matter the situation. He ended up in Italy so he was making his way there. It's not clear all the places he was interned in.

My father also told me to stay alive he had to do unspeakable things but he didn't tell me what they were.  He was always hungry. He had nothing. He must have been near Berlin. The Americans found him and gave him a loaf of bread. He went around a corner and the Russians found him and forced him to drag dead bodies off the battle field.

Around the time of liberation, he was in Italy. He met my mother in Italy and they came to the US separately. They did not enter through Ellis Island but they did come through New York but another port. My father had step siblings in the US who could sponsor him to come over. They lived on a street called Clinton Street in the lower eastside near Delancey Street in an apartment.

My parents got married in July 14, 1951 in the US. Before that my dad was living in the lower Eastside trying to find work. My dad sought manual work requiring a foreman to pick the labor and he was always passed over. He thought it might be his name—Berkowitz. So, he went home and opened up the phone book near Berkowitz and found the name Berry near it. He changed his name legally to Sam Berry not realizing that most Sams are Samuel.

Subsequently, he did get jobs and then he ended up where he had three jobs and he fell asleep on the subway in between the three jobs. All he did was work before he got married. My Dad had a very distinctive way of walking and my mom when she came to NYC saw him walking and knew him. She could pick him out walking down the street. He met my mother and her whole family. She was with her parents and brother and sister. I think the brother was the strongest connection.

I was born in 1952, June 18. They were on the Eastside one year and then moved to Newark, NJ. They lived three years in Newark and then they moved to Clifton. I grew up partially in Clifton and when I was in 9th grade we moved to Parsippany, NJ. They lived in Parsippany for 20 years and settled in their later years in Toms River.

My dad got into the sheet metal business in Paterson. He started out as a laborer worked his way up to foreman. Finally, he became a full partner of the business. He ended up selling the business at age 55 when his partner passed away. In a span of 20 years, he became partner of a business doing stainless steel kitchen equipment. He retired early and his partner's family was offering him more money and so his partner's family got the business.

SURVIVOR INTERVIEW WITH KENNY BERRY, SON

Refer to the Biography above by Kenny Berry, son.

Sources and Credits:

Credits:

Biography of Samuel Berry donated by Kenny Berry, son 2021. The SSBJCC Holocaust Memorial and Education Center gratefully acknowledges donation of digital family photographs by Kenny Berry.
RELATED MEDIA