 Holocaust
Memorial Education Center
Shimon and Sara Birnbaum Jewish Community Center

Survivor Profile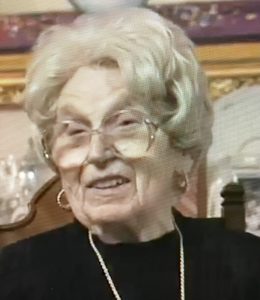 PRE-WAR NAME:
PLACE OF BIRTH:
DATE OF BIRTH:
LOCATION(s) BEFORE THE WAR:
LOCATION(s) DURING THE WAR:

VILNA, LITHUANIA; VANYA GHETTO; VILNA GHETTO; STUTTHOF CONCENTRATION CAMP
STATUS:
RELATED PERSON(S):
SURVIVOR INTERVIEW TRANSCRIBED BY NANCY GORRELL FROM 1998 SHOAH VIDEO

SHOAH VIDEO

DATE: OCTOBER 9, 1998

SURVIVOR: SARA RESNICK

INTERVIEWER: MARCIA GOLDBERG

CITY: FLEMINGTON, NJ

TRANSCRIBED BY NANCY GORRELL

DATE: JULY 2023

PLACE: SSBJCC HOLOCAUST AND EDUCATION CENTER 

 

Sara Resnick on remembering the Holocaust. . .

You think but you don't want to think. . .

 

Sara was born May 25, 1924 in Vilna, Poland to Hannah (nee Abramovich) and Chanan Roskoff, according to son, Carl Resnick, although "Raskowitz" appears on post-war document (Refer to Related Media). Sara came from a family of two older step sisters, seven sisters, and two brothers. She was the third youngest of her siblings and describes her relationship with all of her siblings as "very close." When her father's first wife died, he remarried. Sara's step-sisters were already married with children when she was born. Sara came from a religious family. Her mother kept kosher and her father davened at home and went to the synagogue on holidays with the family. Sara recall going to the synagogue. Sara testifies that at the time, her father had a brother and sister living in Vilna. She recalls fondly seeing her aunt. Sara describes Vilna as "a nice place having no problems." 

 

At age eight or nine, her father moved Sara and the family by horse and buggy from Vilna to Vanya, a small shletl at the time in Poland. They lived in a house with three or four rooms that had a separate kitchen. The girls helped their mother in the house while her father had a business selling leather goods like shoes to gentiles. Vanya was mostly Jewish but had non-Jews as well. There was a school that Sara attended for Jews and non-Jews taught by non-Jewish teachers. In Vanya Sara experienced anti-Semitism from the children in school as well as in the streets.  "It was a hard growing up life. You couldn't go out at night. You would get beaten up." She recalls her brother getting beaten up "many times." In school the children would push her and make her change her seat. But she says she "liked" school and completed four years of education there.

 

Although Sara and her family heard of Hitler and Kristallnacht, "they did not think it would come here." By late 1939, a Progrom began in Vanya. Polish people were in the streets, breaking windows, robbing Jewish stores, and throwing hand grenades at windows. In her testimony, Sara pointed to scars she still has on her legs from the grenades. When asked why she and her family didn't just leave, she replied, "They wouldn't let the Jews go. They murdered Jews in the streets. Everything was demolished. There was nowhere to go." Sara describes Russian prisoners coming into Vanya for a short time and their presence stopping the Progrom. But then they quickly retreated when the Germans came back. (Refer to Historical Notes)

 

Sara testifies that her whole family was forced into a ghetto in Vanya at the direction of the Judenrat under the orders of the SS. In the ghetto, "there was no food and no school. We slept on the floor; 15-20 of us in a room."  At night Sara's mother would sneak out of the ghetto to get "a piece of bread" or "a potato" from righteous Polish people she knew. Her father could not risk going out. Every once in a while, there would be a round-up of boys or men to work in the fields. Sara recalls one night her youngest sister came back a few minutes late from curfew. She was beaten up badly. 

 

In 1941 Sara and her youngest sister were separated from their family and transported in cattle-car conditions to the Vilna Ghetto.  The Germans killed her parents first and then the rest of her family in a massacre where they were forced to dig their own graves and were shot en masse. Sara heard about the massacre afterwards from others. (Refer to Historical Notes)

 

According to Sara's testimony, she and her younger sister, Yentl were not in the Vilna Ghetto long. She describes it as a bigger ghetto with lots of "largers." There they separated the men and the women. "It was a mess. We didn't care for anything." She was in the Vilna Ghetto with several of her other siblings who died there. Yankel, her brother tried to escape and was killed. She testifies to Chana and Izak dying as well. Yentl, her younger sister tried to hide and was killed. 

 

Sara testifies that "everyone I knew died." She then describes being "lined up and walking to the trains." There was no food, no water. We walked for days in the rain. We slept in water." Of the cattle car train ride, she testifies, "you did not go out. We stopped once. I stayed inside. It went on for days. No food, no water." She recalls "arriving wet and muddy." 

 

Upon arrival at Stuttof concentration camp, Sara testifies to being unloaded, separated by men and women, taken to showers, having her head shaved, given a long, striped uniform to wear and taken to the barracks—block 18. She testifies, "They make you a monkey." She spent the next four years in Stuttof laboring in the forest cutting down trees with a saw and making bricks out of cement. Sara testifies she worked 8-9 hours a day. Although she was never beaten, she knows others were. She could hear others taken out, beaten and killed. The guards spoke German. When asked if she had any "good" memories, Sara recalled a Polish woman from the town who made potato soup for Yom Kippur, the Jewish day of atonement. (The inference being the inmates had some for the fasting holiday).

 

Sara testifies that sometime in 1944, the Germans started to empty the camp.  They marched the inmates from town to town by the "thousands." There was no food or water. Just endless marching for days on end. Sara tried to escape with another girl. She tried to hide in the woods. She was captured and put in a cellar with rats and mice for two days and then let go. She continued on the march to Poland. When asked how she knew the war was over, Sara replied, "we met the Polish Army. They told us the war was over and they gave us food." She stayed in Lublin, a Polish town for three weeks. It was there, in Lublin that she met her future husband, Jacob (Yankel) Resnick. He was working for the partisans. Jacob was 7-8 years older than Sara. Ten days later they got married by a rabbi that happened to be there. Sara comments in her testimony. "Lucky if you had a loaf of bread." Jacob wanted to go to Israel but he had a brother, Albert in America that could sponsor his emigration (Refer to Resnick Family Photo in Related Media). Sara and Jacob decided to go back to Germany, wait for a ship to take them to America, and then after two years emigrate to Israel. "Israel was always in Jacob's heart." 

 

From 1945-1947 Sara and Jacob stayed in Germany in a private home waiting for a ship to take them to America. Jacob work for the Judenrat during this time and Sara took care of baby Carl, born in Germany. On January 6, 1947 they emigrated to America settling in Coney Island where they made a living chicken farming. A second son, Ted was born in 1948. They were in the chicken farming business for 10 years. Then they settled permanently in Flemington, New Jersey establishing a dry goods store. Both Sara and Jacob worked in the dry goods store which later became the noted Flemington Department Store that still exists as a family business today, 2023.

When asked by her interviewer how she survived, Sara replied, "We did have hope. Everyone had their own pain. Survival—it was a miracle." 

After Jacob passed suddenly on Father's Day, June 18, 1967, Sara devoted herself to working for Israel Bonds and Jewish causes. She was very proud to be honored in 1983 at the Israel Bond Dinner with Rabin in attendance at the Flemington Jewish Community Center (Refer to Sara's photo with Rabin in Related Media).

HISTORICAL NOTES:

VILNA HISTORY AND VILNA GHETTO

Poland and Lithuania both claimed Vilna (Vilnius) after World War I. Polish forces occupied Vilna in 1920, and before the outbreak of World War II, the city of Vilna was part of northeastern Poland.

Under the terms of the German-Soviet Pact, Vilna, along with the rest of eastern Poland, was occupied by Soviet forces in late September 1939. In October 1939, the Soviet Union transferred the Vilna region to Lithuania. The population of the city was 200,000 at this time, including over 55,000 Jews. In addition, some 12,000-15,000 Jewish refugees from German-occupied Poland found refuge in the city. Soviet forces occupied Lithuania in June 1940 and in August 1940 incorporated Vilna, along with the rest of Lithuania, into the Soviet Union. On June 22, 1941, Germany attacked Soviet forces in eastern Europe. The German army occupied Vilna on June 24, 1941, the third day after the invasion.

VILNA GHETTO

The Germans established two ghettos—ghetto # 1 and ghetto # 2—in Vilna in early September 1941. Jews considered incapable of work were concentrated in ghetto # 2. In October 1941, German Einsatzgruppe detachments and Lithuanian auxiliaries destroyed ghetto # 2, killing the ghetto population in Ponary. Lukiszki Prison served as a collection center for Jews who were to be taken to Ponary and shot. By the end of 1941, the Einsatzgruppen View This Term in the Glossary had killed about 40,000 Jews in Ponary.

The Jews in ghetto # 1 were forced to work in factories or in construction projects outside the ghetto. Some Jews were sent to labor camps in the Vilna region. In periodic killing operations, most of the ghetto's inhabitants were massacred at Ponary. From the spring of 1942 until the spring of 1943, there were no mass killing operations in Vilna. The Germans renewed the killings during the final liquidation of ghetto # 1 in late September 1943. Children, the elderly, and the sick were sent to the Sobibor killing center or were shot at Ponary. The surviving men were sent to labor camps in Estonia, while the women were sent to labor camps in Latvia.

In July 1941, the German military administration issued a series of anti-Jewish decrees. During the same month, German Einsatzgruppen (mobile killing squads) aided by Lithuanian auxiliaries killed 5,000 Jewish men at Ponary forest, eight miles outside Vilna. A German civilian administration took control of Vilna in August 1941. At the end of the month, Germans killed another 3,500 Jews at Ponary.

STUTTHOF CONCENTRATION CAMP

In September 1939, the Germans established the Stutthof camp in a wooded area west of Stutthof (Sztutowo), a town about 22 miles east of Danzig (Gdansk). The area was secluded: to the north was the Bay of Danzig, to the east the Vistula Bay, and to the west the Vistula River. The land was very wet, almost at sea level. The camp was situated along the Danzig-Elbing highway on the way to the popular Baltic Sea resort town of Krynica Morska.

Originally, Stutthof was a civilian internment camp under the Danzig police chief. In November 1941, it became a "labor education" camp, administered by the German Security Police. Finally, in January 1942, Stutthof became a regular concentration camp.

The original camp (known as the old camp) was surrounded by barbed-wire fences. In 1943, the camp was enlarged and a new camp was constructed alongside the earlier one. It was surrounded by electrified barbed-wire fences. The camp staff consisted of SS guards and, after 1943, Ukrainian auxiliaries.

Tens of thousands of people, perhaps as many as 100,000, were deported to the Stutthof camp. The prisoners were mainly non-Jewish Poles. There were also Polish Jews from Warsaw and Bialystok, and Jews from forced-labor camps in the occupied Baltic states, which the Germans evacuated in 1944 as Soviet forces approached.

Conditions in the camp were brutal. Many prisoners died in typhus epidemics that swept the camp in the winter of 1942 and again in 1944. Those whom the SS guards judged too weak or sick to work were gassed in the camp's small gas chamber. Gassing with Zyklon B gas began in June 1944. Camp doctors also killed sick or injured prisoners in the infirmary with lethal injections. More than 60,000 people died in the camp. Retrieved USHMM Aug 2023.

Sources and Credits:

Credits:

Sara Resnick, Shoah Video, Marcia Goldberg, Interviewer (1998)

Sara Resnick, Transcribed Shoah Video Interview by Nancy Gorrell (2023)

 

The SSBJCC Holocaust Memorial and Education Center gratefully acknowleges  permission to view Sara Resnick's 1998 Shoah Video Testimony from Carl Resnick, son, and  Stephanie Resnick Goldsmith, granddaughter, including donation of digital family photographs and historic documents. 
RELATED MEDIA