 Holocaust
Memorial Education Center
Shimon and Sara Birnbaum Jewish Community Center

Survivor Profile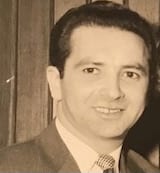 PRE-WAR NAME:
PLACE OF BIRTH:
DATE OF BIRTH:
LOCATION(s) BEFORE THE WAR:
LOCATION(s) DURING THE WAR:

SLAVE LABOR CAMPS; QUARRIES; IN HIDING ON THE RUN
STATUS:
RELATED PERSON(S):

DORIS HERSCHLAG BRAUN - Spouse (Deceased),

GITEL BRAUN - Mother (Deceased),

ELIE BRAUN - Father (Deceased),

ROBERT J. BRAUN - Son,

JANET BRAUN - Daughter-in-law,

DANIEL BRAUN - Son,

SANDRA BRAUN - Daughter-in-law,

CARRIE BRAUN - Daughter,

JAY MITTMAN - Son-in-law,

MARTY BRAUN - Son,

CAROL BRAUN - Daughter-in-law,

JAMIE MITTMAN - Grandson,

NANCY BURACH - Granddaughter,

DAVID MITTMAN - Grandson,

CRAIG MITTMAN - Grandson,

SCOTT BRAUN - Grandson,

AMANDA BRAUN - Granddaughter,

MARISSA BRAUN - Granddaughter,

JACK BRAUN - Grandson,

LEAH BRAUN - Granddaughter,

ERIC BRAUN - Grandson,

MAX BURACH - Great - Grandson
BIOGRAPHY BY nancy gorrell

Sol Braun was born on February 13, 1920 in Brody, Poland to Gitel and Elie Braun. They lived on a large farm with a general store. Sol came from a family of many siblings: Elka, Reuven, Willie, Chaim, Leah and Sam (in age order). When the war began in 1939, Chaim was stationed at the border, captured by the Nazi's and shot on the spot as a Jew. In 1940, Sam was drafted into the Soviet Army and fought in Stalingrad against the Nazis. Miraculously, the brothers were reunited after the war. 

In 1941 the Nazis occupied Brody, and Sol's family was taken to the ghetto. Sol and Willie were sent to the Yassinov Labor Camp. Later they were transferred to a stone quarry. When word got out the camp was going to be closed, the prisoners tried to escape. Most got shot, but Sol and Willie survived and fled into hiding in a various places in the Polish forest and towns—Huta Pienacka and Majadan Piensk. Ultimately, they met up with others and hid together in a large hole covered by shrubs and brush. Robert Braun, in his account of Sol's story, states, "This means of survival lasted quite sometime.

In March 1944, Sol and Willie were told by approaching Russian soldiers, "The war is over." They were taken to safety in the Russian held territory, but both Sol and Willie became seriously ill with typhoid. They were skeletons. They were treated and survived but they were greatly weakened. When Sol found out that Brody was liberated, he wanted to go to see who survived in his family. Many complicating factors prevented Sol's return including the fact that Brody was occupied by many Ukrainians and anti-Semites at the time.

 

Sol, Willie and Sam travelled along through Lemburg, Krakow and onto a large Displaced Persons camp in Ulm, Germany. They lived in the DP camp for four years from 1945-1949. There was an uncle Yussel who lived in the Bronx, New York. Sol arranged contact with Yussel to sponsor his emigration from Germany to the States. In 1949, the three brothers—Sol, Willie and Sam—were granted travel to the United States via the military ship, the General SS Hahn. Uncle Yussel picked them up and brought them to another uncle who lived in Cortland, New York. He owned a bakery and the boys worked there for a six months. Later they moved on.

Editor's Notes:

Refer to Robert Braun in Voices from the Descendants

For the complete  "Story of Sol Braun," Refer to the Interview Below and Related Textual Material

SURVIVOR INTERvIEW: THE STORY OF SOL BRAUN

 THE STORY OF SOL BRAUN BY ROBERT BRAUN, SON

Mother-Gitel
Father-Elie
Siblings in age order: Elka, Reuven, Willie, Chaim, Leah, Sam
Lived on large farm with general store in Brody, Poland

In 1939, Russians with Stalin as president occupied eastern Poland through an agreement with Hitler. Brother Chaim was drafted into the Russian army to be stationed at the border in Poland where the Russians and Naxis were divided.  One day the Nazis unexpectedly crossed the border to advance and take over more of Poland.  Brother Chaim was captured as a prisoner along with other soldiers who were not Jewish.  One of the non Jewish soldiers told the Nazis that Chaim was a Jew and he was shot on the spot.  Grandpa Sol found this out from a witness he later met up with.

In 1940, Uncle Sam was drafted by the Russian army.  He went to Stalingrad and fought on the front line against the Nazis.

In 1941, the Nazis took over Brody and flyers were sent around that the Jews must all go to the worst section of Brody which became the ghetto.  Parents Gitel and Elie were sent there.

Sol and Willie were not taken there but instead were sent to the Yassinov labor camp where they did meaningless work hauling coal back and forth up an incline.  They were transferred to a stone quarry labor camp that was surrounded by barbed wire fencing.  Word got out that this camp was going to close so one day all the prisoners decided to flee by scaling these fences.  The Nazis shot at everyone and by the luck of G-d, Sol and Willie were able to survive while others were being shot down next to them. 

Sol and Willie went through the forest to a Polish village two towns over where a wealthy landowner lived who knew the family through Elie.  The town was Huta Pieniacka.  The man was happy to help out so he hid the boys in his house.  The third day there, the German police unexpectedly knocked on the door along with a German Shepherd dog.  Sol and Willie immediately went under the master bed.  The dog sniffed around the bed but did not bark out.  Sol and Willie both thought for sure they were going to be found and shot (heart pounding experience to the max).  When the police left the friend said the boys must leave immediately.  He told them he would take them to a town called Majadan Pienski, where Jewish people were hiding out underground in the forest.

The man knew the Polish park ranger who was in charge.  The park ranger was getting a group of fourteen Jews food, supplies and guns in exchange for money.  There was a man and woman in the group with no children who were wealthy (family name Zloczow).  The ranger would see the group once a week.  He agreed to ask the Jewish group if they would accept Sol and Willie.  The group agreed to add the boys.  Sol and Willie were told where to go and meet up.  The hole they survived in was large and covered up by shrubs and brush.  There was always one person outside the hole on four hour shifts with a machine gun for protection.  Food runs would go on during rain and snow storms since the track of their movements would be covered up and not traceable.  This means of survival lasted quite some time.

In March 1944, horses and artillery were heard off to the east direction.  The Germans were retreating and Russian soldiers were heard speaking Russian in the distance.  Sol and Willie were able to speak Russian so they approached a group of Russian soldiers who did not shoot their guns even though they had them drawn.  The soldiers told the boys the war was over.

The soldiers checked with their higher up commander and they were told they could help liberate the group that Sol and Willie were with.  So the soldiers got sleds attached to the horses and everyone was taken to safety in Russian held territory.  Here there was a barracks for older Russians who were wounded during the war. 

Both boys came down with typhoid.  They lost weight and looked terrible, like skeletons.  They were medically treated and survived.  However, because they were weakened they were not taken to the mills to work as others were.  Sol was given a job in the barracks across the way from a one star general whose last name was Bender.  He was second in command of the whole site.  The general took a liking to Sol and gave him a job in his office.

When Sol found out that his hometown of Brody was liberated, he asked permission to speak with the three star general in charge of the site.  It was granted, and Sol asked if he could go to Brody to see if any other family members survived the war.  The general agreed to a two week leave, however, Willie would have to stay at the site.  Sol told the general it would be dangerous to travel alone since the Ukranians were still killing Jews.  The general held his ground and said either go alone or not at all.  Sol decided to stay since he did not want to separate from Willie.  Many times during these difficult survival situations, Willie was inclined to just give up but Sol helped him believe in G-d and life.

Well fortunately, a few days later the three star general was transferred from this site to Moscow.  Now General Bender was to be in command.  This was a favorable situation for the boys. Sol went to General Bender and pleaded his case to leave in order to find family.  The general told Sol, I know how you people suffered and I will agree to get documents for you to leave with your brother.  Bender knew the boys would not return so he wished them well.  The boys hitchhiked and were picked up by a friendly trucker who took them to Brody city proper where sister Elka used to live. However, while still in the truck in town, the Russian police pulled the truck over and took off Sol and Willie.  The police asked to see documents.  Sol showed them they were on leave.  It was at this time when Sol noticed that the documents had no dates so they would be safe anytime needed.  Thank you General Bender.

So the police took the boys to the magistrate's office in Bender city center.  When they went inside, Sol recognized a man who he went to school with.  The man was not Jewish.  The man told the police to leave Sol and Willie with him and he will interrogate them.  Instead, he took pictures of them and processed passports for them so they could travel safely, since Brody was not a safe town for Jews any longer.  Many Ukranians and anti-semites existed there.  It was another lucky break finding this friend in town by sheer coincidence.

So Sol and Willie traveled along through Lemburg, Krakow, and onto the large displaced persons camp in Ulm, Germany.  Here it was safe for Jews as it was supported by Jewish organizations from the United States looking to help people find relatives around the world. To make money and thrive in the camp, Sol sold cigarettes on the black market.  The boys lived here for four years, from 1945-1949.

Sol tells the story of buying a suit to keep in a closet for brother Sam who he believes is still alive and someday they will meet up.  Well into two years into living at the camp, Sol ran into a friend he recognized from growing up.  They conversed and the man said he came from Krakow a few weeks ago and he ran into Sam; crazy right.  So Sol gave him money and asked him to go back there and find Sam.  Fortunately, days later he returned with Sam and the three boys were reunited.  Wow, another act of  G-d.

There was an Uncle Yussel, who lived in the Bronx, who Sol remembered existed, so he worked on finding out his address so he could get in touch with him for a possible sponsor to live in the United States.

Finally, in 1949 the three brothers were granted travel to the United States via the military ship General SS Hahn.  The trip turned out to be terrible since there were fierce storms that made travel miserable.  The journey took two weeks instead of one and many people were getting sick all over everyone. 

Uncle Yussel picked them up and then brought them to another uncle who lived in Cortland, upstate New York.  He owned a bakery and could provide work and housing for the boys.  After six months of hard work, Sol asked for a raise.  This led to some disagreement, so it was time to leave and move on.

related textual material:

THE STORY OF SOL BRAUN DONATED BY ROBERT BRAUN, SON

Sources and Credits:

Credits:

Biography by Nancy Gorrell;  "The Story of Sol Braun" by Robert Braun; Digital historic and family photographs donated by Robert Braun, son.

The SSBJCC Holocaust Memorial and Education Center gratefully acknowledges the donation of The Story of Sol Braun). Thanks to Sandra Krawitz for transcribing the "Story of Sol Braun" from the original.
RELATED MEDIA