 Holocaust
Memorial Education Center
Shimon and Sara Birnbaum Jewish Community Center

Descendant Profile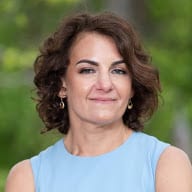 DESCENDANT:

JESSICA WANG - 3GNJ Co Founder
DESCENDANT BIOGRAPHY BY JESSICA WANG

Jessica Appelbaum Wang is one of three co-founders of 3GNJ. Her grandmother who is 92 (as of this 2021 bio) is a Holocaust survivor living in Brooklyn, New York. Her grandfather passed away at 90 in 2015 and was also a survivor serving in the Partisans and later Soviet Russian army. Jessica tells her grandfather, Abraham Appelbaum's story of Holocaust survival to school and civic groups across New Jersey as part of her WEDU training at the SSBJCC Holocaust and Education Center in Bridgewater, New Jersey. The professional training occurred in 2019 in partnership with 3GNY. In 2021 Jessica was installed on the Board of 3GNY as a result of the two organizations forming a regional partnership with 3GPA.

Jessica has been married to her husband, Josh, for almost 22 years. Josh ran the NYC marathon in November 2018 on behalf of Blue Card, an organization that supports needy Holocaust survivors. Josh and Jessica have two children, Anne (17) and Jonah (15). They live in Bridgewater, New Jersey. Jessica is the Senior Vice President of Placement at 2U, Inc., a leader in digital education.

Refer to Jessica Wang Interview in Descendant Submission (Below)

DESCENDANT SUBMISSION(s):

Sources and Credits:

Credits:

SSBJCC Holocaust Memorial and Education Center Interview of Jessica Wang by Nancy Gorrell, August 30, 2023;
Biography by Jessica Wang; digital historic and family photographs donated by Jessica Wang and Patricia Appelbaum.
RELATED MEDIA